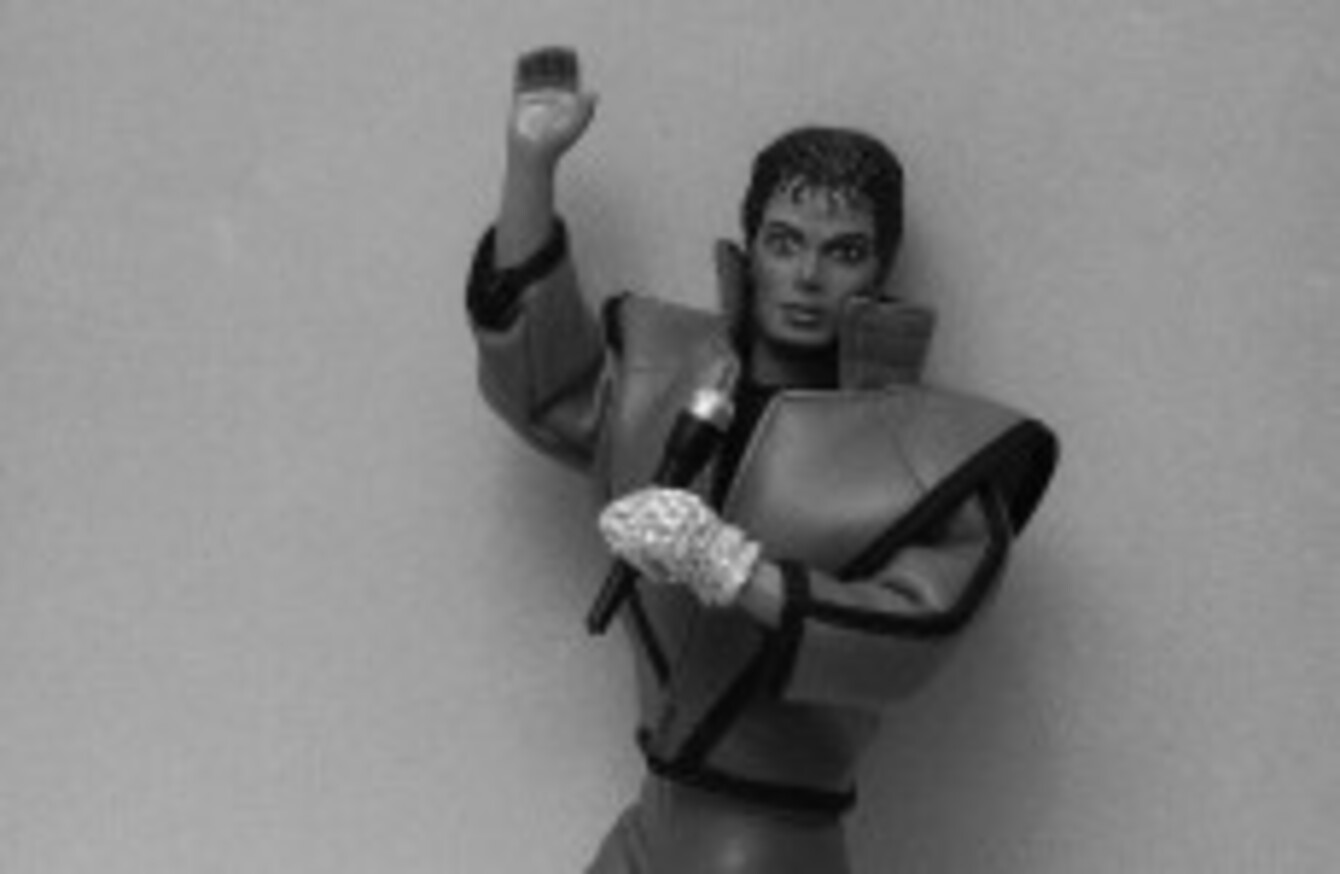 The LJN Toy Company introduced the Michael Jackson doll on Thursday, June 29, 1984 in New York, retailing at $13.
Image: Suzanne Vlamis/AP/Press Association Images
The LJN Toy Company introduced the Michael Jackson doll on Thursday, June 29, 1984 in New York, retailing at $13.
Image: Suzanne Vlamis/AP/Press Association Images
WHEN BEYONCÉ RELEASED her self-titled visual album last month – 14 new songs and 17 music videos — it was described as "a non-linear journey through the thoughts and visions of Beyoncé".
It was billed as an experience.
But that's not a new idea. Since the early 1980s – when MTV launched – the music video has been a platform for artists' products, a revolutionary form of marketing, and a chance for listeners to have the total music experience.
Throughout the subsequent decades, musicians have tried anything and everything in their videos — ferocious animals, death-defying heights and crazy outfits — all in the name of innovation.
While some artists hoose a savvier home video route (see David Bowie who spent just $12.99 on his 2013 Love Is Lost video), others (yes, looking at you Madonna) spend millions of dollars and weeks of production on their work.
Some of the music videos that broke the bank might surprise you though. (Note: There is an inflation-adjusted list after the countdown)
14. BACKSTREET BOYS, Larger than Life, $2.1 million
Boyband Backstreet Boys were thinking big when they put together a music video for their 1999 hit.
Director Joseph Kahn to set the scene for "Larger than Life" in outer space. Special effects and animation included Brian Littrell doing flips on a flying surfboard, a scene that cost about $90,000.

13. MICHAEL JACKSON, Bad, $2.2 million
At a time when MTV and music videos were bringing songs to the next level and musicians onto a more public platform, Michael Jackson made a name for himself with his lengthy, detailed and pricey videos.
For 1987's Bad, Jackson recruited an all-star team: famed film director Martin Scorsese and novelist Richard Price. The 18-minute short film took the team a total of six weeks to shoot.
The video featured Jackson, as a teenager, who returns to his urban hometown from preppy boarding school. Cue the leather-adorned Jackson street dancing with an impeccably choreographed possé in a Brooklyn subway station.
Price later spoke to New York Magazine about his role, saying:
"Think about it: Richard Price, Scorsese, Michael Jackson, who the hell is going to say no? Of course I was going do it. And everybody did their job. Jackson is not a bad actor, and Scorsese, well, he's great."

12. CELINE DION, It's All Coming Back to Me Now, $2.3 million
Fire, ghosts, gusts of wind and motorcycles — the 1996 video for Dion's "It's All Coming Back to Me Now" has it all.
The Nigel Dick-directed video was shot over the course of four days in various locations throughout the Czech Republic.
The team used grandiose scenes of expansive hallways, staircases and bedrooms, plus exterior images of the Ploskovice Castle, while the post-production team used extensive special effects to portray reflective, haunting images of Dion's character and her deceased lover.

(And, yes, the song will be stuck in your head forever now)
11. BUSTA RHYMES, What's It Gonna Be?, $2.4 million
Busta Rhymes and Janet Jackson surprised fans with the special-effects-heavy What's It Gonna Be? music video.
Picture this: A glass of liquid falls to the ground, breaks and the liquid transforms into a knight of shining armour, aka Busta Rhymes.
Later in the video, after metallic drummer boys appear through slick tunnel walls, we see Janet Jackson dancing while shiny liquid rain drops fall around her. But they aren't just rain drops — they're little 3D versions of Busta.
The Hype Williams-directed video holds the Guinness World Record for the most expensive music video special effects.
10. MARIAH CAREY (featuring Jay Z), Heartbreaker, $2.5 million
Carey's 1999 Heartbreaker music video features the songstress following a cheating boyfriend into a movie theatre, engaging in a cat fight with the other woman, and proceeding to spill a huge soda in her boyfriend's lap.
Payback may be priceless but Heartbreaker cost a whopping $2.5 million to make — $100,000 of which was spent on the movie theatre rental.
Under the lead of Rush Hour director Brett Ratner, the video used various scenes of animation – a solution for Jay Z not being able to film a cameo in the video. (His own recent music video shoot prohibited him from partaking in another video so soon afterward.)
"We decided to do some animation," Mariah told MTV, "And it really works, because we're using a lot of screens for movie footage, for inserts and things, so they animated me and my friends, and it's going to be really cute. The animation is acting out Jay's run, like it's me doing all the things Jay is talking about on his run, and it's cute."

9. MC HAMMER, 2 Legit 2 Quit, $2.5 million
Hammer recruited a boatload of athletes to help out with his 14-minute 2 Legit 2 Quit video. Getting them to say yes wasn't the hard or costly part though — Hammer used to be a bat boy with the Oakland A's and established his connections there.
But in order to obtain the athletes' cameos, director Rupert Wainwright sent a production crew out around the country to capture footage of everyone from Roger Clemens to Jose Canseco.
Obtaining funk musician James Brown's appearance in the video wasn't the easiest job thought. In fact, the icon was in jail at the time, set to be released the day video production was slated to begin. So, Hammer arranged for a private jet to pick Brown up at his South Carolina prison and bring him to production in Los Angeles.
Add in two extra days of private jet rental — Brown wanted to spend some time in Vegas after production, of course — and the video's cost spiked.
Wainwright said, "It was an 18-day shoot, but we didn't shoot it in 18 days. We shot [it] in 30 days. We would shoot an 18-hour day and take two days off. It was insane. It was the hardest shoot I ever did in my life."
The 2 Legit 2 Quit video begins with a news reel of celebs reacting to a rumour that MC Hammer left the industry. Loads of intense pyrotechnics and impressive choreography follow as MC Hammer takes the concert stage, pretty much proving what the rapper had been saying all along: "You can't touch this."

8. PUFF DADDY, Victory, $2.7 million
Directed by Marcus Nispel, Victory pays homage to action film The Running Man as it features Diddy as a contestant being chased by armed forces through the dark streets.
The 1998 video uses images from Notorious B.I.G.'s One More Chance, portrays Busta Rhymes dressed in black feathers and sitting atop a statue and features actors Dennis Hopper and Danny DeVito.
The use of an airplane and helicopter, plus a realistic implementation of pyrotechnics, boosted the production's cost up close to $3 million.

7. GUNS N' ROSES, Estranged, $4 million
Estranged is an emotional power ballad, worthy of an overly-dramatic video.
Director Andy Morahan helped Axl Rose channel his recent separation into a storyline that chronicled the lead singer hiding from a SWAT team, an ocean suicide attempt, and eventual rescue by dolphins, interwoven with scenes of the band's live shows.
The $4 million budget included the use of a US Coast Guard chopper and rescue squad, an oil tanker, and an Antonov An-124 Ruslan aircraft.
The nearly 10-minute-long music video is the third in a video trilogy also featuring Don't Cry and November Rain, the latter of which almost made this countdown with a $1 million price tag.

6. MICHAEL JACKSON, Black or White, $4 million
Any music video starting with a dancing and guitar-playing Home Alone-era Macaulay Culkin is bound to be a good one.
Add in Tyra Banks and the revolutionary visual effect called 'morphing', and the result is another memorable Jackson video. The abundance of special effects — a black panther transforms into Jackson at one point — in this 11-minute video makes way for a rather pricey production. As in $300K per minute.
When the John Landis-directed Black or White premiered on television in 1991, it was seen by 500 million people, becoming the highest-rated Fox special up until that point.

5. MADONNA, Bedtime Story, $5 million
The hypnotising, trance-like feel of Madonna's 1995 Bedtime Story music video didn't come cheap.
Director Mark Romanek incorporated Egyptian imagery, rotating sunflowers and references to surrealist paintings — all seeking to illustrate the song's main line, "Let's get unconscious".
The video itself took six days to film but weeks of post-production were required to perfect the digital effects.
The film short even received a premiere worthy of its elaborate scale. "Bedtime Story" was unveiled on the big screen at cinemas in LA, Chicago, and New York.

4. MADONNA, Express Yourself, $5 million
When it was released in 1989, the Express Yourself was the most expensive video ever at $5 million.
Modeled after the classic film Metropolis, the David Fincher-directed video features a masculine-clad Madonna as she oversees workers in a factory and sings about not settling for second best.
The video picked up awards for best direction and best cinematography at the 1989 MTV Video Music Awards.

3. MADONNA, Die Another Day, $6.1 million
Some things never change, and for Madonna, over-the-top videos is one of them.
She claims three of the most expensive music videos of all time, with 2002's Die Another Day being her priciest ever at $6.1 million.
Directed by Swedish directing team, Traktor, and inspired by action scenes in the James Bond film, the singer's video incorporates intense special effects to portray realistic fighting between a good and evil Madonna, wounds included.
The Moving Picture Company was responsible for the comprehensive post-production work. According to Traktor:
"For various reasons, there are effects in almost every shot. It is a testament to the skills of the merry artisans of MPC that you think there are none."

2. BRITNEY SPEARS, Work B—-, $6.5 million
The most recent music video on this list, Spears' 2013 video for her hit single Work B—- cost $6.5 million – thanks to some pretty epic choreography, location changes (deserts to gold-adorned clubs), an extensive wardrobe, and a guest appearance by a glimmering white Lamborghini.
And then there are the special effects — Britney stands atop a platform in a pool of color-changing, shark-infested waters in one scene, and a group of mannequins are blown up in another scene.
With such spectacle, we can only imagine what her Las Vegas residency is like.

1. MICHAEL AND JANET JACKSON, Scream, $7 million
Rounding out the list with the most expensive music video of all time is the brother-and-sister duo, Michael and Janet Jackson, and their 1995 hit, "Scream."
The Mark Romanek-directed video depicts the siblings escaping earth and its overwhelming media backlash (for what?) via a spacecraft. With 13 pieces to its set, $175,000 in lighting, and a $65,000 computer-generated spaceship, the final bill skyrocketed to a whopping $7 million.
"Scream" won an award for best dance video at the 1995 MTV Video Music Awards.

Bonus: Here's what the list looks like adjusted for inflation …
15. Backstreet Boys — Larger than Life (1999): $2.9 million.
14. Michael Jackson — Remember the Time (1992): $3.3 million.
13. Celine Dion — It's All Coming Back To Me Now (1996): $3.4 million.
12. Mariah Carey — Heartbreaker (1999): $3.5 million.
11. Diddy — Victory (1998): $3.9 million.
10. Busta Rhymes — What's It Gonna Be? (1999): $4 million.
9. MC Hammer — Too Legit to Quit (1991): $4.2 million.
8. Michael Jackson — Bad (1987): $4.5 million.
7. Gun N' Roses — Estranged (1993): $6.5 million.
6. Britney Spears — Work Bitch (2013): $6.5 million.
5. Michael Jackson — Black or White (1991): $6.9 million.
4. Madonna — Bedtime Story (1995): $7.7 million.
3. Madonna — Die Another Day (2002): $7.9 million.
2. Madonna — Express Yourself (1989): $9.4 million.
1. Michael Jackson and Janet Jackson — "Scream" (1995): $10.7 million.