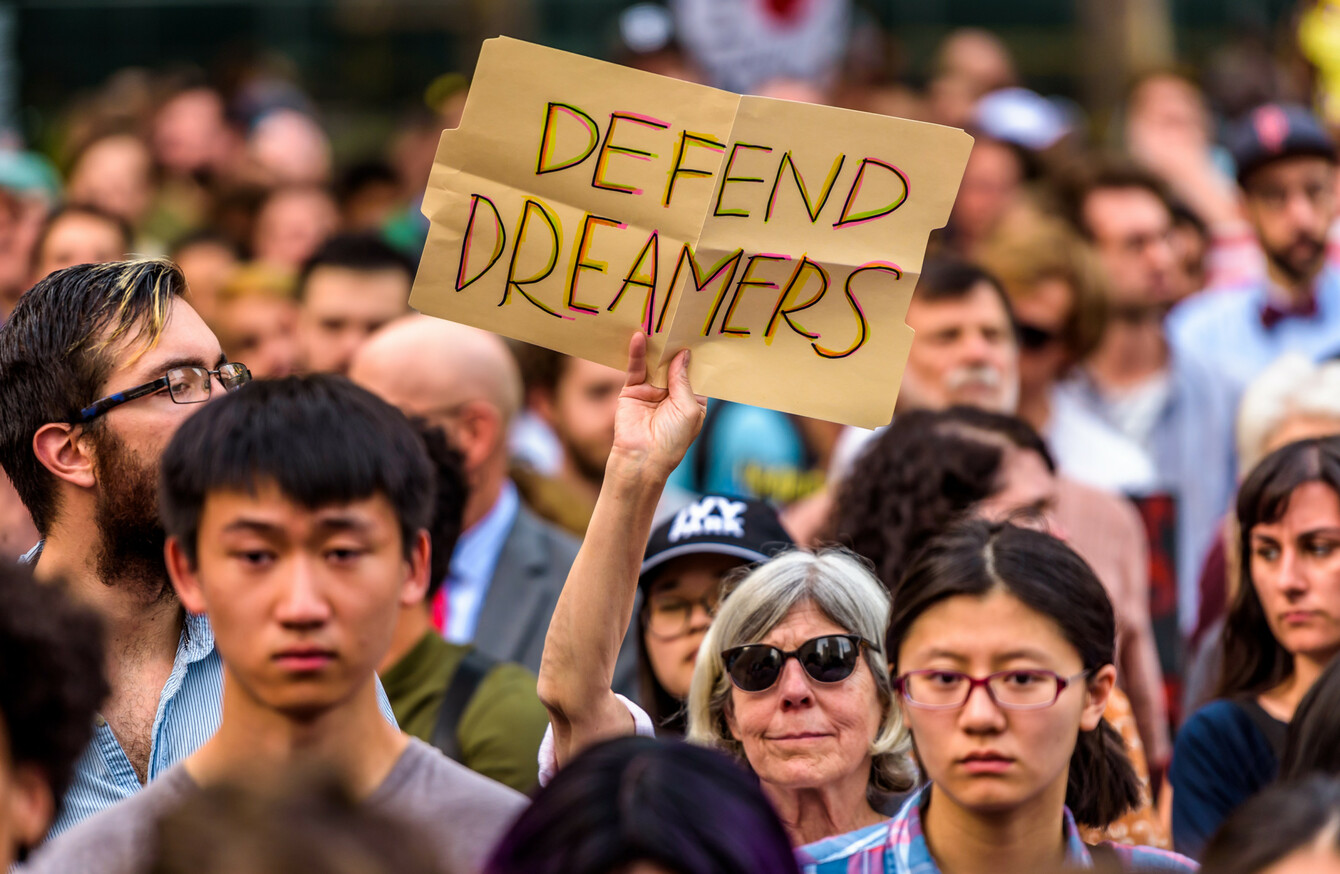 A protest against the abolition of DACA in New York in September 2017
A protest against the abolition of DACA in New York in September 2017
THE CHAOS IN Washington over the past week, when the government was forced into a shutdown, was caused mainly by disputes over one single policy – Deferred Action for Childhood Arrivals, or DADA – which determines the fate of undocumented immigrants who were brought into the US as children.
The DACA programme, now five years old, allows these children, who are called Dreamers, to live and work in the country without the fear of immediate removal.
However, Donald Trump said in September he was scrapping DACA, throwing the future of those it covered, including many Irish immigrants, into doubt. He did, however, delay enforcement to give Congress until March to craft a lasting solution.
US lawmakers have since struggled for months to negotiate a compromise. An impasse over the issue, a source of bitter partisan tension in Washington, recently shut down the government for three days.
There has been a lot of confusion as to what the latest negotiations will actually mean for illegal immigrants in the US, and how it will affect the Irish, so here's a breakdown.
What exactly is the DACA programme?
The Obama-era programme, introduced in 2012, protects the immigrants, young adults who were brought into the US illegally as children, from being deported to where their parents came from (potentially a country they have never lived in), allowing them to work legally and live in the US without fear of deportation.
These people have become known as 'dreamers'. The vast majority of them come from Central and South America, but many Irish immigrants are included – but many also don't fall under this remit.
It does not grant the 800,000 young people it covers citizenship of the US. Rather, it grants them a status that must be renewed every two years.
Those who applied for the programme underwent an intense vetting process and had to have no criminal history to qualify. In addition, they had to be students, or have completed school or military service, and be aged under 31 as of 15 June 2012.
Why did Trump pledge to abolish the programme? 
Trump pledged to abolish the programme during his campaign, slamming the programme as illegal "amnesty".
However, Trump has, at times, appeared more supportive of the programme since being elected. He said in April that the dreamers could "rest easy" as they would not be targets for deportation under his immigration policies. He was targeting criminals, not the dreamers, he said then.
Despite this, he followed through with his pledge and ended the programme in September. But, as stated above, he called on the Congress to come up with a replacement solution within months.
Are Dreamers in immediate danger of being deported? 
Not just yet.
Yesterday, President Donald Trump said that he was prepared to back a deal that would provide a pathway to citizenship to America's Dreamers over a period of 10 to 12 years – a significant breakthrough in the ongoing tense negotiations.
"Tell them not to be concerned" as the 5 March deadline approaches, Trump said of the Dreamers. "It's up to the Democrats, but they should not be worried."
In reaching a deal to resume federal operations last Monday, the Senate's Republican leader Mitch McConnell said Congress would aim to negotiate an immigration agreement by 8 February, and if a deal is not struck by then, the issue would be taken up in a debate on the Senate floor.
Although Trump did not provide full details on the pathway to citizenship, his comments are perhaps the most telling sign that a broader deal might be within reach.
They came just hours after the White House announced it will release a "legislative framework" for immigration reform on Monday that it said is acceptable to both Democrats and Republicans.
"The White House will release a legislative framework on Monday that represents a compromise that members of both parties can support," which is based on "dozens" of meetings with Republican and Democratic leadership and legislators, White House Press Secretary Sarah Sanders said.
How will this affect Irish illegal immigrants?
It remains slightly unclear what will happen to Irish illegal immigrants living in the US.
Yesterday, news broke that an Irish teenager brought to the United States when he was younger by his parents is due to be deported back to Ireland this week after being arrested after getting into an argument.
He was brought over with them as part of the Visa Waiver Programme (VWP), which allows people to stay in the US for up to 90 days – just like many Irish have done.
Many of the Irish who have overstayed their visits remain undocumented and the laws around Dreamers aren't as straightforward for these people.
Speaking on RTE Radio One's Morning Ireland, Kieran O'Sullivan, Immigration, Detention and US Citizenship counsellor at the Irish Pastoral Centre in Boston said that 34 undocumented Irish were deported last year.
He has called on a major immigration reform to take place in the US, to offer security for Irish illegals.
"We've never seen such fear among the Irish in the community," O'Sullivan said.
He explained that once Irish illegals get into any sort of trouble with US police, they are at immediate risk of deportation currently.
"Over the past 12 months, we've had a number of high-profile detentions in the area and one thing that's disturbing is that once immigrants are taken into custody, they face considerable amounts of time in jail while the Immigration and Customs Enforcement are processing their removal paperwork," he said.
The problem here is that Congress has failed to enact any meaningful, comprehensive immigration reform. I see the problem lying in Washington.
For now, the situation for the thousands of Irish illegal immigrants remains unclear.
However, hope is on the horizon for the Dreamers following Trump's comments yesterday.
With reporting by AFP.