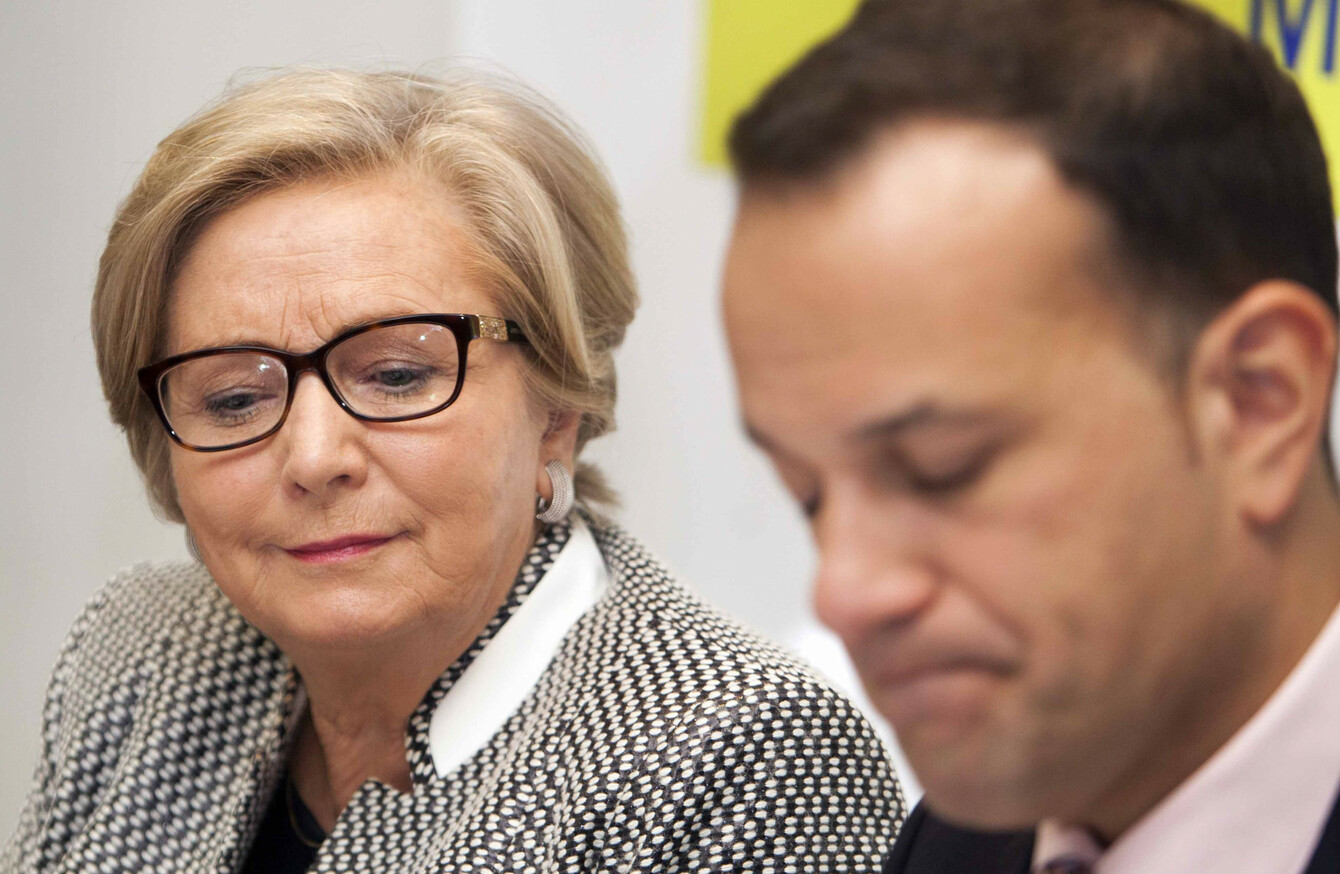 Tánaiste Frances Fitzgerald with Taoiseach Leo Varadkar.
Image: Leah Farrell/Rollingnews.ie
Tánaiste Frances Fitzgerald with Taoiseach Leo Varadkar.
Image: Leah Farrell/Rollingnews.ie
AFTER A YEAR and a half of a relatively stable, if sometimes uneasy, confidence and supply agreement between Fine Gael and Fianna Fáil, the country is once again on the brink of a general election.
Tánaiste Frances Fitzgerald is under intense pressure from the opposition to step down, but Fine Gael are backing her strongly.
The reason the government could be brought down is tied up with the ongoing controversy around how gardaí treated whistleblower Maurice McCabe.
So, how did we get here? Here's a brief timeline of how this whole controversy unfolded:
What came before
The O'Higgins Commission examined claims made about garda misconduct, and found serious flaws and failures in a number of investigations in the Cavan-Monaghan area between 2007 and 2008.
Maurice McCabe was one of the gardaí who highlighted these issues. A legal strategy adopted by Garda Commissioner Nóirín O'Sullivan's team in 2015 was to challenge his credibility at the O'Higgins Commission.
Documents uncovered by RTÉ's Prime Time back in 2016 showed that Commissioner Nóirín O'Sullivan's senior legal counsel Colm Smyth SC told Justice Kevin O'Higgins that he had "instructions from the commissioner" to "challenge the integrity… of Sergeant McCabe".
Furthermore, Prime Time also revealed last night that transcripts of the O'Higgins Commission supplied to the Garda Ombudsman Commission were missing crucial pages related to this legal strategy.
So, the reason that Fitzgerald is under such pressure now is because an email was sent to her back in May 2015 around this legal strategy.
The email concerns a row between McCabe's and O'Sullivan's legal teams and mentions an allegation that "a serious criminal complaint against Maurice McCabe – which he had always denied – had not been properly investigated by the Garda Siochána".
The fact that she was sent the email would suggest that Fitzgerald knew about these legal efforts to discredit McCabe. All of this snowballed into a huge scandal for the government in recent weeks.
9 November 2017
This email is found by the Department of Justice.
13 November 2017
Minister Charlie Flanagan is informed about this on this date. At the same time, Labour's Alan Kelly releases a statement strongly criticising the government for not disclosing what the department knew about the legal strategy.
"What are they hiding from?" he said.
14 and 15 November 2017
Leo Varadkar tells the Dáil that the Department of Justice was not aware of the legal strategy of O'Sullivan until after the O'Higgins Commission took place.
He said: "I spoke to the Tánaiste who told me that she had no hand, act or part in this decision and that she was not aware of it until after the fact around the time it entered the public domain. The Department of Justice and Equality has told me that it was not made aware of it until after the fact."
The opposition took a dim view of this defence.
21 November 2017
The position changes. Fitzgerald tells the Dáil that the Department of Justice informed her last Thursday (16 November) that the email had been located.
Fitzgerald said she likely did not remember the email as it said she did not need to take action. It stated: "Neither the Attorney General nor the Minister has a function relating to the evidence a party to a Commission of Investigation may adduce."
The Tánaiste said it would have been "absolutely inappropriate" for her to influence a witness' legal strategy.
Solidarity–PBP TD Paul Murphy described the strategy as a "disgusting attempt to blacken the name of Maurice McCabe". "How could the minister receive such an email and read it and forget that she read it?," he asked.
After a cabinet meeting, Leo Varadkar is said to "absolutely" have full confidence in Frances Fitzgerald.
22 November 2017
More pressure is heaped on Fitzgerald by the opposition at Leaders' Questions in the Dáil.
She said she likely did not remember the email as it said she did not need to take action.
"I can only assume that I did read it but I did not remember it when I spoke to the Taoiseach," Fitzgerald said.
Micheál Martin says the email is "damning" and states that it should have raised alarm bells for the minister.
It is simply not credible that the minister would not remember the email, he said, given the enormity of the McCabe scandal.
Sinn Féin's Mary Lou McDonald said there are questions over the Tánaiste's "competence and judgement" given the email sets out the former Garda Commissioner's strategy "to undermine and attack the credibility".
Varadkar said that he had been given "incomplete information" by the Department of Justice and added that he had asked for an update on the Toland report on the functionality, operation and modernisation of the Justice Department.
That evening, Sinn Féin TDs met and said that they would launch a vote of no-confidence in Fitzgerald.
23 November 2017
Sinn Féin's Donnchadh Ó Laoghaire told reporters that his party are not trying to precipitate an election, but are simply asking the Tánaiste to be accountable.
But he added that Sinn Féin is ready for a general election. This can be avoided if the Tánaiste does "the right thing", said Ó Laoghaire.
Fitzgerald defended her position in the Dáil, and said she has always acted on behalf of whistleblowers, and took issue with accusations that she failed to defend McCabe against this malicious legal strategy before his cross-examination.
McDonald said she believed there was a "conspiracy" between the gardaí and the Ðepartment of Justice on the issue.
She said she did not accept that the Fitzgerald had "forgotten" the email.
"You may think you'll weather this storm and rise above it – but you won't," said McDonald.
With such a strong stance from Sinn Féin, it was up to Fianna Fáil to decide its next move.
Speaking on RTÉ's Prime Time, Fianna Fáil TD Thomas Byrne confirmed that his party will be submitting a similar no confidence motion in the Tánaiste.
That motion is expected to be submitted in the morning and a debate on it could take place next Wednesday.
Fianna Fáil's motion was all but confirmed after Jim O'Callaghan, the party's justice spokesperson, said on RTÉ's Six One news that the party would not vote confidence in the Tánaiste next week.
O'Callaghan said Fianna Fáil leader Micheál Martin had already indicated to Taoiseach Leo Varadkar that he did not have confidence in the Tánaiste.
In response, Leo Varadkar and senior Fine Gael ministers rallied around Frances Fitzgerald.  A Fine Gael parliamentary party took place at which Varadkar and his colleagues gave enthusiastic support to Fitzgerald.
A unanimous motion in support of the Tánaiste was passed at the meeting with Varadkar saying she was facing "a trumped up charge from the opposition".
What happens next
So, it literally comes down to this.
Fine Gael are backing Fitzgerald. The opposition want her gone.
If Fianna Fáil follow through with the no confidence motion that was confirmed this morning, the confidence and supply agreement ends and the government loses its majority vote in the Dáil.
Losing this majority guarantees a general election. If the parties stick to their guns, the only way an election could be avoided now is if Fitzgerald resigns.
With Christmas so close, any election called soon would likely take place in January. This is the closest we've come to the government collapsing in such a dramatic fashion in over half a decade. Buckle up, everybody.