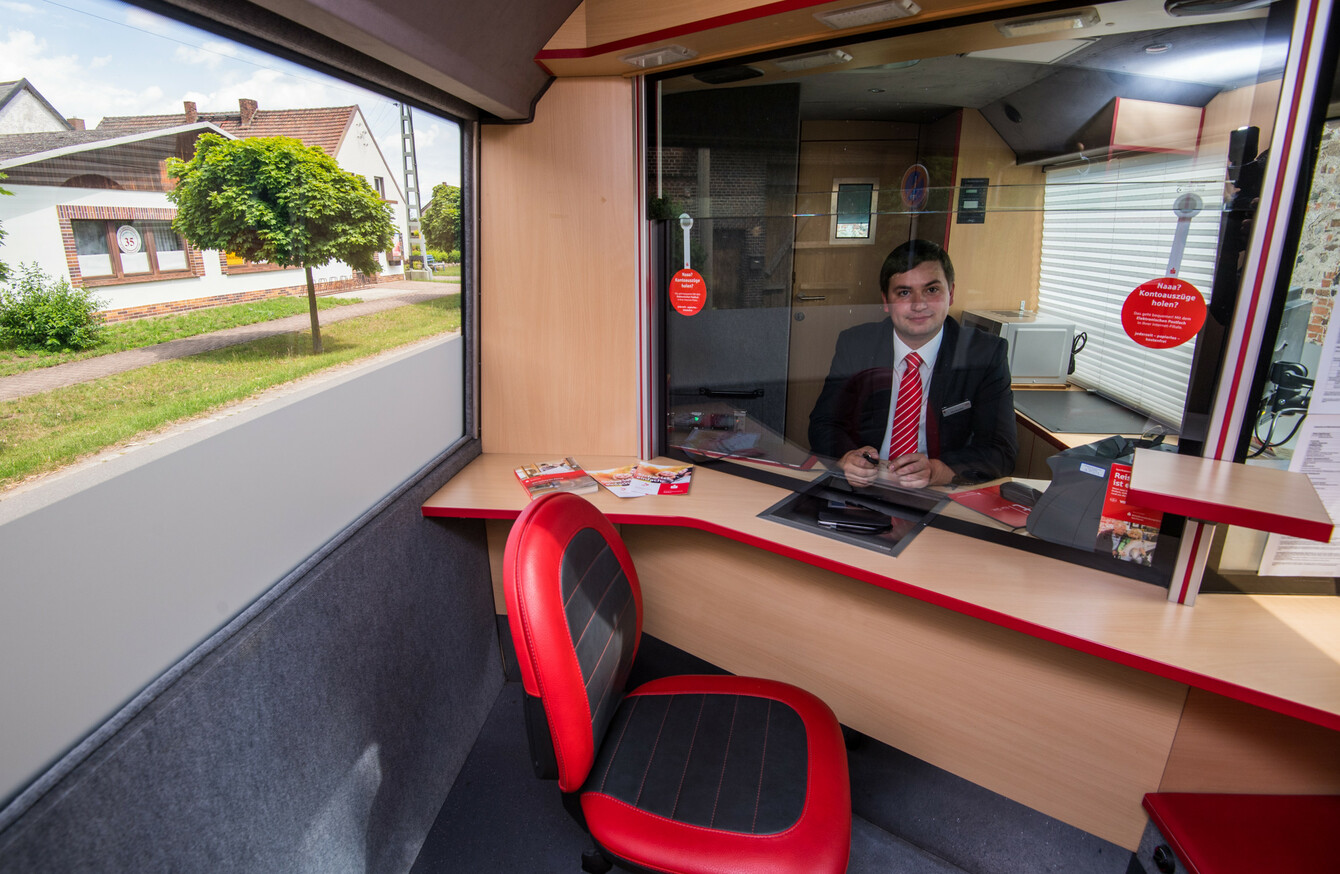 There are 12,000 Sparkasse branches in total in Germany with 250,000 employees.
Image: DPA/PA Images
There are 12,000 Sparkasse branches in total in Germany with 250,000 employees.
Image: DPA/PA Images
AS THE SCALE of the tracker mortgage scandal emerges, banks in Ireland have been accused of forgetting their responsibility to act in the best interest of their customers.
Last month, the Oireachtas Finance Committee heard from the heads of Sparkasse in Germany, which is the largest banking sector in Germany.
It is understood the committee will be hearing from stakeholders on the issue of public banking again before the Christmas break, as it looks at alternatives to create a banking sector in Ireland that really does put the customer first.
What is public banking?
Niclaus Bergmann, Managing Director of Sparkassenstifung fur Internationale Kooperation, told the committee that Sparkassen was founded two hundred years ago with a "philanthropic aim to fight poverty".
"That aim very quickly developed to include support for local tradesmen and businesses, including mortgages."
This model of public banking falls in between the private commercial banks we are used to in Ireland, and the credit union model. The interest rates for savings deposits are 0%, Bergman explained, "but people still bring their deposits to Sparkassen because they know they are safe".
It is interesting to see that total deposits are growing at between 3% and 5% per year because people keep on bringing their money to their local Sparkasse.
Sparkassen are financial institutions that operate under public law, but they also fall under the remit of general banking legislation in Germany. Therefore, all of the rules and laws that apply to commercial banks also apply to us.
What does it look like in Germany?
At present there are 390 local Sparkassen in Germany so there is a local Sparkassen in every part of the country. There are 12,000 branches in total with 250,000 employees. It is the largest banking group – and therefore market leader – in Germany.
"We have a local or a public legal form. We have municipal trusteeship. We have a public mandate. That means we not only have to earn our money but give back something to society, including the profits that we earn. We also work on a regional principle," Bergman told the committee last month.
"That means that each of the 390 Sparkassen Germany has their own clearly defined business area in which to work. The model is extremely beneficial to regional economic development. It means that not all business activities move to the capital and something happens economically in each region in the country."
What would it look like in Ireland?
Committee members were keen to hear what the German representatives stood to gain from their involvement in establishing a public banking sector in Ireland. Berman told them that Sparkassen would not be opening any branches in Ireland, nor does it have any financial interests here.
"Rather, the mission for the German Sparkassen Foundation is to make our experience and expertise available to other countries," he told them.
The proposal for Ireland, if the government is interested in rolling this out, would involve eight independent regional banks, which would feed back into a central service provider owned by these eight banks.
A pilot would be launched in the midlands. He said if public bank worked there, "it would work everywhere".
As for the bank's profits, Bergmann said they are used in two ways.
One way is to strengthen the capital because the only capital we have is retained earnings so we have to put aside some of the profits for that. The rest goes to the owner, the local municipality, which can only use these funds for social purposes.
These banks would offer the same kinds of loans as commercial banks currently offer, but with more favourable terms.
Business loans would include leasing contracts and export financing.
Bermann said mortgage customers could get a fixed rate for five, ten or 15 years.
"That would be the normal duration of a fixed interest rate. On the mortgage itself, when one has a 1% repayment per year, the duration of the mortgage is 30 years."
This offer had earlier promoted chairperson John McGuinness to ask "When can you open the banks?".
Senator Kieran O'Donnell followed up with: "Have you packed the bags?".
Would this have an impact on credit unions?
Bergmann said this structure would actually increase the stability of the entire financial system.
"It helps to strengthen the credit unions. Through the new public banks they could offer services that they are unable to offer now. They could use the services of a central services provider to make their own business more efficient," he said.
"There are some ways in which it is possible to strengthen the credit unions through this new public banking system. It is not a competition issue, but it is a question of how to co-operate."
And the commercial banks, he said, would be forced to offer more competitive rates.
Is this likely to happen here?
Bergmann told the committee that approval now has to come from the Department of Finance and the Central Bank.
After that, it would take up to a year before the first pilot bank can really start and open its door to the public.
The committee heard that the department has been working on a report on the public banking. It also heard that no one from the department has visited Germany to look at how it works there or discuss it with Sparkasse founders.
That is not likely to stop the committee from having further discussion on this and it is expected we will be hearing more about this model and other alternatives in the coming weeks.