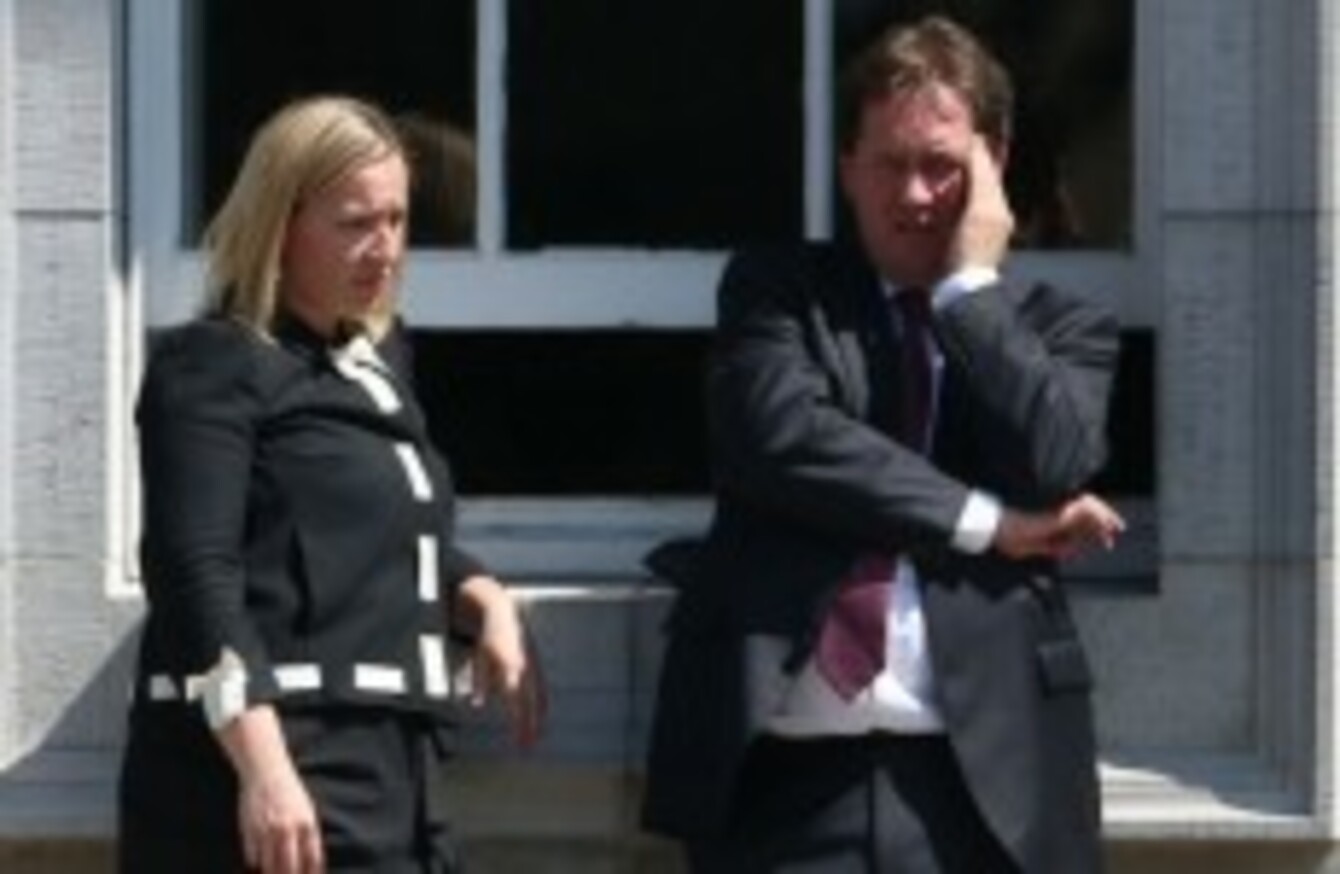 Lucinda Creighton and Paul Bradford during last month's abortion debate
Image: Niall Carson/PA Wire
Lucinda Creighton and Paul Bradford during last month's abortion debate
Image: Niall Carson/PA Wire
EIGHT FORMER MEMBERS of the Fine Gael parliamentary party face the prospect of being left without any speaking rights when the Dáil and Seanad resume on 18 September.
Five TDs including Lucinda Creighton, Billy Timmins, Brian Walsh, Terence Flanagan, Peter Mathews as well as senators Paul Bradford and Fidelma Healy-Eames lost the whip after voting against the government on abortion legislation.
Roscommon TD Dennis Naughten lost the whip two years ago over a vote on services at Roscommon Hospital.
The Government has said that it will not be allowing the group set up a second Technical Group, which would necessitate a change in the Dáil's standing orders.
Several members of the group have also said that they don't want to establish a new political party at this time, but it could be their only shot at getting speaking rights, even if it is a long shot as TheJournal.ie explains…
How are speaking rights allocated?
Using labyrinthine and utterly confusing measures that flummox most non-Oireachtas members.
Essentially, the Dáil grants the government 50 per cent of speaking rights and 50 per cent goes to the opposition. So of that 50 per cent, the largest parties get the most speaking time and so on down the chain.
Under Dáil standing orders, for TDs to be allocated regular speaking time, they must be members of a group of seven or more deputies.
That means that parties band together and independents are left to cobble together a group in order to make up their numbers. Or not, as the case was in the case of the 30th Dáil, which didn't have a technical group until Pearse Doherty won the Donegal South-West by-election in 2010.
The Technical Group acts as a de-facto party for the purposes of divvying up speaking time, employing a parliamentary coordinator to ensure the minutes are split up equally.
So why don't the rebels just join the Technical Group?
Because the Technical Group isn't a free for all. It is a group for unaligned parliamentarians to come together to obtain speaking rights. Because the Fine Gael TDs were elected under that banner, they will be considered Fine Gaelers for the life time of this Dáil.
At least for the purposes of funding and group membership.
While the Technical Group members have no say over who can and can't join, Standing Orders are written in such a way as to prevent defectors from joining it in order to deter their members from leaving their ranks.
Senator Paul Bradford says that the Fine Gael "Gang of Eight" has "fairly similar views on a lot of things" that may be incompatible with the Technical Group.
Which is probably the most diplomatic way of putting it.
We also doubt that Richard Boyd-Barrett would be keen to bless Lucinda Creighton with his share of minutes now that she finds herself out in the cold.
Why not form their own party?
Because setting up a political party is a lengthy, complicated and costly process, even if you already have six TDs and two senators.
To set up a political party, you must satisfy the Office of the Registrar of Political Parties that you are
organised to contest elections
Have more than 300 recorded members over the age of 18.
#Open journalism No news is bad news Support The Journal

Your contributions will help us continue to deliver the stories that are important to you

Support us now
The Fine Gael rebels will not have to satisfy this criteria, because dispensation is given if:
The party has at least one member who, at the time of the application, is a member of the Dáil or a representative of the European Parliament and who certifies in writing to the Registrar that he or she is a member of the party.
Parties must also have a constitution or some set of rules, must agree to hold a yearly meeting and elect an executive. The party would then be bound not to use the name or acronym of Fine Gael in a way that may confuse the public.
After applications are made, the Registrar informs the applicant of their decision and appeals can be made. The appeals panel is made up of a High Court Judge, the Seanad chair and the chair of the Dáil -the two latter positions are currently occupied by Fine Gael's Paddy Burke and Seán Barrett.
Were the six TDs able or willing to do that, they would still be one body short of a speaking group and would have to convince someone to come on board.
The likelihood of attracting ex-Labour TDs like Colm Keaveny or Patrick Nulty is slim, but there are some such as Shane Ross who would have a more natural affinity with the party. However he has established himself as an independent voice in recent years.
So what happens if they can't form a party?
In all probability? Not much. Bradford says that there is no prospect of the gang being quietened, but with limited time to contribute to debates, it is hard to see a way for them to make many waves.
Enda Kenny has threatened deselection from future elections, but there is plenty of time until the presumptive 2016 General Election and it would not be a surprise to see the group slowly accepted back into the fold in the next 18 months.
Either that, or the 'Gang of Eight' roams the Leinster House halls like Blanche DuBois, relying on the kindness of strangers.
Note: This article was amended on 28 August 2013 to clarify that the Technical Group is NOT an 'invite only' grouping in the Dáil. Other minor amendments were also made to the article.