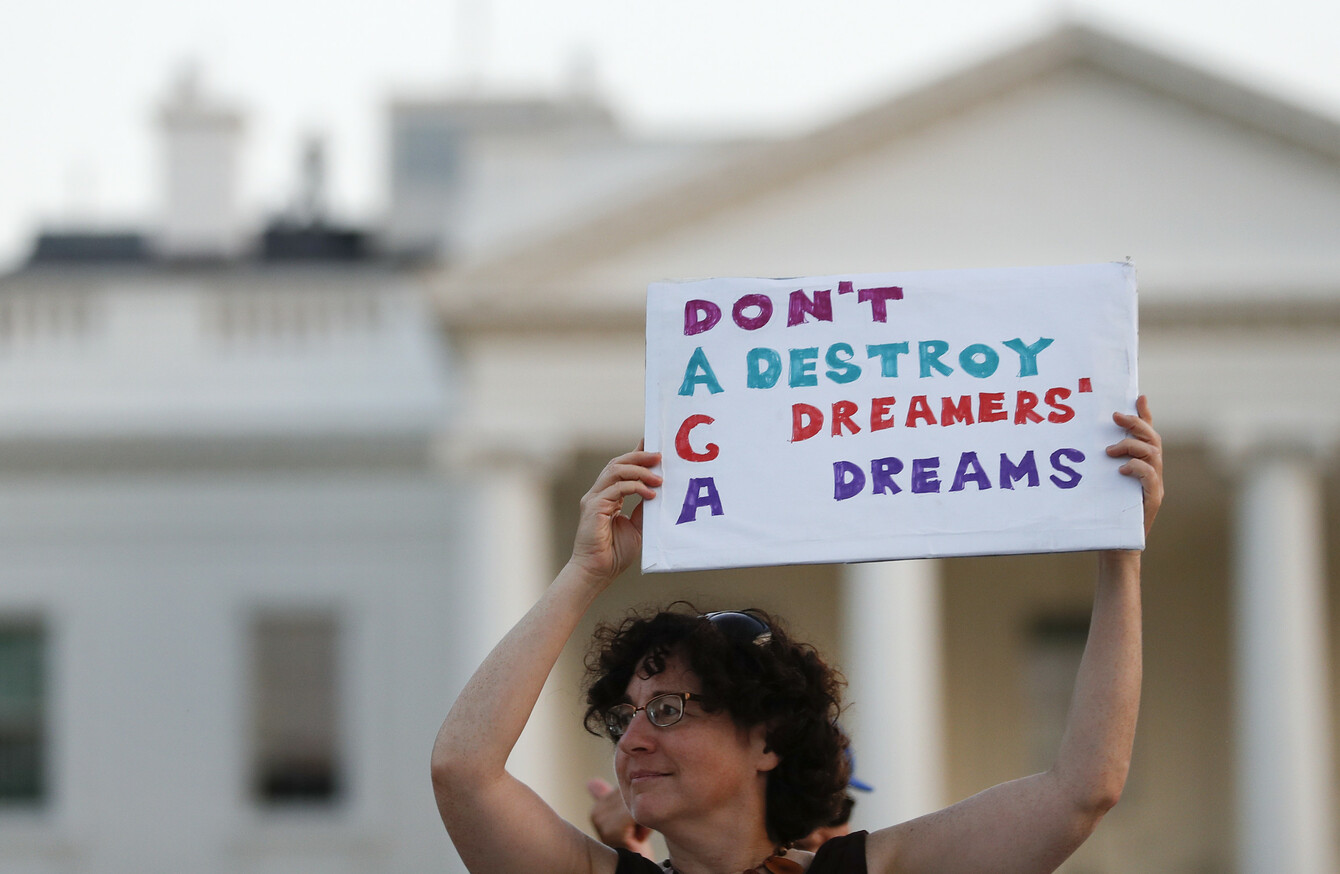 Image: Carolyn Kaster
Image: Carolyn Kaster
US PRESIDENT DONALD Trump yesterday terminated a programme which protects the almost 800,000 undocumented immigrants who were brought into the US as children from deportation.
The Deferred Action for Childhood Arrivals (DACA) programme, now five years old, allows them to live and work in the country without the fear of immediate removal.
While not unexpected, the decision has been met with anger in many parts, with protests erupting outside of the White House and the Justice Department after the announcement was made by the Attorney General, Jeff Sessions.
Trump is now calling on Congress to pass a new law that would determine the future of these immigrants within six months, when he will start phasing out the protections that DACA offers.
What exactly is the programme?
The Obama-era programme, introduced in 2012, protects the immigrants, young adults who were brought into the US illegally as children, from being deported to where their parents came from (potentially a country they have never lived in), allowing them to work legally and live in the US without fear of deportation.
These people have become known as 'dreamers'.
It does not grant the 800,000 young people it covers citizenship of the US. Rather, it grants them a status that must be renewed every two years.
Those who applied for the programme underwent an intense vetting process, and had to have no criminal history to qualify. In addition, they had to be students, or have completed school or military service, and be aged under 31 as of 15 June 2012.
Why has Trump abolished it?
Trump pledged to abolish the programme during his campaign, slamming the programme as illegal "amnesty". This language was echoed by Sessions yesterday, who referred repeatedly to the dreamers as "illegal aliens" and describing them as lawbreakers.
However, Trump has, at times, appeared more supportive of the programme since being elected. He said in April that the dreamers could "rest easy" as they would not be targets for deportation under his immigration policies. He was targeting criminals, not the dreamers, he said then.
Many members of the Republican party, which typically takes a hard line on illegal immigration, oppose the programme, claiming its introduction was an executive overreach and arguing that abolishing the programme would bring more job opportunities to Americans.
Seen as somewhat conflicted over the decision, Trump chose Sessions to make the announcement. Like many in the Republican party, Sessions has taken a hard line against immigration, often using a loss of American jobs as justification.
In a statement after the announcement, Trump justified the abolition by attacking the constitutionality of DACA, rather than targeting those affected.
I do not favor punishing children, most of whom are now adults, for the actions of their parents. But we must also recognise that we are nation of opportunity because we are a nation of laws.
What has the reaction been?
Trump has faced fierce backlash, most notably from Obama himself, who described the decision as "wrong", "self-defeating" and "cruel".
He also rejected the notion that the programme's introduction was unconstitutional, saying it was based on a "well-established legal principle of prosecutorial discretion".
The programme is actually a popular one, with nearly two-thirds of Americans in favour of DACA. Some of the reasoning is economic: it is estimated that the cost of DACA deportations could be more than $400 billion (about €335.5 billion), as well as the loss of tax income from dreamers.
Democrats have heavily criticised the move. House Minority Leader Nancy Pelosi said that the decision "should break the hearts and offend the morals of all who believe in justice and human dignity" and Senate Minority Leader Chuck Schumer said the "heartless" decision is "ripping up families".
Senator Bernie Sanders, who also ran for president in 2016, condemned the decision as "the ugliest and most cruel decision ever made by a president of the US in the modern history of this country".
Within Trump's own party, Senators John McCain and Jeff Flake have voiced their opposition. "I strongly believe that children who were illegally brought into this country through no fault of their own should not be forced to return to a country they do not know," McCain said in a statement.
The abolition was also condemned by Mexican President Enrique Pena Nieto, who said the country "deeply regrets" the move. "The Mexican government will urge US authorities to find a swift, permanent solution that gives legal certainty to the young people of DACA," he tweeted.
#Open journalism No news is bad news Support The Journal

Your contributions will help us continue to deliver the stories that are important to you

Support us now
The decision has also been met with protests in the US, and condemnation from celebrities and industry figures.
Tech leaders including Apple CEO Tim Cook, Facebook CEO Mark Zukerberg and YouTube CEO Susan Wojcicki have criticised the decision and called on Congress to act in favour of dreamers.
What will happen to the dreamers?

That remains unclear, with Congress how having six months to pass legislation that will decide the future of these 800,000 individuals.
No new applications to the programme are being accepted, with those already covered by the programme whose permit will expire before 5 March able to apply for a two-year renewal before 5 October.
About 200,000 of them will see their resident permits expire by the end of 2017. Another 275,000 expire in 2018, and the rest between January and August 2019. These individuals remain free from threats of deportation until their permits expire, and then will be subject to whatever provisions have been introduced by Congress.
However, efforts by both parties to legislate for young immigrants brought here illegally by their parents have been failing for 16 years, since the Dream Act was first introduced in 2001. DACA was supposed to be a temporary measure while Congress considered the Dream Act and further immigration reform.
Obama said yesterday that Congress had failed to address the problem while he was president.
"For years while I was president, I asked Congress to send me such a bill," he said. "That bill never came."
- Additional reporting from AFP.