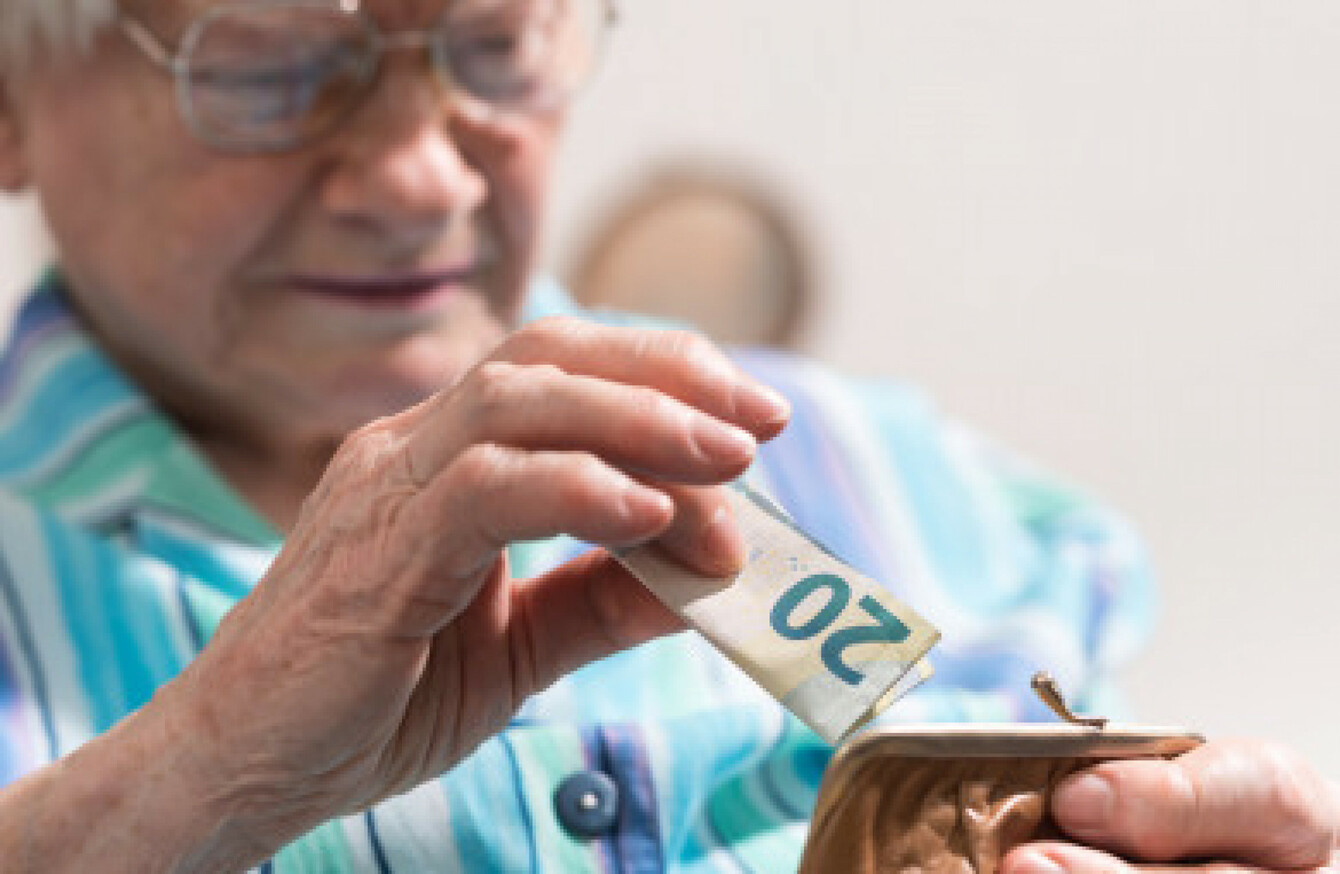 File photo.
Image: Shutterstock
File photo.
Image: Shutterstock
NUMEROUS POLITICIANS AND advocacy groups have slammed the situation, while the Minister for Finance has described it as "incredible" – but why exactly are women losing out on hundreds of euro worth of pension payments every year?
It all kicked off when Paschal Donohoe, fresh from announcing his first budget, took a call from a Longford listener on RTÉ's Sean O'Rourke show yesterday.
The caller, Eamon Tynan, said his wife is losing out on €35 a week on her State pension because she had a summer job in the 1960s when she was a secondary school student.
Minister Donohoe described the situation as 'bonkers'.
So what's the row all about?
Not everyone gets the same State pension. The row focuses on "Contributory" pensions which people can qualify for if they are over 66 years old and have built up enough social insurance contributions over their working life.
It is different from the means-tested "Non-contributory" pension which someone can get if they do not qualify for a "Contributory" one.
The source of the row dates all the way back to 2012 when the pension eligibility rules changed.
The Department of Social Protection began calculating what pension people receive by adding up the total number of PRSI contributions they made during their working life and then dividing it by the number of years between when they started working and when they became entitled to their pension.
The changes made it more difficult for people to secure a full State "Contributory" pension.
This is why Eamon Tynan's wife's pension was hit so hard. It was reduced because it factored in all the years from when she worked the summer job up until she retired, lowering her overall average.
The changes meant that around one third of new applicants received smaller pensions than they would have if they retired a year earlier.
"Lose out every year"
The issue has come to the fore in the aftermath of Tuesday's budget as advocacy groups had hoped finance minister Paschal Donohoe would attempt to tackle it.
However the disparity has in fact deepened because not everyone will receive the additional €5 a week announced for all weekly social welfare payments, including the State pension.
"It's also important to remember that not every pensioner is going to get the €5," Justin Moran of Age Action said.
These pensioners will only get a fraction of that because of how the system was changed in 2012 so they are going to continue to lose out every year.
Moran said many people have lost more than €1,000 a year because they took time out of the workforce to raise children and to care for their loved ones.
Contributory bands
An Age Action report from earlier this year revealed that 36,000 people had their State pensions cut due to the 2012 changes.
Under the old system the department used four "contributory bands" to calculate what pension people receive.
Contributory bands are simply the amounts of money people get based on how long they paid into their pension and how much they paid in over the years.
In 2012 the department added two extra bands, drastically changing what some people took home each week.
An example of this is seen in someone who contributed PRSI for 25 years.
Under the old system they used to get 98% of the maximum State Pension payment but when the new bands came in that same person only received 85% of the full amount.
This means they were taking home €30.10 less every week.
The chart below illustrates the percentage drop many people experienced following the addition of the new bands.
Age Action noted that 62% of the 36,000 people negatively affected by the changes were women.
Women were disproportionately hit for taking time out of work to raise a family while others were excluded from work by the marriage bar.
#Open journalism No news is bad news Support The Journal

Your contributions will help us continue to deliver the stories that are important to you

Support us now
The Homemakers' scheme partly makes up for these gaps in employment.
The scheme was designed to make it easier for people who took time off work to provide full-time care to children under 12, or disabled or ill people, to qualify for the "Contributory" pension.
However the scheme only counts for time off taken from 1994 onwards. Age Action wanted that extended back to the 1970s.
The report highlighted a number of inequalities including:
64% of people receiving the highest rate of payment are men
62% of people receiving the lowest rate of payment are women
90% of people receiving the widow's, widower's or Surviving Partner's (Contributory) Pension are women
"Incredible"
Speaking to Sean O'Rourke Minister Donohoe admitted that 2012 changes have had an unfair outcome but said the State does not have the "hundreds of millions" of euro it would cost to address the issue.
"It just seems incredible now that we did live in a country that required women to leave their jobs if they got married and equally what we are living with is the consequences of that now," the minister said.
The advice that I have available to me is that if we looked to rectify this issue in a single move, in a single budget it would cost hundreds of millions of euro for me to do because of the number of people that are affected by it.
The Department of Social Protection has estimated it would cost €60 million to revert to the old system next year.
"Over the next few years, we are going to try to move to a pension system, which takes into account the entirety of people's contributions. We're aiming to do that for around 2021," the minister added.
The National Women's Council of Ireland joined Age Action in criticising the government for not tackling the disparity in the budget.
"We were hoping that this Budget would be the one to tackle the inequalities women face in the pension system, so it is disappointing that this didn't happen," spokeswoman Orla O'Connor said.