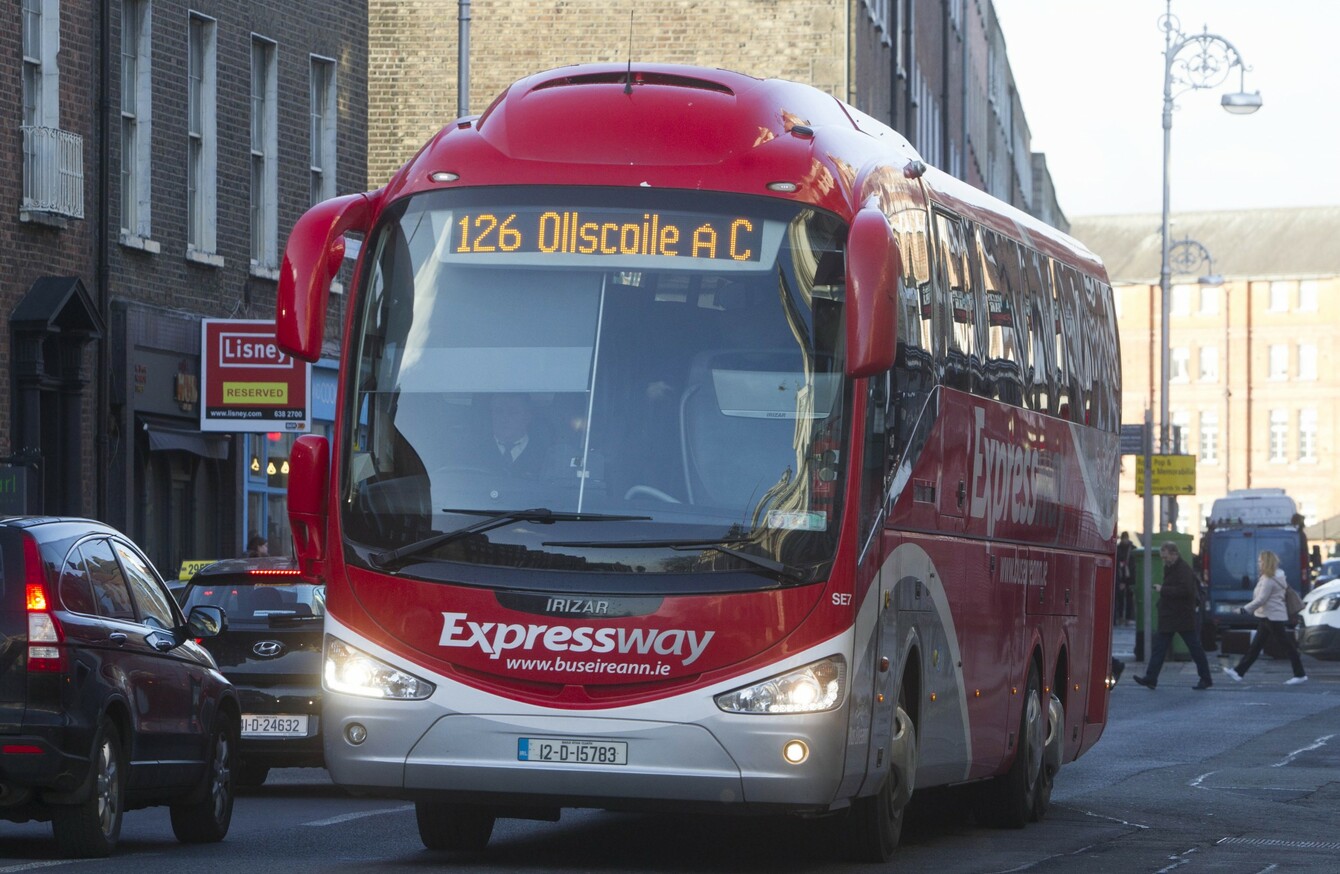 Image: Sam Boal/RollingNews.ie
Image: Sam Boal/RollingNews.ie
UNIONS REPRESENTING BUS Éireann workers have left Workplace Relations Commissions talks dissatisfied today as management revealed plans to significantly change the structure of the company's Expressway service.
After the talks, National Bus and Rail Union (NBRU) general secretary Dermot O'Leary said representatives had gone in for discussions on a "long overdue payrise".
"The company not alone indicated that it would not be in a position to contemplate any pay rises, but also dropped a industrial relations bombshell in relation to the future of the Expressway service, threatening the livelihoods of 800 Bus Eireann workers," he said.
Unions were seeking pay rises for 2,600 staff, similar to the increases sought for Dublin Bus workers - a 5% raise over three years and a further 6% agreed to in 2008 but which they never received.
Difficult situation
As the two sides sat down around the table, Bus Éireann issued a letter to staff to "highlight the very serious and difficult situation facing all of us".
Chief executive Martin Nolan said the Expressway business, which receives no State subvention, is continuing to lose money due to a number of factors, including increasing levels of competition from low cost operators and increased staffing costs.
He said there will be some "structural changes" required to deliver the company's new commercial plan.
These will involve separating out the Expressway product entirely from the rest of the business and implementing new terms and conditions for staff within the Expressway product. It is proposed to sub-contract a number of routes within the plan but it is expected that all routes currently operated will continue to operate.
He said staff would be consulted on restructuring measures with a view to gaining agreement.
In light of the above it should be clear that the overall trading position of the company dictates that no payroll increases can be contemplated at this time.
'Decimation'
In a ballot earlier this year, 94% of NBRU members at Bus Éireann said they would be in favour of industrial action if the company made changes to the Expressway service.
Dermot O'Leary stated his union would not tolerate "the imposition of a low wage bus transport service" as a solution to a problem resulting from "department policy".
The current Dublin Bus dispute and this crisis at Bus Eireann are not unconnected, there are huge question marks over the Department of Transport and its stewardship of the State-owned public transport services, cutting off vital financial support and overseeing a licencing regime which has now led to the potential decimation of an expressway service that connects into every nook and cranny in rural Ireland.
He called on politicians across all parties to "step up to the plate" on behalf of the communities they represent.