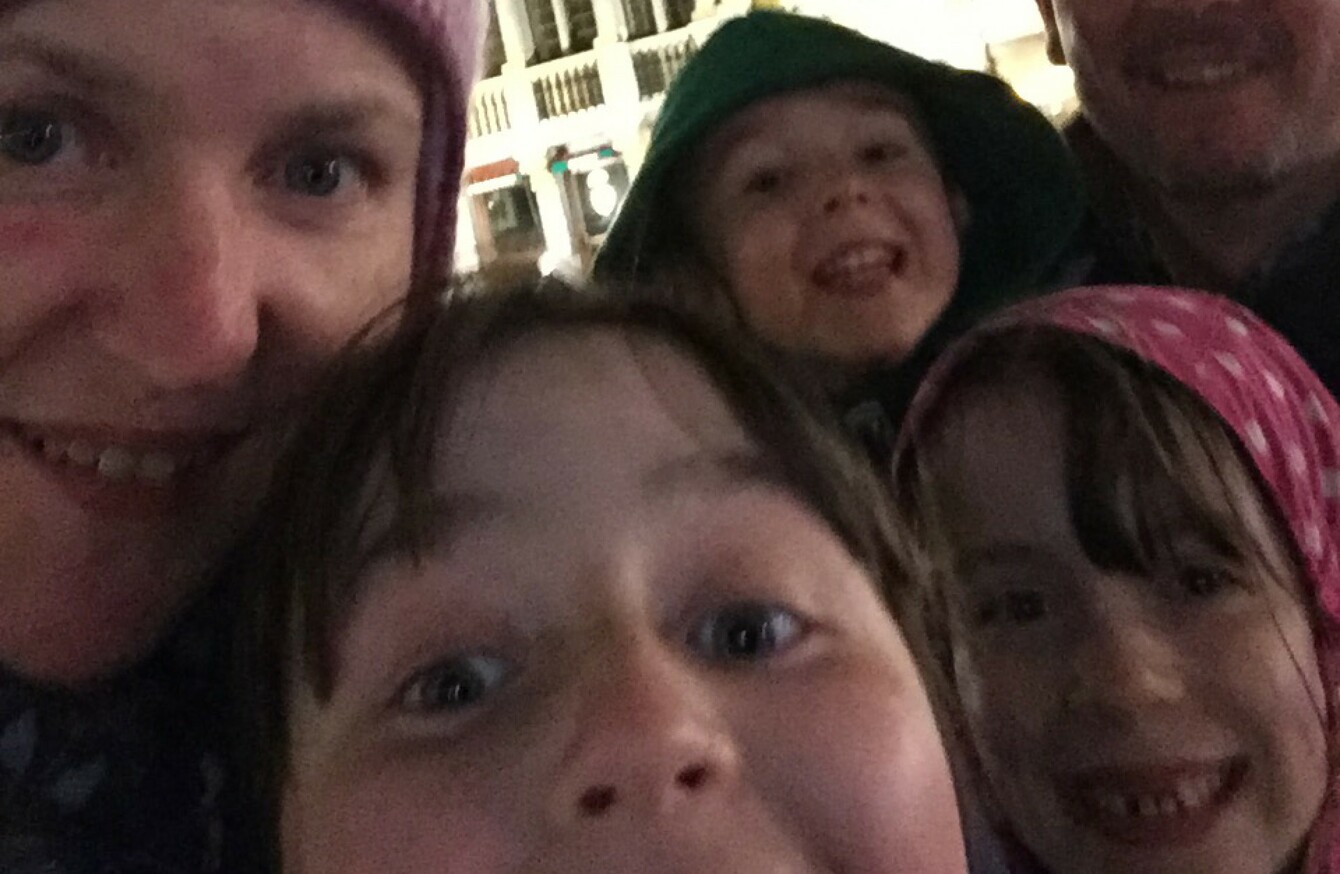 Niamh Jordan and her family in Brussels.
Image: RTÉ Raidió na Gaeltachta
Niamh Jordan and her family in Brussels.
Image: RTÉ Raidió na Gaeltachta
AN IRISH WOMAN has given an eyewitness account of what happened after explosions went off at Brussels airport yesterday.
More than 30 people were killed and scores more injured in the incident and a second explosion at a busy Metro station in the Belgian capital.
Niamh Jordan is originally from Cúil Aodha in Cork, but lives in Westbury, Co Clare. She was at the Ryanair check-in desk at Brussels airport at 7.50am yesterday with her husband Tony and three children Sadhbh (10), Lia (7) and Naoise (4) when the bombs went off.
Today Jordan told An Saol ó Dheas on RTÉ Raidió na Gaeltachta what she witnessed at the airport.
"We were second in line in the queue for the check in, there was a Belgian family in front of us with children the same age as ours, when the first blast happened. There was total confusion, with smoke everywhere and people running.
My husband and children threw themselves on the ground, as did the Belgian family. I was looking around and my husband said to me 'get down get down get down' so I threw myself on the ground.
"The children were crying. We were looking around trying to work out what had happened. Everyone around us was running towards the door. We stayed where we were, trying to get our bearings and to figure out what to do. Then the second blast went off. That was closer to us and the lights started falling from the ceiling and we thought that was it. But then after a few seconds everything stopped falling so we knew we were okay."
There was a lot of smoke at this point, and it was very hard to breathe. The children were crying and it was terrifying."
"The father of the Belgian family then got up and ran to the door to check if it was safe, and he came back and just said 'Run, run, run', so we grabbed the bags and passports and ran. When we came out, then, the police told us to go behind the Sheraton Hotel and to stay there."
"There were police with guns and balaclavas running everywhere and they kept telling us to get back. There was total confusion, with ambulances and fire brigades coming and going."
Flying home 
Jordan said they had to stay there for two hours, noting: "During that time we weren't getting any information and the phones weren't working so we didn't know what was happening.
"Then were were told to go down to the gates of the airport and there was a bus there that brought us to a sports hall in Zaventem. The local people there were so helpful, bringing us anything to help – coffee, food, phone chargers, and they had wifi, and people could sort themselves out."
Jordan said that at midday people were told to take a train to Leuven, a town about 30 minutes from the airport.
The family is staying in a student apartment there until they get out flight home to Ireland on Friday night.
Belgian authorities have said that two brothers carried out the suicide attacks.
Ibrahim El Bakraoui blew himself up in the check-in hall of Zaventem airport while Khalid El Bakraoui attacked a metro train at Maalbeek station near the EU headquarters.
Police are still searching for the third suspected bomber, contrary to earlier local reports.
Najim Laachraoui had been named in the Belgian media as the third person pictured in CCTV footage alongside the two suspected suicide bombers.
The El Bakraoui brothers are believed to have blown themselves up moments after the image was taken.
- with reporting from AFP