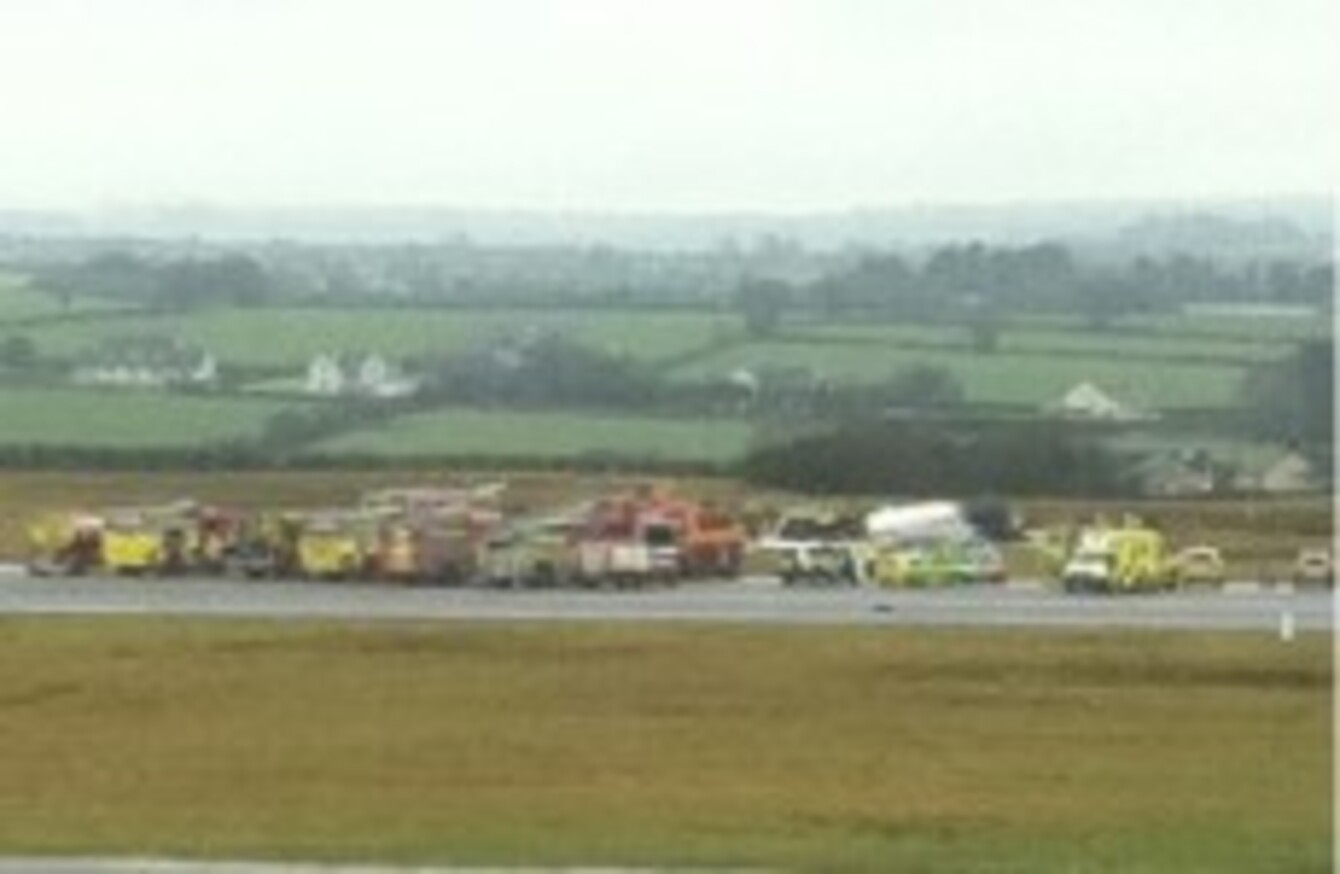 Fire engines at Cork Airport this morning
Image: @daithi27 via Twitter
Fire engines at Cork Airport this morning
Image: @daithi27 via Twitter
Updated 12.54am
PASSENGERS WAITING TO board flights at Cork Airport this morning were "horrified" to hear that the ill-fated Manx2 commuter plane crashed nearby.
The plane, which was carrying ten passengers and two crew members, made three attempts to land and crashed on the last attempt. It came to rest just in front of the glass-plated front of the departures lounge at the airport, but the fog was so bad that the crash could not be seen from the terminal building.
A spokesperson for the Catholic Bishop of Cork and Ross John Buckley has gone to the airport to offer comfort to family and friends of the six people who died in the accident. Six others were injured, and the HSE says that four of these are in a serious condition. A spokesperson for Bishop Buckley said:
The Bishop wasn't in Cork at the time but travelled to the scene when he heard. He's still out there now.
Locals near Cork Airport have said that they saw a plane in trouble trying to land on the runway.
A Cork woman who was bringing her husband to the airport to catch a work flight this morning said that her husband spotted an aircraft trying to land as she drove him to the airport and that he had thought it was having trouble trying to land.
Locals also rang into Cork's 96fm station to say that an aircraft flying overhead Blarney, outside Cork city at 10am sounded "like it was in trouble". The woman who was driving her husband said they were turned back at the airport by gardai. The woman, named only as Pat, said that "there was a huge sense of urgency and it was obvious that something big had happened".
She said that a garda told her husband "he wouldn't be flying anywhere today" and that a taxi driver at the airport had told her that there were fatalities.
Another eyewitness called Billy was travelling in a taxi and said they could see that the plane must have left the runway. He said:
There are people here waiting for people to come off the flight from Belfast and they are in bits.
The manager of Cork Airport, Kevin Cullinane, confirmed that there had been a major incident and that the airport and emergency services are still trying to deal with the accident. "Our thoughts are going with the passengers and with their kith and kin," he said.