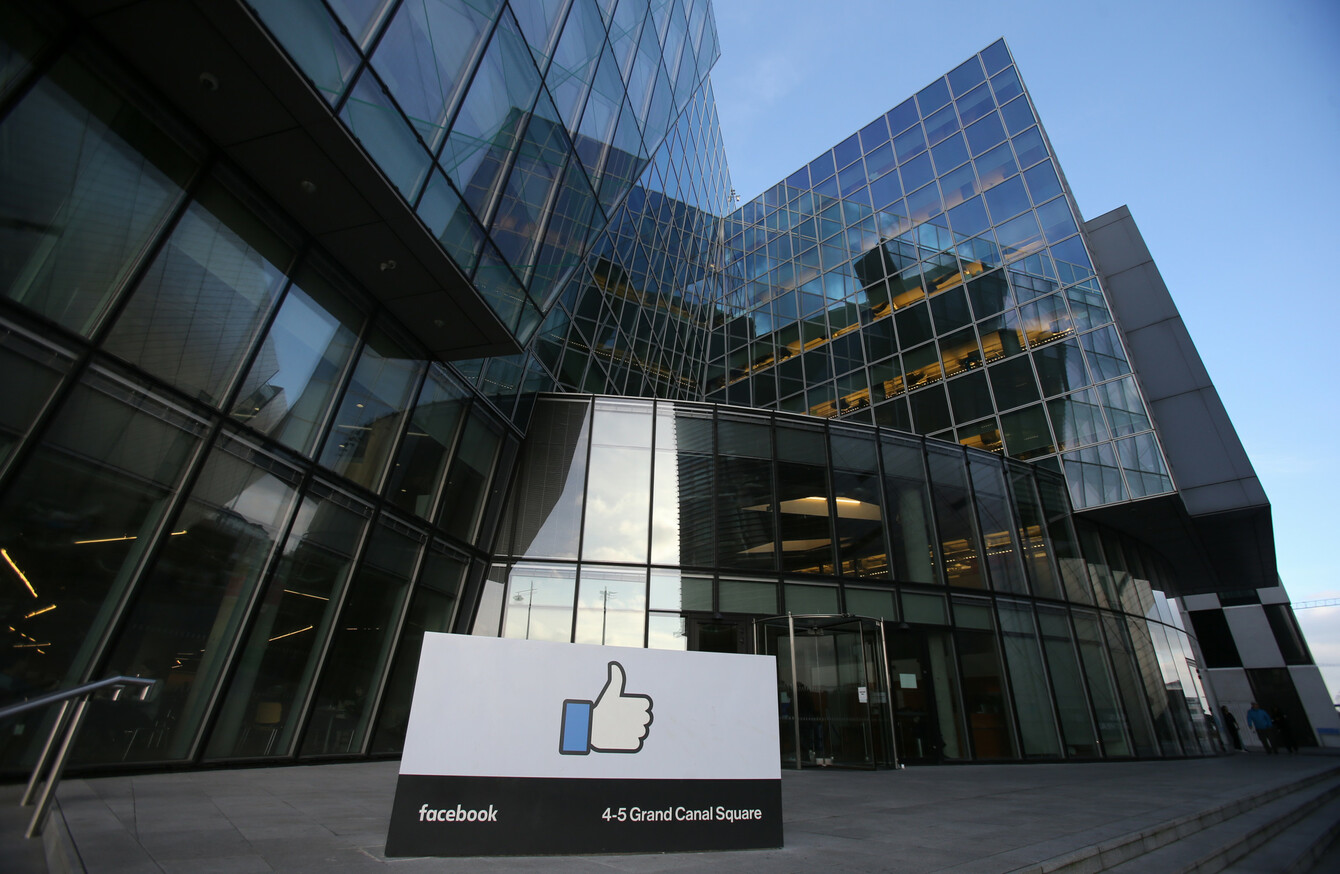 File photo. Facebook's European headquarters in Dublin
Image: Niall Carson/PA Images
File photo. Facebook's European headquarters in Dublin
Image: Niall Carson/PA Images
Updated Jul 17th 2018, 10:08 PM
GRAPHIC IMAGES AND videos of children being assaulted were uploaded to and remained on Facebook despite being flagged and requests made for their removal, an undercover documentary has claimed.
Airing this evening, the Channel 4 Dispatches documentary sent a reporter to work as a content moderator for Facebook in Dublin and it claims thousands of reported posts remained unmoderated and on the site, including posts relating to suicide threats and self-harm.
The broadcast of the Channel 4 documentary follows comments made by Taoiseach Leo Varadkar last week, where he said he was appalled to hear how Facebook ruled that a post saying "knacker children should be burned" was not against the website's community standards.
In a blog post on Facebook today, Facebook acknowledged that some of the contents of the programme do "not reflect Facebook's policies or values and falls short of the high standards we expect".
Its vice president of global policy solutions Richard Allan said: "We take these mistakes in our training processes and enforcement incredibly seriously and are grateful to the journalists who brought them to our attention."
Violent content
Channel 4 said that the undercover reporter was sent to work as a content moderator in Facebook's largest centre in Dublin. The work there is outsourced to a company called Cpl Resources, which has worked with the social media giant since 2010.
When it comes to dealing with graphic, violent content, the documentary reports that moderators have three options – to ignore, delete or mark as disturbing. The last option places restrictions on who can see the content.
The documentary will feature the reporter moderating a video of two teenage girls fighting. Both are clearly identifiable in the images, the viewer is told, and the video had been shared more than a thousand times by the time it came to be moderated.
The reporter is told that because the video has been posted with a caption condemning the violence and warning people to be careful of visiting the location featured in the video, it didn't break Facebook rules and should not be deleted.
Richard Allan told Dispatches: "If the content is shared in a way that praises or encourages that violence, it's going to come down.
But where people are highlighting an issue and condemning an issue, even if the issue is painful, there are a lot of circumstances where people will say to us 'look Facebook, you should not interfere with my ability to highlight a problem that's occurred'.
An online anti-child abuse campaigner, Nicci Astin, told Dispatches about another violent video which she was told didn't violate its terms and conditions.
It features a man punching and stamping on a toddler. The video was used during the undercover reporter's training as an example of something that would be left on the site, and marked as disturbing unless it was posted with a celebratory caption, the documentary reports.
Facebook said to Dispatches that it does escalate these issues and contact law enforcement, and the video should have been removed.
Another moderator told the Dispatches reporter that "if you start censoring too much then people lose interest in the platform…. It's all about making money at the end of the day".
This sentiment was echoed by venture capitalist and early Facebook investor Roger McNamee, who told the programme that the social media company's business model relies on extreme content, as this content generates further interest in the site which translates to further ad revenue.
This was flatly rejected by Allan, who told the programme: "Shocking content does not make us more money, that's just a misunderstanding of how the system works."
Hate speech
There were a number of other aspects highlighted in the programme.
It is claimed a trainer told the undercover reporter not to proactively take action regarding a user's age even if they look under the age of 13, the minimum age you must be to have an account.
In terms of hate speech, the reporter is said to have been told that it is in some cases permitted.
In another case, pages that repeatedly violated standards were not deleted from the site. One of these pages was one belonging to jailed former English Defence League leader Tommy Robinson, which had nearly one million followers.
#Open journalism No news is bad news Support The Journal

Your contributions will help us continue to deliver the stories that are important to you

Support us now
A moderator told the reporter that the far-right Britain First's pages were left up because "they have a lot of followers so they're generating a lot of revenue for Facebook".
Facebook's Allan said that this is not a "discussion about money, this is a discussion about political speech".
He added: "People are debating very sensitive issues on Facebook, including issues like immigration. And that political debate can be entirely legitimate. I do think having extra reviewers on that when the debate is taking place absolutely makes sense and I think people would expect us to be careful and cautious before we take down their political speech."
Facebook said it had taken a number of actions in the wake of the Dispatches investigation, including a review of training practices across its contractor teams, refresher training by Facebook employees for all Cpl trainers, and updated training materials for all reviewers.
In a statement, Cpl Resources said: "We note the planned broadcast by Channel 4's Dispatches this evening of a programme titled Inside Facebook: Secrets of the Social Network.
We understand the programme will look into work we carry out on behalf of Facebook. With Facebook, we have carefully reviewed our processes and have initiated the necessary changes where appropriate.  We are not in a position to comment further pending the broadcast.
Responding to reports around the programme this evening, Fianna Fáil's communication spokesperson Timmy Dooley said he would be requesting Facebook to appear before an Oireachtas Committee.
"If this is borne out to be true, it demonstrates a very serious breach of trust on the part of the company," he said.
"Self-regulation of companies such as Facebook clearly isn't working, and this is further proof of the need for a powerful and well-resourced Digital Safety Commissioner to be put in place as quickly as possible."
- With reporting from Christina Finn