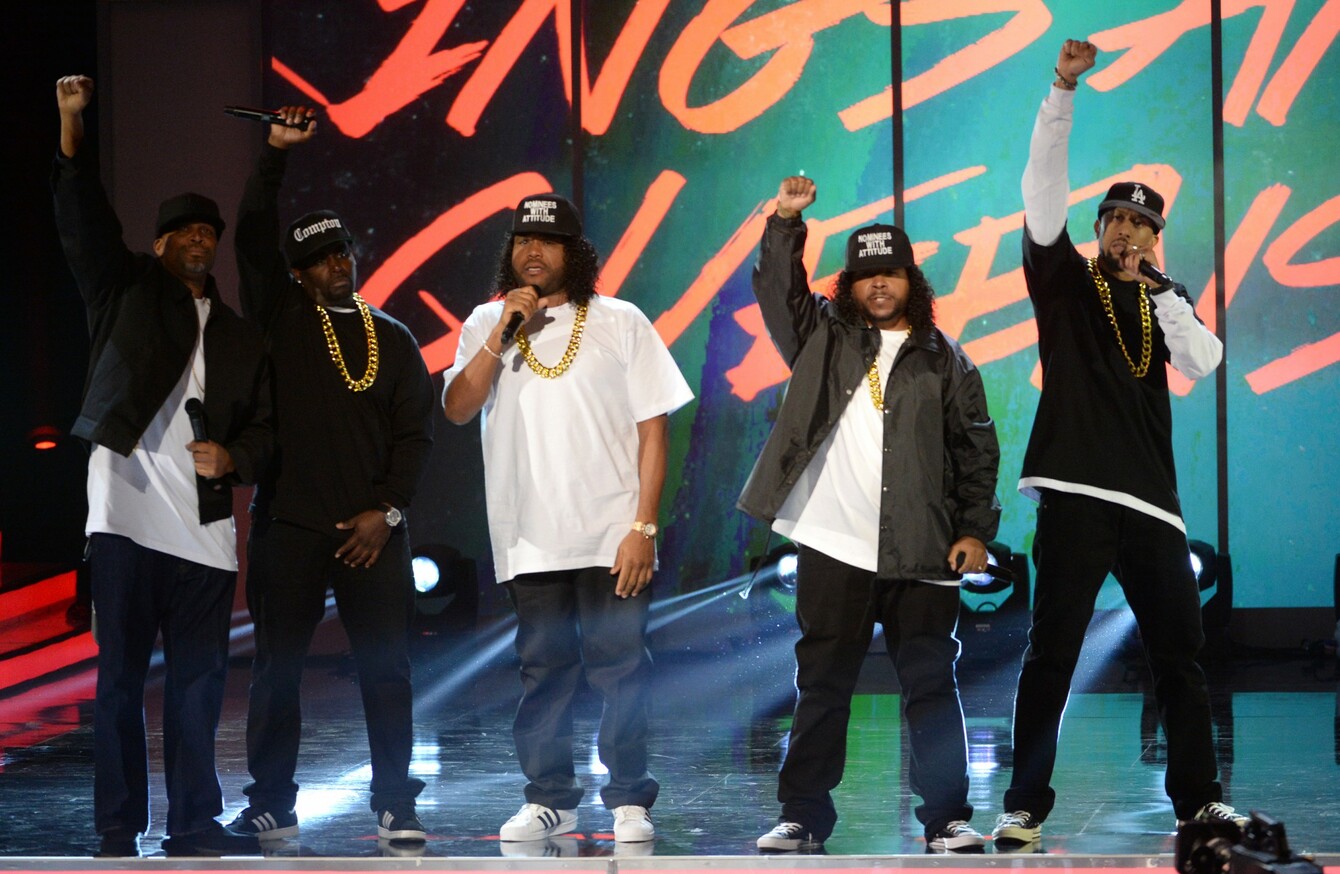 The members of N.W.A performing earlier this year as part of a tribute to the group.
The members of N.W.A performing earlier this year as part of a tribute to the group.
Updated: 16.44
FACEBOOK IS FACING some backlash for an advertising feature to promote a movie using different trailers for different ethnicities.
The movie in question was Straight Outta Compton, a biopic featuring the 80s and 90s rap group NWA which included Dr Dre and Ice Cube as its members.
The movie was released in 2015, but it is in the spotlight again after how it was advertised to users on Facebook.
In a panel at South by Southwest (SXSW) last week, Universal's head of digital marketing Doug Neil and Facebook's entertainment head Jim Underwood talked about a feature called Multicultural Affinity Targeting, a US-only advertising feature which allows advertisers to target users from different ethnicities.
To do this, it created different trailers for certain audiences which were then posted onto Facebook.
According to Business Insider, the trailer for African Americans had them assuming they were familiar with NWA, but for white Americans, the trailer focused on Ice Cube and Dr Dre instead of the group itself. Hispanic audiences would have seen a shorter trailer which included flashing quotes in Spanish.
The news has resulted in a backlash, with some people accusing the company of racial profiling.
Facebook is saying this isn't the case. Instead, it told Ars Technica the service was more about identifying ethnic activities and interests instead of looking at race and identity directly.
It explains:
Reps say Facebook never looks at census data, names, photos, or private information. Instead, they focus on what language you speak, where you're from, and what interests you declare. Let's say you are a fan of BET (Black Entertainment Television) and have shown an interest in #BlackLivesMatter – well, then, you might be categorised as part of an African-American ethnic affinity.
And a spokesperson for Facebook reiterated this, telling TheJournal.ie that the service doesn't allow users to self-identify by race or ethnicity.
Facebook does not have a capability for people to self-identify by race or ethnicity on the platform. As part of its advertising offering, brands can target ads on Facebook to people based on how they might respond to content. The affinity segments are created, in a privacy-safe way, using signals such as different languages, likes, and group membership on the platform.
Since people don't identify as a certain race on Facebook, it uses what Facebook calls 'affinity' groups which displays content relevant to a person's likes or interests. A person could fall into the Asian American affinity segment despite not being Asian if they like anime and speak Japanese.
Much of the issue lies with how Facebook serves up targeted ads based on your activities and things you do outside of the site (thanks to cookies). By using different reference points based on what you do and your interests, it can build up a good picture of who you are and what you're into.
Most advertising is opt-in but what makes people feel uneasy is how general actions, like liking a page or just showing an interest in a specific activity, are being used to determine a person's identity save for asking them what their background is.
Originally published: 14.24