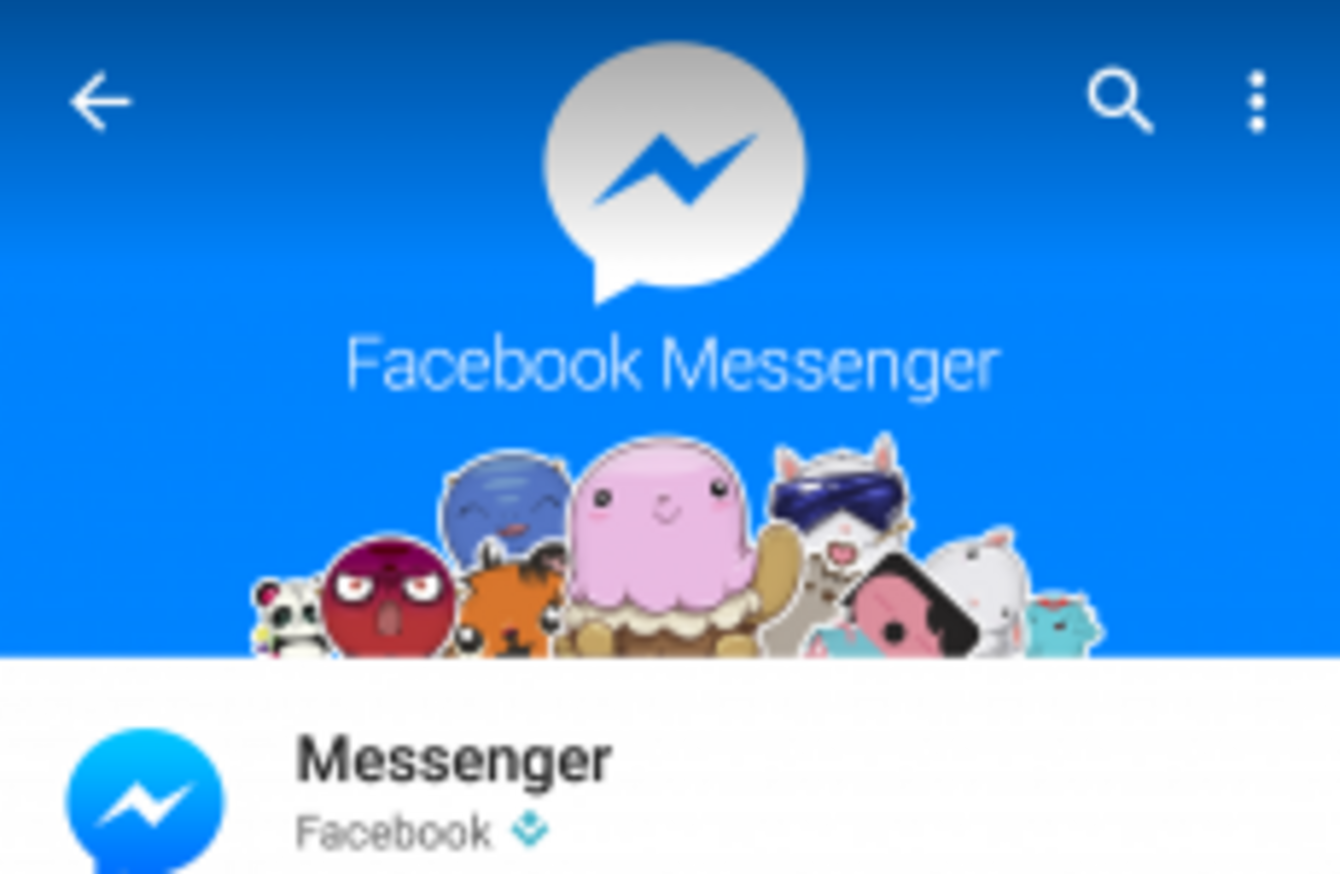 Image: Facebook Messenger/Google Play
Image: Facebook Messenger/Google Play
WHATEVER YOUR THOUGHTS are about Facebook Messenger, the fact remains that it's an incredibly popular app.
Despite the controversy surrounding it, it's likely that if your friends are on Facebook, they have the app as well and it is a handy app to have.
Like WhatsApp, there are a few features on Facebook Messenger that you may not be using. Here are a few to keep in mind.
Use image search (Android)
Facebook Messenger has a collection of stickers to choose from already, even going as far as releasing a app dedicated to them, but you can also search for images internally as well if you're an Android user.
When you're in a chat screen, hitting options will bring up image search. Selecting it will allow you to find images via Bing and embed them into your chat.
Access group conversations quickly
Groups get their own section in Messenger, but you may have noticed only a few conversations appear here.
If any conversation you're interested in doesn't appear here, you can pin it here for easy access. Tapping the pin option will allow you to select a group conversation for easy access which is handy if it's a conversation you need to return to regularly.
Tapping the pin option will allow you to select a group conversation for easy access which is handy if it's a conversation you need to return to regularly.
Start chat from notification tray (Android)
Android users will already be familiar with Chat Heads, a floating bubble which appears whenever you have an unread message on the service and on other apps. but you can start chats directly from this without having to receive a message.
Going into settings, tapping on Chat Heads will give you the option to start conversations from the notification tray. Ticking the box will mean the next time you want to message someone, you only need to bring down notifications.
Mute conversation
Sometimes you will want a break from a chat but will want to return to it at some point. If that's the case, then you can mute it for a set amount of time.
In the chat screen, you will either be presented with the option immediately, or you will have to tap on further options at the top right-hand corner to find it.
When you opened it up, you can choose the length of time you want it muted from 15mins to indefinitely.
Create chat shortcut (Android)
Similar to WhatsApp, you can save shortcuts to a one-on-one or group chat on your home screen. When you've a chat screen opened up, tapping on further options will allow you to create one, and place it on your home screen for easy access.
#Open journalism No news is bad news Support The Journal

Your contributions will help us continue to deliver the stories that are important to you

Support us now
Stop messages from showing up on lock screen
Granted, only the first line of a new message shows up, but that doesn't mean you want to show it off. If you want to get rid of them entirely, go into settings and tap on notifications (if it's not there initially). It will be the first option there.
Send quick audio messages 
There's a reason why Facebook Messenger asks for permission to access your microphone (and no, it's not to record you without your knowledge). You can send audio messages to your friends in case typing something out is too much. Tap the mic option and hold down the button to record your audio message. The same principle applies to
The same principle applies to the camera which allows you to take photos or record videos within the app.
Get further details about a chat message
A minor feature, but just in case you need it, tapping on any of the bubbles will expand a message and provide additional details such as the time sent and if it was seen. The exception is if it's an audio or video message, which activates when you tap it.