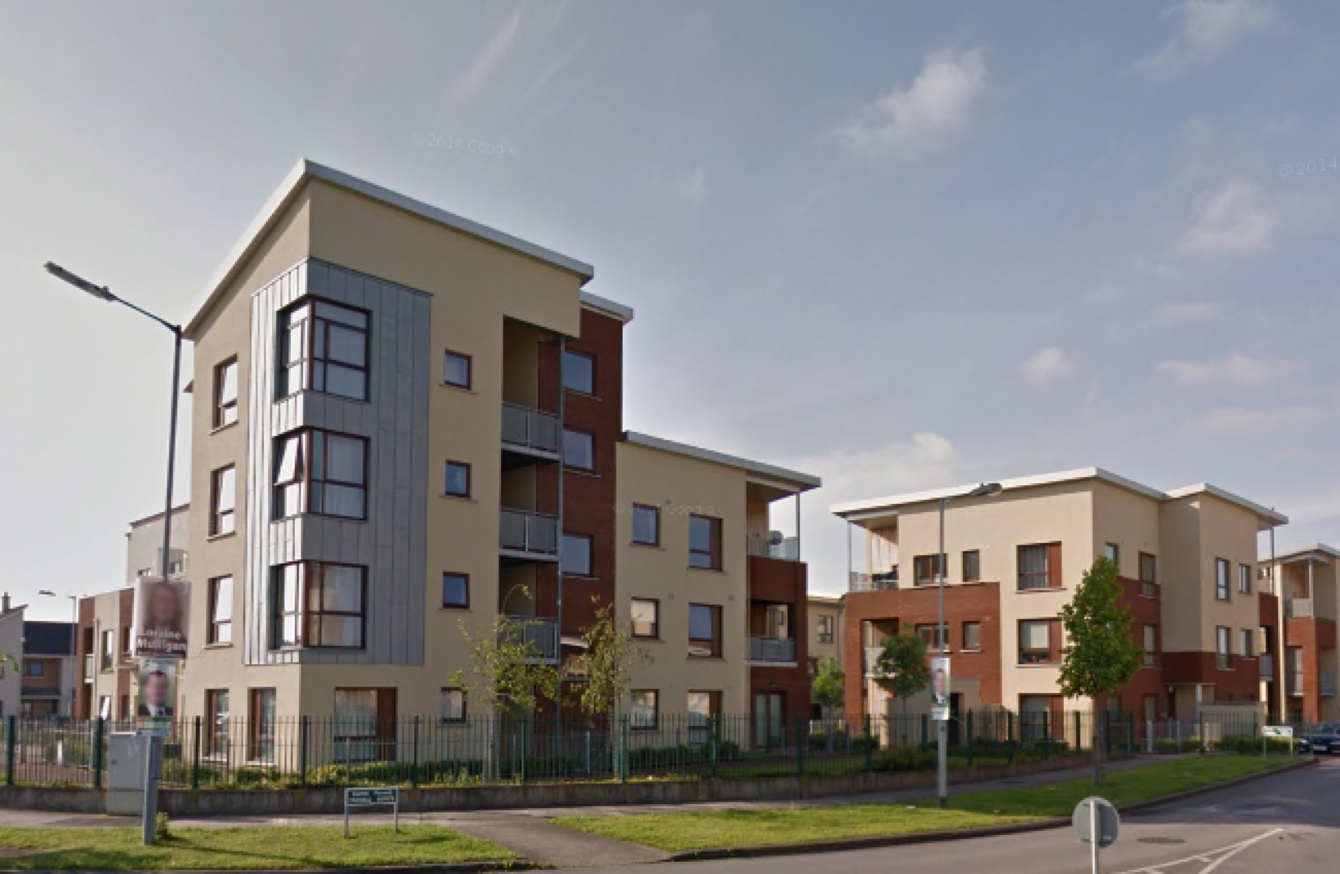 Image: Google Maps.
Image: Google Maps.
FAMILIES LIVING IN properties owned by Fingal County Council are facing eviction over not being able to pay their rent but are not liable to receive rent supplement, a county councillor has warned.
Sinn Féin councillor Paul Donnelly said that he knows of "at least two" families who could be facing eviction in the Parnell Estate in Mulhuddart, Blanchardstown, over not being able to pay their rent.
The families are private tenants in properties operated by Paula Barrett Properties LTD, which manages 161 properties in the area on behalf of Fingal County Council, according to Donnelly.
Donnelly told TheJournal.ie that the homes were originally marked off by the council in 2007/2008 to be part of the afforable housing scheme.
The affordable housing scheme was a measure put forward by the government to help lower income families to buy their own homes, before it was discontinued in 2011 by the Department of the Environment.
Under the scheme, first-time home buyers could avail of newly constructed homes and apartments at prices significantly less than market value.
Donnelly said that Fingal County Council was unable to sell the properties under the scheme and elected to rent them out.
The councillor was approached by the Citizen's Information centre in Blanchardstown, which highlighted the cases of families living in the properties who may be unable to pay their rent.
Private tenants
In a letter seen by TheJournal.ie, the centre states that even though the families are private tenants, they are unable to receive rent supplement from the Department of Social Protection as the homes they live in are owned by a local authority.
"These residents are private tenants," the letter states.
If their circumstances change (loss of employment, illness, etc) they are prevented from applying for rent supplement as the Department of Social Protection is not in a position to pay rent supplement to tenants in properties owned by a Local Authority.
Article 9 (2) (H) (i) of the Social Welfare Consolidation Supplementary Welfare Allowance Regulations 2007, states that rent supplement cannot be paid to a tenant if a housing authority (in this case, Fingal County Council) will be the one that benefits from it.
This means that even though the tenants are private, the fact that Fingal County Council will be the body that eventually benefits from the rent supplement means that it can't be paid.
"Private tenants who lost their jobs are now looking for rent supplement and they can't get it," said Donnelly.
Denied payment
TheJournal.ie has also seen a letter addressed to Paula Barrett Properties from the Housing Department at Fingal Councty Council which states that rent supplement has been "deemed as not payable" in respect to the properties at Parnell Estate.
The letter states that applications for rent supplement "have been consistently denied by the Department of Social Protection".
#Open journalism No news is bad news Support The Journal

Your contributions will help us continue to deliver the stories that are important to you

Support us now
New regulations introduced at the start of the year stop landlords or letting agents discriminating against people who are in receipt of rent supplement when considering them for tenancy.
Donnelly said that he had called on Social Protection Minister Leo Varadkar to directly intervene to resolve the issue.
"It is shocking that we now have families at risk of losing their homes in the midst of a housing crisis because of bureaucracy," said Donnelly.
We are in the midst of a serious housing emergency and we need action immediately in this situation.
In a statement to TheJournal.ie, the Department of Social Protection said that it could make a single Exceptional Needs Payment to help a household meet an "essential, once-off expenditure" but that it could not pay rent supplement.
Fingal County Council said that it did not discuss individual cases but that it was "not aware" of any tenancies at risk in the Parnell development.
Efforts were made to reach Paula Barrett Properties LTD yesterday evening but queries have not yet been responded to.