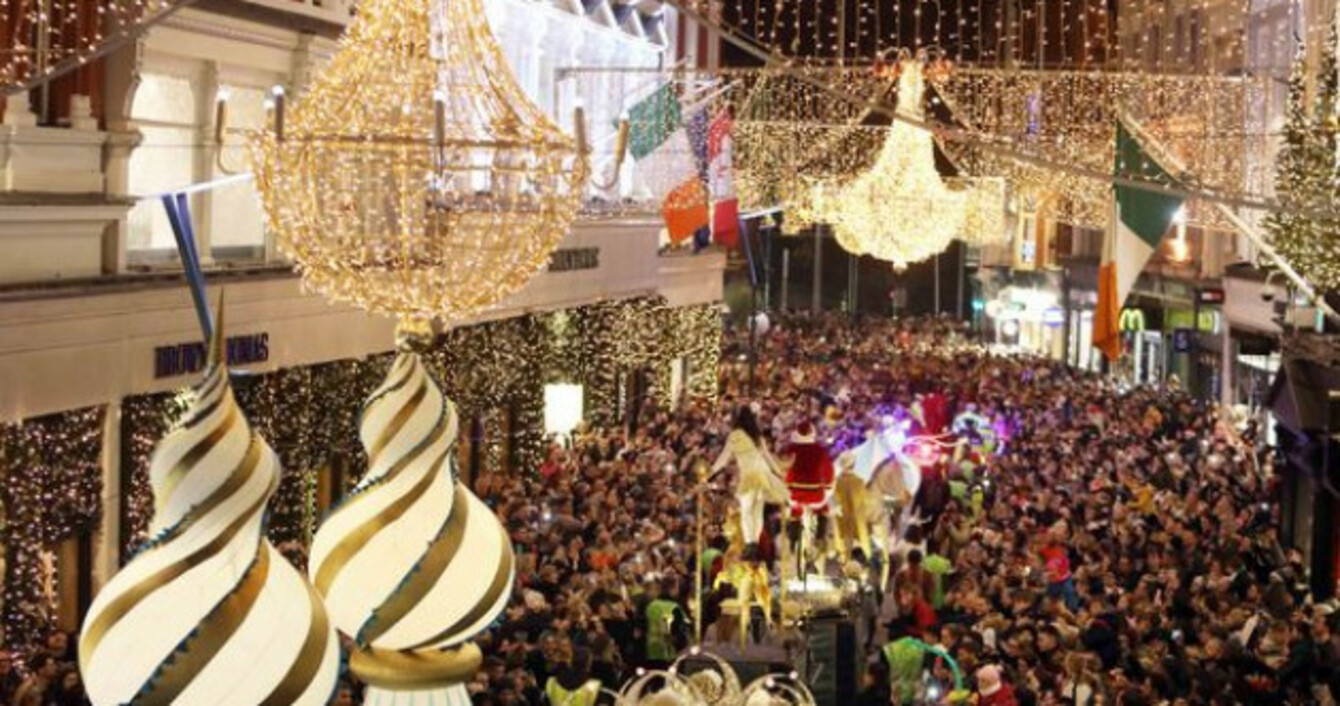 Image: Leah Farrell via RollingNews.ie
Image: Leah Farrell via RollingNews.ie
MANY FAMILIES THAT attended the Christmas lights being turned on in Dublin city centre last night were left disappointed.
Up to 40,000 people made their way into the city centre for the Christmas Procession of Light but once again overcrowding caused issues.
Last year the lighting ceremony ended early for health and safety reasons after a larger than expected number of people turned up to watch.
Appearances by a number of musical acts had to be cancelled and people reported not being about to see or hear the entertainment which inspired a new format for this year.
The plan was for two separate processions to move through the city and finish up on O'Connell Street, where the lights on a 40 foot Christmas tree would be switched on by Lord Mayor Mícheál MacDonncha and Santa.
However, it's understood that gardaí stopped one of the processions from going on O'Connell Street due to crowd safety concerns.
'Crowds far larger than expected'
The Lord Mayor of Dublin has arranged to meet with city officials this week to discuss what happened and see if lessons can be learned.
Speaking to reporters this morning, MacDonncha said, "I understand what happened was that the crowds were far larger than expected, much larger, and the gardaí advised that no further people should be allowed into O'Connell Street.
"So that's why the parades were shortened, they didn't go to their end point which was O'Connell Street before the main lights were lit on the Christmas tree.
"I understand that the parade that come onto O'Connell street from the North side was allowed onto the street but after the lights. So there were some people who were disappointed. It needs to be looked at, the organisation needs to be looked at in terms of the numbers.
I can understand the safety concerns, there were concerns that there were already too many people on O'Connell Street and more would have been let on, and that would have been a safety issue.
"I did speak to people who were on O'Connell Street, they felt there was a bit of a crush, so we need to learn the lessons from it."
Many people took to social media to express their dissatisfaction with the event:
TheJournal.ie has asked DublinTown - the organisers behind the city's Christmas lights – for a comment but has not yet received one.
Prior to the event taking place, Clyde Carroll of DublinTown told this website, "You can stand anywhere and you will see the moment the lights go on and you see will see a beautiful procession."
With reporting by Gráinne Ní Aodhna