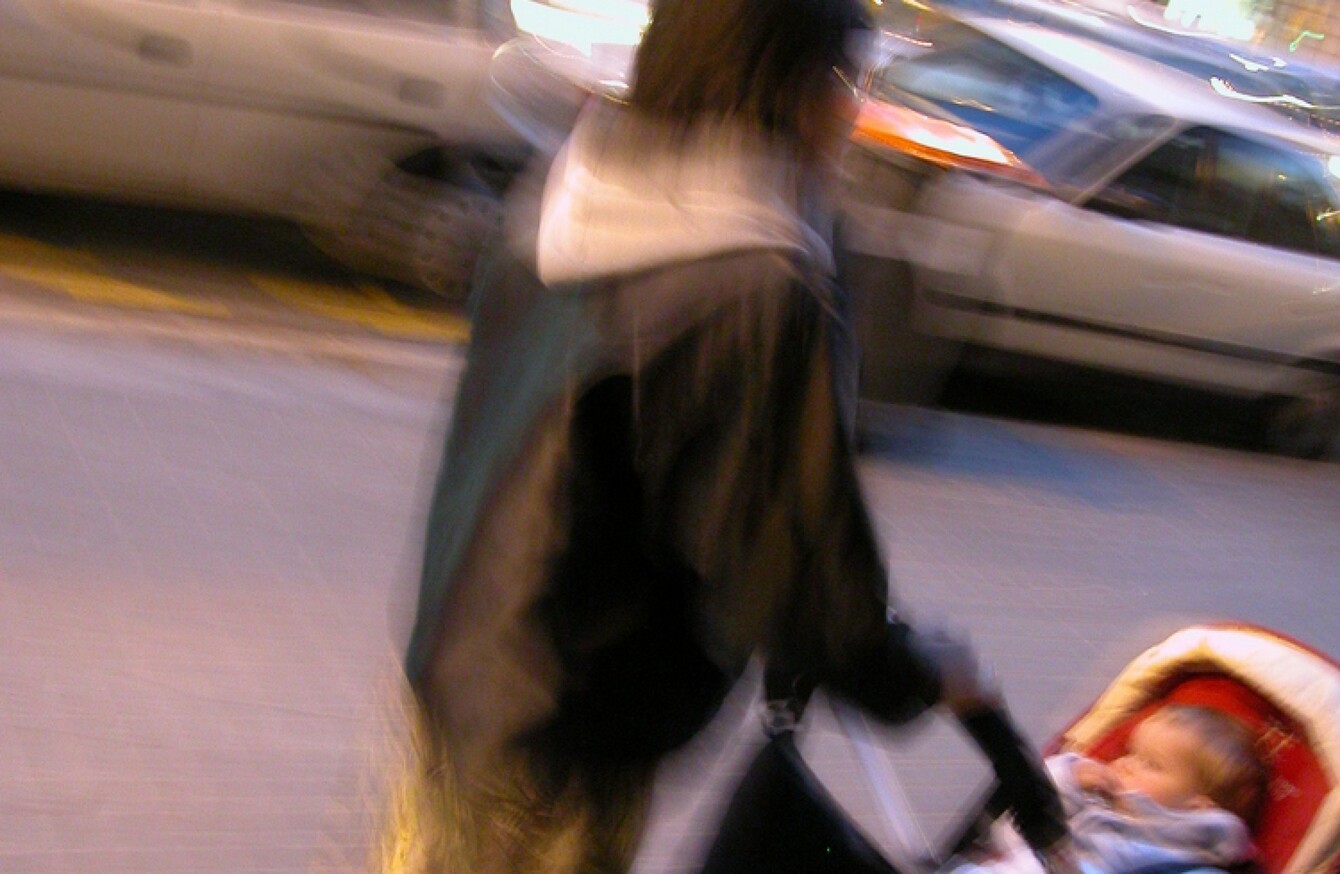 Image: Shutterstock/Jan van der Hoeven
Image: Shutterstock/Jan van der Hoeven
FAMILY HOMELESSNESS IN Ireland is at its worst point in the country's recent history.
Latest figures show that there were 1,312 families with 2,777 children living in homeless accommodation in Ireland in May – three times more than in 2014.
The State has struggled to cope with and to address the issue of these growing numbers of homeless children.
As private and social housing supply has dwindled and demand has skyrocketed, more families have become homeless and have been staying homeless for much longer periods of time.
As the problem continues to worsen, homelessness charities as well as opposition political parties have called for more to be done.
Focus Ireland has called for the government to introduce a specific sub-strategy for addressing the needs of homeless families.
"There's a real impetus when there are children and vulnerable people involved," says Roughan MacNamara, spokesperson for Focus Ireland.
And we think there has been a bit of a failure to grasp that, not intellectually so much but grasp the immediacy of the solutions required.
The worsening problem
The widespread use of private hotel and B&B accommodation to house homeless families began as a result of the failure of State's existing infrastructure (emergency shelters and hostels) to provide enough suitable accommodation.
The Government has come in for strong criticism from many groups for its failure to address the issue properly.
The Special Rapporteur on Child Protection Dr Geoffrey Shannon last year stated that "policies need to be more effective in responding to real needs in Ireland".
Fergus Finlay – CEO of children's charity Barnardos – called it a "crisis of unprecedented scale for children in Ireland".
"All children need a safe, secure and appropriate home so that they can grow and thrive," he said.
Without this basic necessity we are setting them up to fail.
The "family hub" model of group accommodation for families has been designed to replace commercial hotels and B&Bs, but it has already come in for some criticism. 
Rebuilding Ireland – the Government's action plan for addressing housing and homelessness – is made up five central pillars, the first of which is concerned with addressing homelessness.
Although this pillar contains provisions for dealing with family homelessness – including the now failed commitment to stop the use of hotels by the middle of this year – what Focus Ireland wants is a specific strategic document to address the issue.
Stopping families becoming homeless
A strategy for dealing with family homelessness would focus on two key aspects:
Preventing families from becoming homeless in the first place
Getting families who do present as homeless back into housing as quickly as possible
MacNamara says that Government focus must shift away from managing the problem – for example, the provision of family hubs – towards actually addressing the numbers presenting as homeless.
This is a view shared by Eoin Ó Broin – Sinn Féin's housing spokesperson – who says that the spike in family homeless over the past few years is primarily due to economic reasons.
"The overwhelming majority of the family homelessness that we've seen over the past two and a half years is purely what we call economic homelessness," he said.
This means rising rents, or families being evicted and not being able to find a new place to live are the main drivers making people homeless.
"So trying to find policy measures to reduce the flow of families into homelessness is much more straightforward than more traditional categories of homelessness," said Ó Broin.
Last year, a number of residents of a housing estate in Tyrrelstown in Dublin faced eviction when the loans on their homes were sold to a foreign investment fund.
Following on from the controversy, the Government introduced a law whereby landlords seeking to sell 10 or more properties over a six-month period cannot evict a tenant in the property in order to sell the home vacant (the so-called Tyrrelstown Amendment).
While this was welcomed, many groups and politicians felt it didn't go far enough in protecting tenants' rights.
Last December, the Government voted down a proposed law drafted by Focus Ireland (and put forward by Tipperary TD Seamus Healy) which would have made it illegal to evict a tenant when a landlord wanted to sell a property.
"We did some analysis of monthly figures early this year and found that in one specific month [our amendment] would have prevented 20 families from becoming homeless had it been in place," said MacNamara.
The amendment was supported by the main opposition parties in the Dáil with the exception of Fianna Fáil (who abstained), but it lost a Dáil vote by 43 in favour to 52 against.
The Government has set up an Inter-Departmental Working Group to look at tenants' rights when their property is taken over by a receiver, with a view that the company that takes over the tenancy "will be required to fulfil the obligations of a landlord".
A spokesperson for the Housing Department said that this working group had finalised its interim report looking at the issue and intended to produce its final report with findings and recommendations.
Getting families out of homelessness
While protections for tenants in rental accommodation could work to stop people losing their homes, a Government sub-strategy would also need to look at getting people back into housing.
In its proposed sub-strategy, Focus Ireland states that a fixed deadline should be set for getting families out of homelessness within six-months of them entering.
"What we would be looking for would be a clear cast iron deadline that forms the cornerstone that no family is allowed be homeless after six months," said MacNamara.
In order to assist this, the charity believes that a number of specific units of housing should be ring-fenced for families who present as homeless.
In response to a query around this, a spokesperson for the Housing Department said:
It is fully recognised that the period of time that families – or individuals – spend in emergency accommodation should be minimised.
This is the central emphasis of the Government's Homelessness Policy Statement which makes explicit the commitment to a housing-led approach to end long-term [homelessness] (i.e. over six-months)
This emphasis is further reflected in the commitment in Rebuilding Ireland that the use of hotels for emergency accommodation for families be phased out.
Delivering housing
In terms of getting families back into secure housing, Rebuilding Ireland committed to delivering 1,500 units of "rapid-build" modular housing. This is housing that can be built quicker than conventional dwellings.
It has also accelerated the take up of the Housing Assistance Payment (HAP) – a form of social housing support whereby rent is paid to a landlord by a local authority on behalf of a tenant.
It also committed that 1,600 vacant properties would be acquired by the Housing Agency from banks by 2020, bringing to 3,100 the number of dwellings to be delivered for alleviating family homelessness.
However, the modular homes have not been delivered as quickly as the Government had hoped. In a recent response to a Parliamentary Question, Housing Minister Eoghan Murphy said that just 187 of the 506 homes due to be completed in Dublin by the end of this year will be delivered on time.
HAP has come under strong opposition criticism in recent times, with TDs saying it is not suitable to meet people's long-term housing needs.
The reason for this is that in many cases the payment to landlords does not meet the rent that is being asked for; landlords in other cases also opt to take on tenants who may be working instead of those on social housing support.
A third criticism aimed at HAP is that it does not provide secure accommodation, as a landlord can opt to sell the property, thus making the tenant homeless (unlike with typical local authority social housing).
In Rebuilding Ireland, the Government committed to delivering 47,000 social housing units by 2021 at a cost of over €5 billion, however how many of these will be new social housing builds is unclear.
Eoin Ó Broin said increasing the supply of actual social housing units (units built and owned by local authorities) was what was needed to address the issue.
Just in the region of 4,500 actual social housing units were delivered last year, however the government said it had addressed the "social housing need" of many more people.
"Last year [the Government] said they met the social housing need of 18,000 families," he said.
But apart from the 4,500 who got council and Housing Association houses, everybody else was living in the private sector subsidised by the State.
Which is insecure, expensive, and it pushes up the price for private rental accommodation for everybody else.
The Housing Department spokesperson said that there were many provisions in Rebuilding Ireland for increasing housing supply.

"The long-term solution to the current homeless issue is to increase the supply of homes; Rebuilding Ireland is designed to accelerate all types of housing supply – social, private and rental," they said.