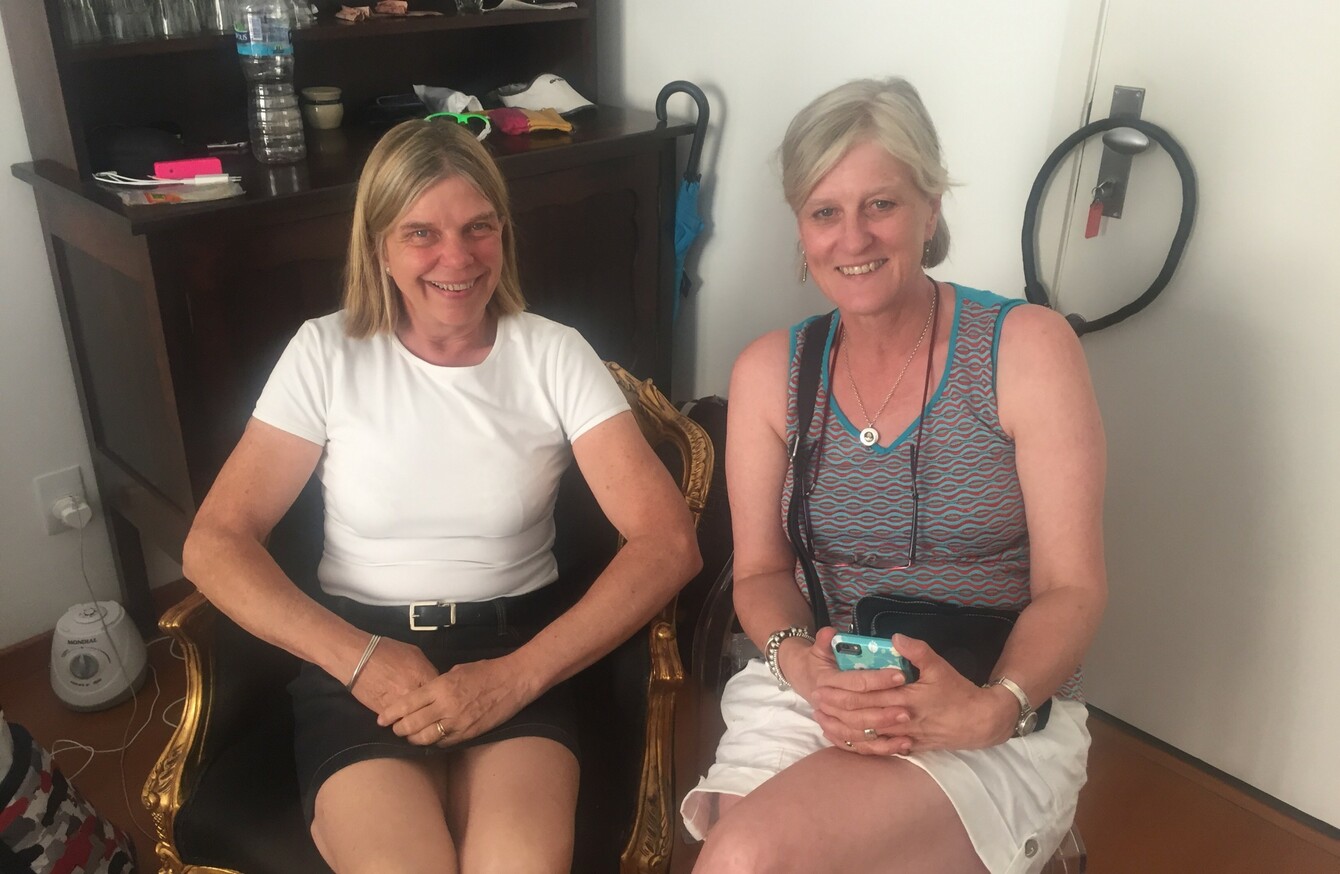 Finn Lynch's mother Gráinne Adams (right) watches her son's race alongside Annalise Murphy's mother Cathy McAleavey.
Image: TheJournal.ie/Sinead O'Carroll
Finn Lynch's mother Gráinne Adams (right) watches her son's race alongside Annalise Murphy's mother Cathy McAleavey.
Image: TheJournal.ie/Sinead O'Carroll
FAMILIES OF IRISH Olympians were forced to go abroad to get tickets to see their loved ones compete at the games because Pro10 was "completely unprepared and incapable".
Pro10 was the authorised ticket reseller for Irish Olympic tickets but some families have said that efforts to buy tickets from the company were fruitless, leading them to buy tickets from countries like Germany or France.
In the past couple of weeks, families in Rio have also spoken about the ticketing problems they faced.
Relatives of Olympians participating in hockey and athletics turned to official sites in Germany and France to ensure they had tickets before travelling to Rio.
One father even travelled to Pro10′s address in Lucan only to discover on calling there that he couldn't gain entry as there was no physical office.
Ahead of the sailing events, queues of Irish family and friends could be seen gathered at the box office hours early to purchase tickets on racing days.
Others were told to buy tickets in Rio on arrival and they would be refunded on their return home.
Speaking on Newstalk Breakfast this morning Grainne Adams, mother of sailor Finn Lynch, said that she had to chase the company to even get talking to someone.
"I rang and rang and rang and every day, several times a day, you'd just get straight through as if to voicemail and then it would say that voicemail was full," she claimed.
I was getting a bit desperate. I Googled Pro10 a lot and found some person's name with a phone number. I phoned them, said this is the trouble I'm having. The person I rang didn't have anything to do with tickets or the Olympics, but he said he would let them know and they would get back to me. Which they did the next day and said that all of Ireland's tickets had sold out in January, they had a few tickets left for the athletics.
Adams said that she wanted to get tickets for the opening ceremony.
"What I was looking for were tickets to the opening ceremony because sailing isn't the easiest sport to watch from the land," she said.
I had my heart set on seeing Finn walking with the Irish team under the Irish flag.
Her story is far from unique. Mark Conway, who is a former director of Dublin Women's Mini Marathon, says that Pro10 had no online portal to buy tickets.
"They were the only seller in Europe that had no online purchase option or listing of tickets available," Conway claims.
Myself and dozens of friends and family members tried to buy tickets from Ireland but could not get replies or clarification from the Olympic Council of Ireland (OCI) or Pro10 for their supposed method of ticket selection. Following a second complaint Pro10 offered me tickets (to purchase) which I refused as had like most Irish people gone abroad for tickets.
Conway says that he contacted the OCI in January and February to inform them about the problems himself and other families were facing, particularly in light of the fact that they had already bought flights and accommodation.
He also was forced to look to other countries to get Olympics tickets.
In his February email to Martin Burke, the OCI's sports director, Conway said:
Ireland was one of the last countries in Europe to announce an authorised ticket seller, Pro10, resulting in a serious delay in people's ability to purchase tickets. However, unlike the majority of other nations ticket sellers, Pro10 was/is completely unprepared and incapable of the service they promised to deliver. The initial period following the"awarding" of the contract Pro10′s website had little information and was far below the standard of any other country's that I have encountered. They continue to be unable to guarantee tickets or even give an indication of numbers/categories/prices available. All other countries allow for the immediate purchase of tickets through their portals. I am unsure how Pro10 was selected as a seller. Anyone who I know that has completed an application for tickets over the past number of weeks have yet to hear anything back from them. With flights and accommodation increasing daily their lack of organisation/ability is questionable and it will be the fans who suffer.
In response Conway was told:
Thank you for your email which we have forwarded on to the Authorised Ticket Reseller, Pro10 as the Olympic Council Ireland has no function in the selling or organisation of the tickets. Pro10 was appointed by the Rio 2016 Organising Committee.
Queries to the OCI about what events the unused tickets confiscated from its Rio offices were for went unanswered.
Requests for comment from Pro10 about claims that family members were forced to go abroad for tickets were also left unanswered.
- With reporting from Sinéad O'Carroll in Rio