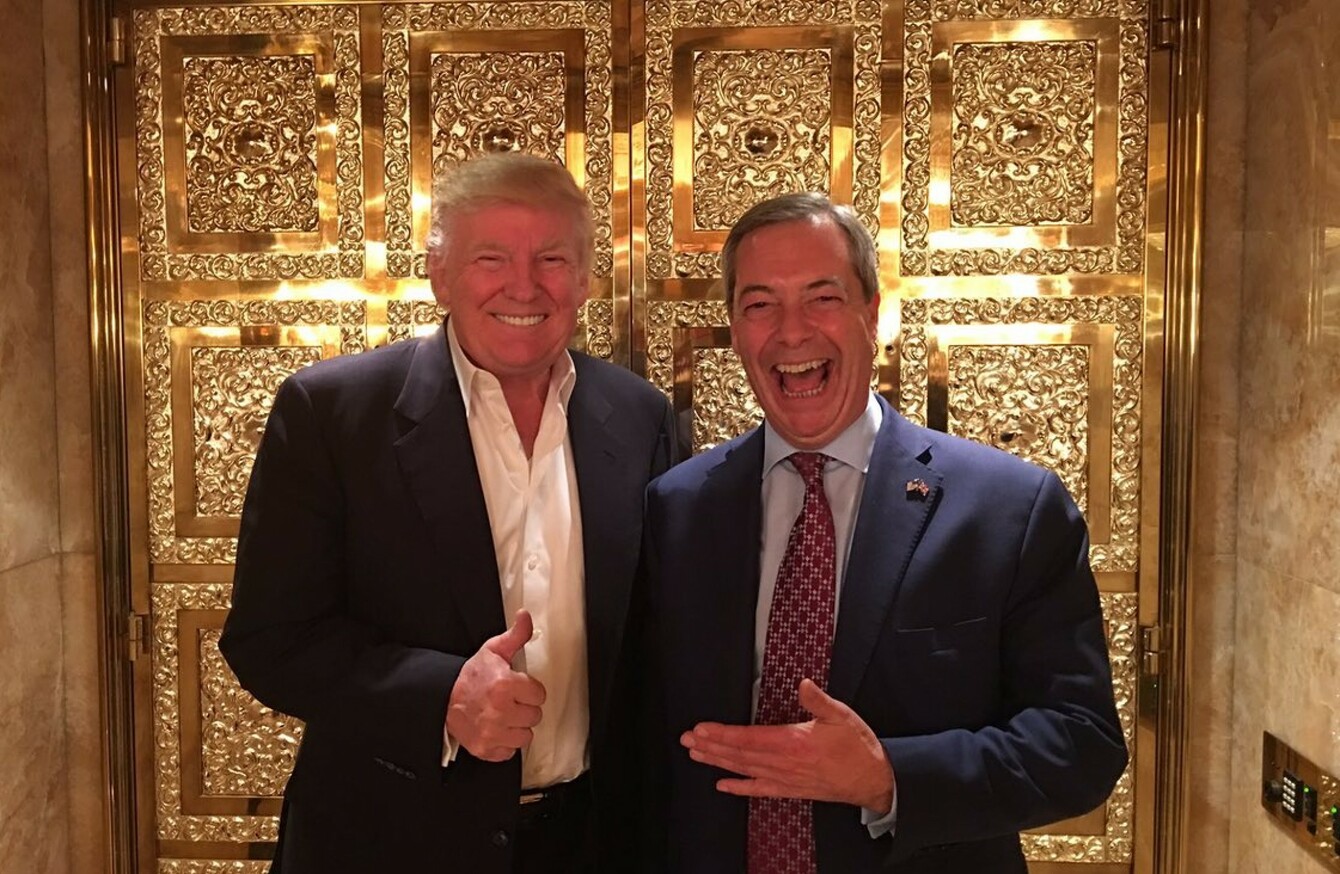 Image: Nigel Farage/Twitter
Image: Nigel Farage/Twitter
UK FAR-RIGHT politician Nigel Farage is a "person of interest" in the FBI's investigation into possible collusion between Russia and Donald Trump's successful presidential campaign.
The Guardian reports that sources with knowledge of the investigation said that Farage was being looked at because of his relationships with individuals connected to WikiLeaks founder Julian Assange and Trump, himself.
Farage has rubbished the suggestion, however, echoing Trump in a series of tweets by decrying the story as "fake news".
While he is not suspected of any wrongdoing, the UKIP talisman's status as a person of interest means that investigators think he may have access to information that is relevant to their probe.
"One of the things the intelligence investigators have been looking at is points of contact and persons involved," one source said. "If you triangulate Russia, WikiLeaks, Assange and Trump associates the person who comes up with the most hits is Nigel Farage.
He's right in the middle of these relationships. He turns up over and over again. There's a lot of attention being paid to him.
That source mentioned Farage's links with Roger Stone, Trump's long-time political adviser who has admitted being in contact with a hacker believed to be a Russian agent, called Guccifer 2.0.
A spokesperson for the politician said: "Nigel has never been to Russia, let alone worked with their authorities."
Farage also tweeted that the reports were "hysterical" and he found it "extremely doubtful" that would be considered a person of interest.
Farage has been a strong supporter of Trump from the onset, and visited the President in the wake of his victory to offer his congratulations.
He campaigned on behalf of Trump last year, believing the real estate tycoon and former reality TV star had tapped into similar anger over globalisation and ruling elites as the anti-EU campaign in Britain.
Their bromance has been well-publicised, with Trump suggesting that Farage should become ambassador to the United States, adding that "he would do a great job".
In recent times, Farage has appeared regularly as a commentator on Fox News and Russia Today.
He has met Wikileaks' Assange, meanwhile, on occasion. Most recently, he visited Assange in the Ecuadorian embassy in March, saying the pair had met for "journalistic reasons".
"Cost me the election"
Clinton has maintained that the leaking of materials related to her by WikiLeaks, and the subsequent investigation by FBI Director James Comey, cost her the election.
WikiLeaks released emails hacked from her campaign chief John Podesta within an hour of a 2005 video of Trump boasting about how he could get away with groping women was leaked to the press.
"They had to be ready for that, and they had to have a plan for that and they had to be given the go-ahead; 'OK, this could be the end of the Trump campaign. Dump it now,'" she said yesterday.
As she had done previously, Clinton also said that then-FBI director James Comey dealt her campaign "a tremendous hit" when he briefly re-opened an investigation into her use of a private email account and server just days before the election.
"He dumps that on me on 28 October, and I immediately start falling," she said.
The presidential vote was 8 November and, despite winning the popular vote, Clinton lost the election.
With reporting from AFP