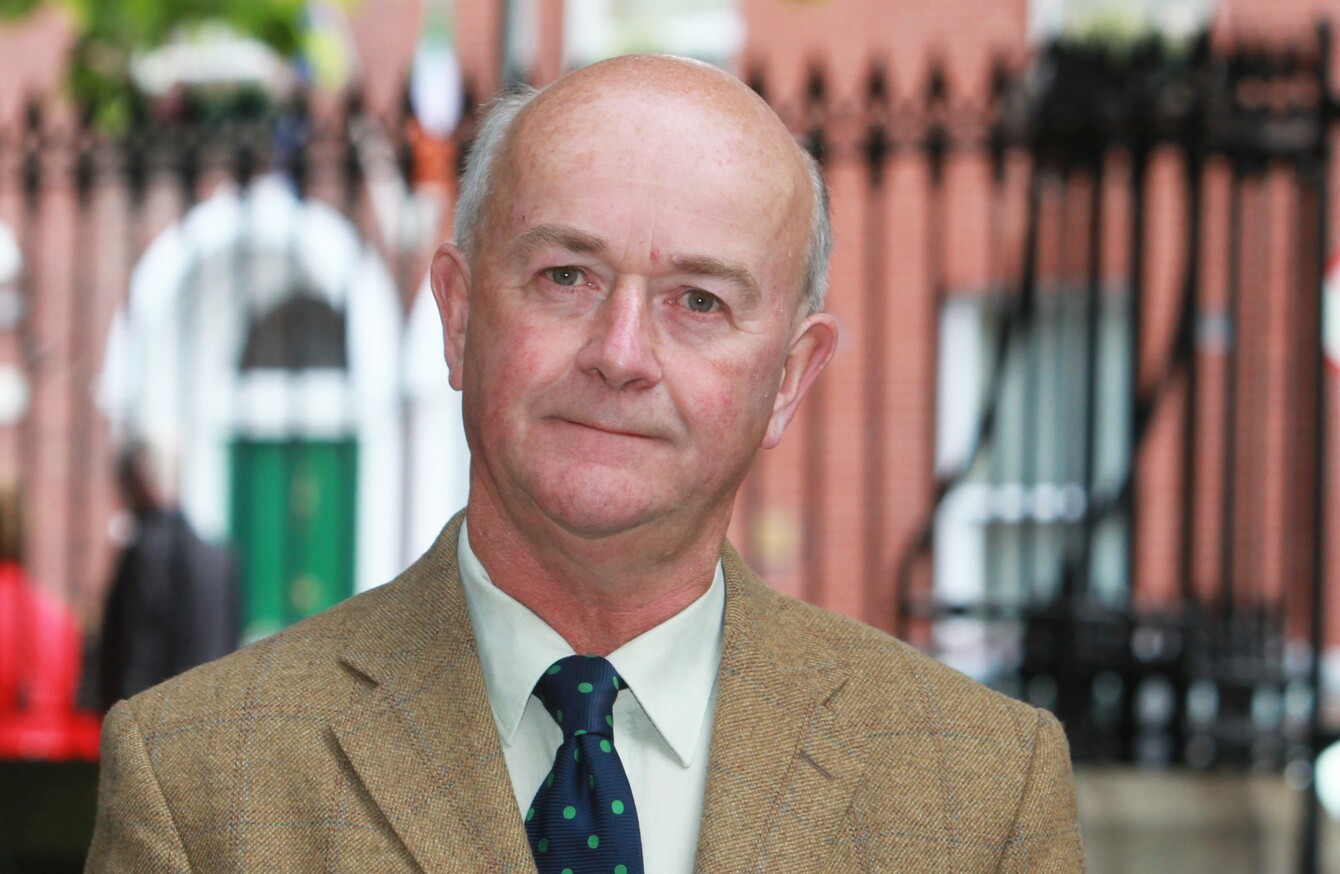 Image: Leah Farrell/RollingNews.ie
Image: Leah Farrell/RollingNews.ie
VICTIMS OF FARM-RELATED thefts have spoken of the impact these crimes had on their lives as a new campaign urges people to ensure they buy farm vehicles and machinery from reputable sellers.
Robin Talbot from Ballacolla in Co Laois was used to receiving local text alerts on his phone about nearby farm thefts.
"Up until Thursday the 23rd of June, it was always something that was happening to someone else," he said today.
He noticed when he came out into the farmyard that a gate was open, and there was a lock broken on his workshop.
"Then the penny dropped with me – our jeep was gone."
He later discovered his chainsaw and a handheld hedge trimmer were also missing.
"The perpetrators must have been using a sort of shopping list because there were things of equal value – angle grinders, drills and everything – that they didn't seem to want and they were just thrown there on the ground."
Though the jeep itself was a big loss for the farmer, it was the little things taken along with it that bothered him most.
We would have had books and notebooks which would record medicine and things like that we would have given livestock – again of no use, probably thrown in a hedge somewhere but invaluable to me. They were the little things that started to niggle at me.
His jeep was later found, but was damaged as it was used to ram a squad car.
That will be sorted out with insurance and all that. The one thing the money can't sort out, and it's a lingering fact in my mind this whole time, is the fact that there was somebody in our yard at night, invading our private space, and that's not a nice feeling.
"I just can't comprehend how someone would feel if these people had entered their dwelling house. It must be a horrendous feeling."
'An invasion of a place I've grown up on'
Talbot told reporters that when he realised "how tough these guys were that were picked up", he was happy he and his family were asleep inside at the time and totally unaware of what was happening.
For two weeks after the robbery, he decided not to go to check on his suckling calves at night.
"Now it's at the back of my mind – is there somebody watching? Has there been somebody watching? I'm hoping that feeling is going to go away."
It's that invasion of a place I've grown up on, where I've felt safe all my life, and now that's just there.
He stressed how important it is for people to go to a reputable dealer when buying vehicles and equipment.
"There would be no farm crimes if people weren't buying bargains."
"It's quite traumatic"
Liam Dunne, a farmer from Athy in Co Kildare, was targeted in the same week as Robin Talbot and it is possible it may have been by the same travelling gang.
In the weeks before the robbery at his farm, he had tightened up security as he had noticed tyre tracks close to the farmyard and believed someone was watching the site.
On the morning of 27 June, he noticed the door of one of the sheds was open and some of the roller doors on farm buildings had been pushed in.
His jeep was gone, and the thieves had again selectively chosen a number of items from his workshop.
"They took chargers for battery drills, they took the case for the welder so it looked like it was a complete set."
Dunne's jeep was used for three other break-ins that night to ram electric gates and was found a week later turned over.
It has not been replaced and I'm not sure I can afford to replace it.
He described a farmyard for a farmer as being "an expression of himself".
"To have that violated is quite traumatic. I'd never been broken into before."
For weeks afterwards he said his family were waking up at night, hearing noises out in the yard.
"They should normally have been fast asleep".
He also appealed to members of the public not to buy second-hand tools unless they are absolutely certain who they are buying them from.
"They might seem cheap to somebody who's buying them, but there's a cost to somebody else far greater than the monetary value."
Roaming gangs
Many of these crimes are perpetrated by gangs who use the motorway network to move across the country and back and forth over the border.
"There are, I suppose, specific gangs that roam the country and they won't miss an opportunity," Detective Garda Eugene O'Sullivan said today.
He has been based in the stolen vehicles unit for the last 16 years and said the larger vehicles and more expensive machinery are often sent abroad.
"Continental Europe and Northern Ireland, we've had stuff stolen from here, equipment stolen here, that has ended up as far away as Australia".
Today, Crimestoppers, the Irish Farmers Association (IFA), an Garda Síochána and DoneDeal launched a campaign to highlight the problem, with more than 2,000 thefts from farmyards being reported every year.
Farmers are being urged to take photos of their vehicles and equipment and to register them in the TheftStop scheme. This initiative gives farmers a unique registered ID they can mark their machinery with, making them more difficult to sell on and therefore less attractive for thieves.
Many of these items are sold online and DoneDeal's Customer Safety Liason Officer Finbarr Garland warned buyers to beware of goods that are cheaper than normal, to test drive them and never to transfer money before seeing the machinery.
If anyone has information on suspicious activity or thefts in their area, they can contact Crimestoppers anonymously on 1800 25 00 25.