Image: /Photocall Ireland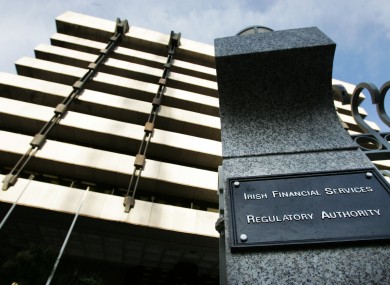 Image: /Photocall Ireland
FBD INSURANCE HAS been fined €490,000 by the Central Bank for failure to adhere to the consumer protection code.
The fine relates to activities carried out by a body that FBD outsourced some functions to.
In a statement this morning, the Central Bank said that between 2008 and 2011 the insurer "failed to ensure that regulated activities it outsourced to other entities were compliant with the code".
The Central Bank found that it failed to disclose details about an administration charge to customers, and also didn't provide adequate staff training or sufficient complaints procedures.
The statement said that the level of the fine imposed reflects the seriousness with which Dame Street treats contravention of the code and the emphasis it puts on consumer protection.
"In particular, the Central Bank considers it unacceptable for firms to outsource regulated activity without appropriate oversight and assurance that the regulated activity is being conducted in accordance with the 2006 code."
In a statement issued this afternoon, FBD said that it had reported the breaches of the code to the Central Bank when it discovered them, and that it is "satisfied that they are legacy issues".
The statement continued: "We are pleased that the Central Bank has confirmed that the appropriate action was promptly taken by FBD. Most importantly we are confident that no customer was financially disadvantaged."
It is the thirteenth settlement concluded by the Central Bank involving breaches of the consumer protection code since 2010.
Director of Enforcement Derville Rowland said: "In light of the public statements made and enforcement actions taken by the Central Bank, firms should be aware of the importance of compliance with the consumer protection code."
Updated 12.41pm