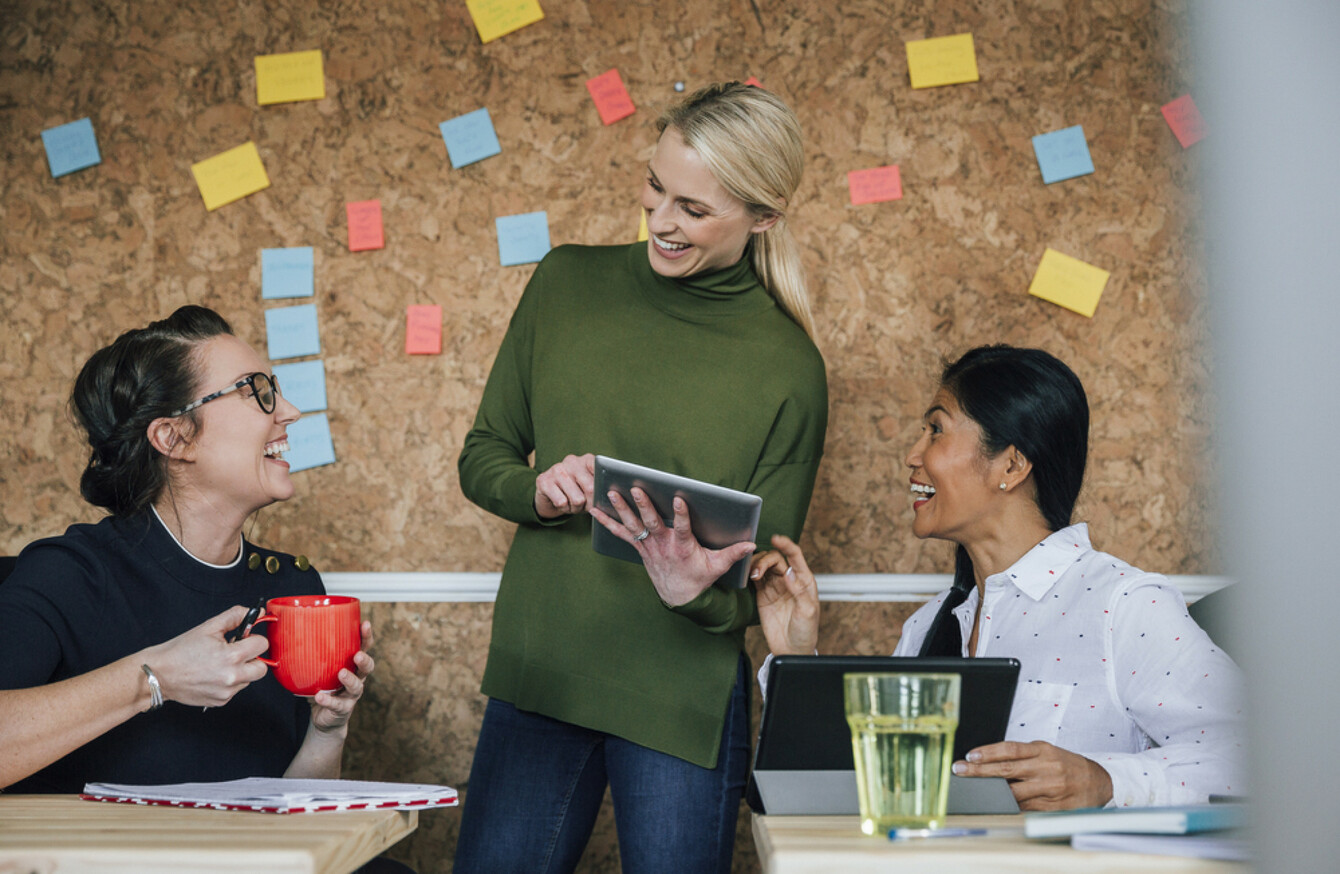 Image: Shutterstock/DGLimages
Image: Shutterstock/DGLimages
STARTING YOUR OWN BUSINESS is one of the hardest things a person can do. It requires patience, courage and a whole lot of resilience. Not to mention the small issue of funding…
To help all you budding entrepreneurs out there, we've enlisted the help of seven top female founders from around the world, to share their secrets to success.
1. Áine Mulloy – GirlCrew
Co-founder and Chief Marketing Officer of one of the largest female networks in the world, Áine Mulloy is a well known advocate for gender parity and women in leadership. Her advice to entrepreneurs is to take action and begin.
Whether you need to test the market, start mocking up designs, or getting moving on a business plan – start doing it now. It's very easy to fall into the trap of fear and procrastination masked as 'research'.
Still struggling a little? Reach out and give yourself solid deadlines, says Mulloy:
Arrange a meeting with someone to kick things off. That way you'll have a deadline in place that you need to prepare for and action points to begin working on afterwards. Most people have no problem wasting their own time, but give more value to someone else's. You'll never be 100% prepared so if you wait for that time to come it'll be too late.
2. Samantha Snabes – Re:3D
From volunteer firefighter to captain of the Mississippi Air National Guard to founder of Re:3D, Samantha Snabes has had a pretty impressive career to date. What's the secret to her success?
It sounds cliché but just do what you love. If you really love something you don't care if you're living in your car. You don't care if you've spent your savings. You don't care that your friends heckle you for not having a real job.
And most of all, make sure it's something you've a long-term commitment to, says Snabes:
If you're doing what you love then everyday is a journey and it's exciting. It's more than just a hobby. Think about something you want to commit your life to because your time is more valuable than anything else and life is so short.
3. Kellee James of Mercaris
Mercaris is an online marketplace that brings market intelligence to sustainable agriculture. Co-founder and CEO Kelle James says the best advice she could offer someone considering starting their own business is:
Do the research and make sure you have the grit and determination. Lots of people have good ideas and vision but it's the day-to-day that makes an organisation successful. It's having the ability to follow through day after day after day, that's the key skill set.
4. Samantha Hepburn – Find a Tech Job
Originally from South Africa, Samantha Hepburn has been working in tech in London for a number of years. As well as starting her own venture, she's worked closely with a number of early stage businesses.
One of her biggest learnings in this time is that you can't take business too personally. She says:
Stop referring to your startup as your baby. Every parent thinks their baby is the cutest and smartest and they're perfect just the way they are. Go ahead and think that about your actual child, but this mindset can be damaging to your business.
What Hepburn means specifically, is the impact of this on your ability to take criticism:
It often puts founders in a position where they're not open to feedback or change. Be open-minded, don't put your head in the sand. This is how you'll create the very best product possible.
5. Devika Wood – Vida
Having witnessed the poor standard of care experienced by her grandmother, this founder attributes her success to a passion to improve people's lives.
Starting your own business is a roller coaster ride. But be prepared to never get off the ride. When it is your own business, you never stop.
In fact, this is the thing that will spur you on the most, says Wood:
It is this hunger and passion that you will thrive off, and that will get you through some of the hardest times on the journey. Never give up, don't fear rejection and have the confidence to do it.
6. Frankie Bennett – The Hard Yard
The Hard Yard is a company which trains and employs ex-prisoners to teach tough prison-style bodyweight workouts.
There's a lot to be learnt from co-founder Frankie Bennett, not least how to be an inclusive employer. Interested in following in her footsteps?
Try things out small at first. If you have a business idea try a pilot. You don't have to have spent ages planning. You just need a germ of an idea to get it going. You'll learn from doing it.
Her most pertinent advice? Just get out there.
Just get something small together and run it. Recognise that by putting your idea out there that's one of the steps taken. It's a really brave thing to do.
7. Cindy Frei of Caleb's Cooking Company
Cindy Frei launched her company after her son Caleb was diagnosed with Crohn's disease. As a female founder, she's a firm believer that steely determination can overcome any obstacle.
Follow your heart and be courageous. Everyone is going to tell you that you can't do it. There's going to be a million impediments in your way and you're going to make a million mistakes. The key to success is moving on and learning from your mistakes.
And what happens when you do make mistakes?
I've already made a number of them but you learn from each one and you keep rolling on. You need to be persistent and bold, determined and follow your passion.