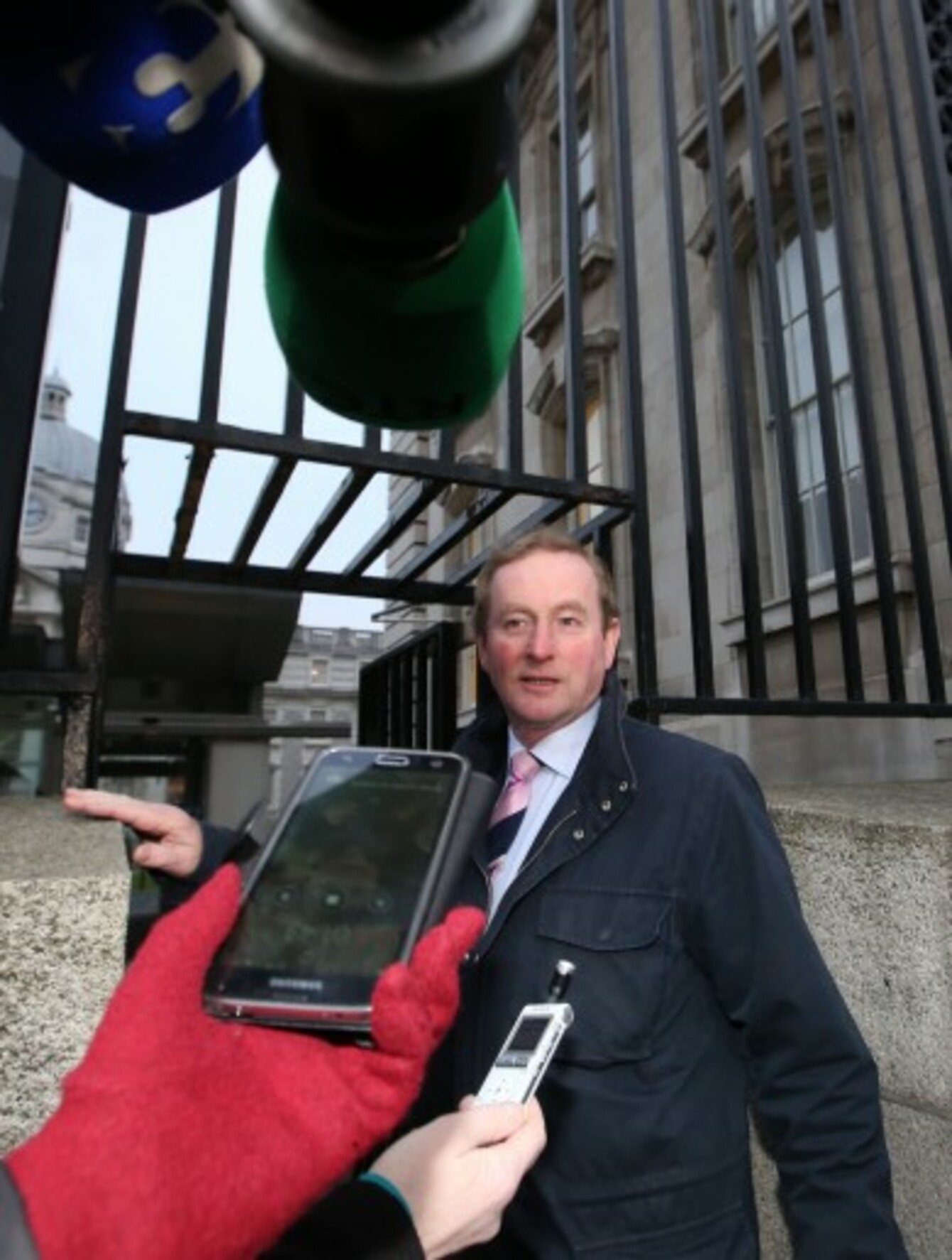 Image: Sam Boal/Photocall Ireland
Image: Sam Boal/Photocall Ireland
Updated: 15.18
MICHEÁL MARTIN HAS accused Enda Kenny of misleading the Dáil in relation to former Garda Commissioner Martin Callinan's resignation.
Referencing the Taoiseach's 'Paddy likes to know' comment, Martin told reporters: "Paddy has been in the dark now for 12 months."
"The Taoiseach, in my view, has deliberately hidden the truth in this from day one."
When it was pointed out that if Enda Kenny spoke publicly about Callinan's resignation while Justice Nial Fennelly continued his investigation he would be overriding the retired Supreme Court judge's wishes, Martin said Kenny "should have spoken before [the commission] was established".
Martin said he had made no charges against Fennelly, just Kenny.
A spokesperson for the Taoiseach told TheJournal.ie that Kenny has been "utterly transparent" about the issue.
It's entirely a matter for the independent judge to proceed with the investigation as he sees fit.
"If Deputy Martin wishes to question that, that is entirely a matter for him," he added.
The Fianna Fáil leader described the indefinite delay into the report as "unacceptable" and "outrageous".
'Utterly disgraceful'
The Taoiseach was asked about the issue today, and he didn't hold back – describing Martin's comments as "utterly disgraceful".
"He has deliberately attempted here to override the integrity and the independence of the Fennelly Commission.
Deputy Martin was a minister in the government that introduced the legislation dealing with independent commissions of inquiry. He knows that it is illegal, it is an offence, for anybody involved in the commission to make any comment on that issue.
Kenny added that he had the "utmost respect" for Justice Fennelly, and noted it was the justice committee that called for Callinan's resignation to be included in the inquiry.
Ian Bailey case
Justice Fennelly wrote to the Taoiseach telling him the report has been delayed due to Ian Bailey's legal battle with the state.
Bailey is suing the state and Garda Commissioner for alleged wrongful arrest in connection with the death of Sophie Toscan du Plantier.
In the letter, which was published on the Taoiseach's website on Friday, Fennelly says the case is linked to the secret Garda recordings which led to Callinan's resignation.
Yesterday Martin said the suggestion that "the truth of the Taoiseach's involvement in the departure of Martin Callinan will now potentially not be known until after the General Election is simply outrageous and unacceptable".
"The idea that the report will be mothballed indefinitely on the grounds that there are elements of the report that relate to the ongoing case being taken by Ian Bailey, must be challenged."
There are very serious questions about the involvement of the Taoiseach and the Secretary General of the Department of Justice in the departure of a Garda Commissioner. Answering these questions never required any investigation – the Taoiseach could have simply come into the Dáil and given a proper account of what happened.
Originally published: 15.21, 9 February