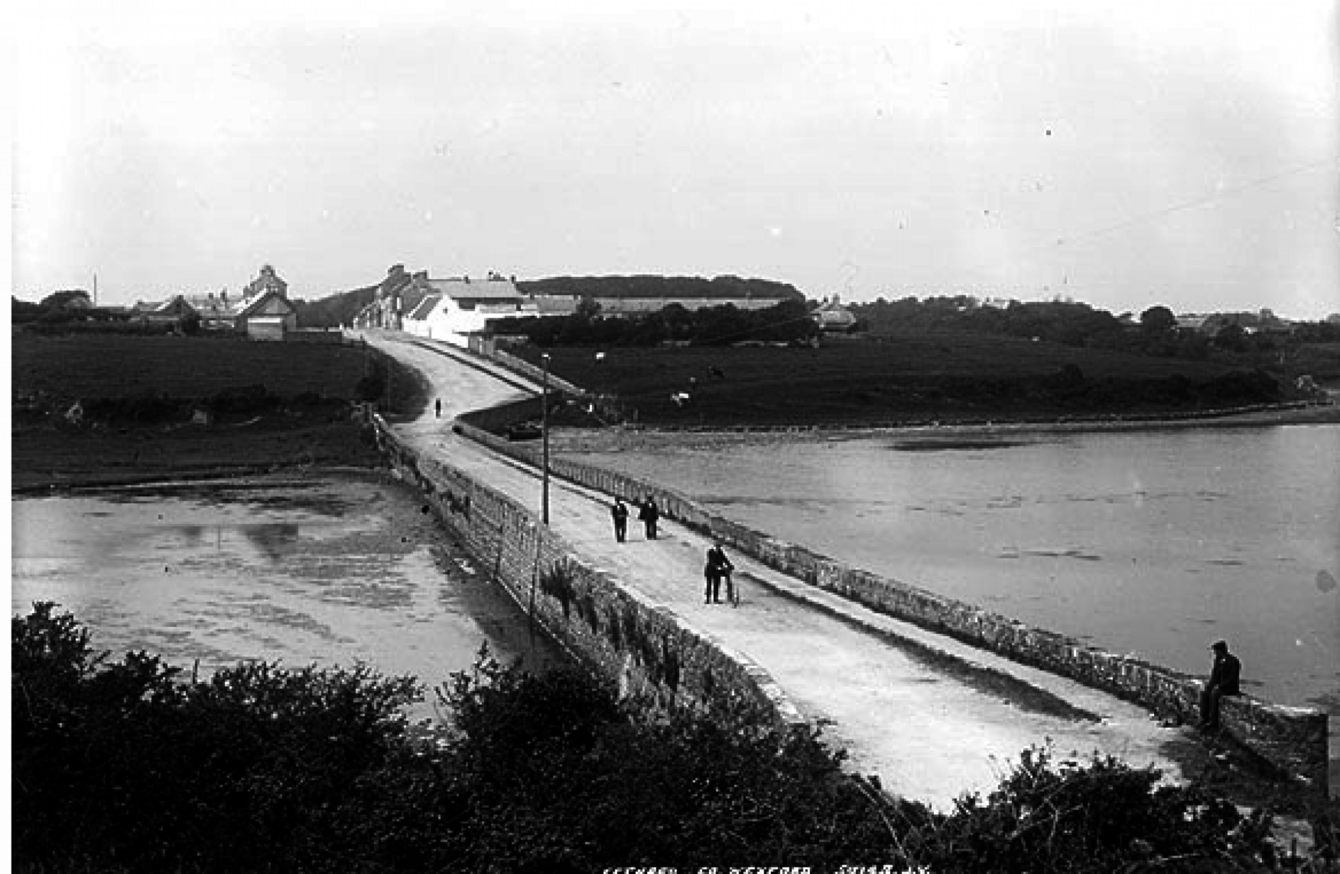 Bridge at Fethard-on-Sea
Image: National Library of Ireland
Bridge at Fethard-on-Sea
Image: National Library of Ireland
SHEILA CLONEY, NÉE Kelly, a woman from a small Wexford village, found herself at the centre of a national scandal during the 1950s when she ended up in the middle of a battle between the Catholic and Protestant churches.
The Fethard-on-Sea boycott became a national and international story and was emblematic of the religious division of the time.
Sheila was born in 1926 in Fethard-on-Sea. The Fethard area had an unusually high proportion of Church of Ireland members, and was known to some local Catholics as 'little Belfast'. The entire population of the village was 107 people. About 25 residents were Protestant.
While relations between the two groups were superficially cordial, there was a residual hostility, based on the social boundaries imposed by religious differences and on local memories of the 1798 rising and the nineteenth-century land war.
Falling in love
The Kelly family were members of the Church of Ireland, but Sheila was educated at the local Catholic national school, at Poulfur, where she first met Seán Cloney. The Cloney family lived at Dungulph Castle, a restored mediaeval dwelling just outside Fethard, and farmed 116 acres.
After leaving school, Sheila Kelly went to London to work in domestic service. In July 1948, Seán Cloney, who had gone to Bury St Edmunds in Suffolk on family business, visited her in London. When Sheila revisited Fethard the following month, they began a relationship that caused Seán to be expelled from the local amateur drama group by the Catholic curate, Fr William Stafford.
After commuting to and fro across the Irish Sea for a year, the couple decided it was impossible to marry in Wexford due to their religious differences. In August 1949 they both moved to Bury St Edmunds, and after cohabitation married in October 1949 at Hendon Registry Office.
Pressure from the Catholic church
After Catholic clergy in Wexford learned of their whereabouts, a Catholic priest began to visit them. Sheila was persuaded to agree to a Catholic marriage ceremony, which took place in November 1949 at the Augustinian priory in Hammersmith, London.
As a precondition for this ceremony, Sheila signed the pledge then demanded by the Catholic church from both parties in a mixed marriage, that their children would be brought up as Catholics. The couple, however, had a private agreement that their children would be brought up in both traditions, and subsequently had their union blessed by an Anglican clergyman.
They lived in Bury St Edmunds before returning to Fethard in August 1950. Two daughters were born, in 1951 and 1954; their parents did not bring them to either place of worship.
Which school?
Sheila worked on the farm and managed the farm accounts, while remaining an active member of the local Church of Ireland congregation. As the elder daughter reached the school-going age of six, the couple came under increasing pressure to send her to the local Catholic national school rather than its Church of Ireland counterpart.
Local Catholic clergy visited the house regularly, culminating in an incident when Fr Stafford told Sheila that she would have to send her daughter to the Catholic school and had no choice in the matter. Threats were made that she would be prosecuted under the School Attendance Act, and she feared her daughters could be taken from her.
These pressures led to tension between the couple. Seán would have preferred to have his children raised as Catholics. Sheila repeatedly threatened to take the children and go away 'to think things over', although her family members, informed by Seán, tried to dissuade her. Her father eventually gave her £30 to go away for a few days, and she raised £35 by selling a litter of pigs.
Protestant involvement
On 27 April 1957, while Seán was working on the farm, Sheila drove to Wexford with her two daughters and then travelled to Belfast. There she contacted the evangelical Irish Church Missions for help and legal advice. This contact with evangelical organisations, seen by themselves as protecting vulnerable individuals from Catholic intimidation, rapidly led to the involvement of ultra-Protestant activists, including Norman Porter, Revd Ian Paisley, and the barrister Desmond Boal.
Boal appeared at Dungulph Castle on 30 April, and informed Seán that Sheila would only meet him to discuss reconciliation if he would first agree to the children being brought up as Protestants, sell the farm, emigrate either to Canada or Australia, and consider converting to Protestantism himself. Sheila later denied any knowledge of these demands.
Seán took habeas corpus proceedings in Belfast, and the case attracted newspaper publicity. Sheila and her daughters spent several weeks in Edinburgh with Protestant activists before moving under false names to the remote island of Westray in the Orkneys.
Boycott
On Sunday 12 May, Fr Stafford, speaking from the pulpit of the Catholic church, (falsely) accused the Protestants of Fethard of having supplied Sheila with money to take her children away, and called on local Catholics to boycott them as a religious duty to safeguard the faith of Catholic children.
This boycott received the tacit support from the parish priest and Bishop James Staunton of Ferns. It was enforced by a number of influential local activists linked to the church and the Knights of St Columbanus, some of whom stood to gain economically by injuring Protestant competitors.
Two Protestant-owned shops lost their Catholic customers. Catholic labourers refused to work for Protestant farmers. The Church of Ireland school closed after the Catholic teacher resigned, and a Protestant replacement teacher received death threats. Sheila's two brothers sought Garda protection after a shot was fired near the house of one of them, causing his wife to suffer a miscarriage.
Seán Cloney was among a minority of local Catholics who consistently opposed the boycott, repeatedly stating in public that neither the Fethard Protestants nor his wife's family were complicit in Sheila's actions; indeed, his wife's family had told him that if Sheila refused to return and he secured custody of the children, they would assist him in bringing them up.
Going international
The boycott received national and international publicity, with Ulster unionists citing it to disprove claims by anti-partitionists that the Irish republic was tolerant towards religious minorities. They collected funds to assist the boycotted Protestants.
The boycott was repeatedly defended by by the Wexford Labour TD Brendan Corish and Michael Browne, bishop of Galway, who presented criticism of this 'peaceful and moderate protest' as morally equivalent to communist persecution of Catholicism. It was, however, publicly condemned by Éamon de Valera and by Northern Irish nationalists.
Attempts to spread the boycott beyond Fethard, or to enlist the public support of national Catholic organisations, failed, and in August–September a formal cessation was negotiated at the behest of state authorities.
The boycott continued informally at a lower level for some years, and lasting damage was done to inter-faith relationships locally and nationally. Sheila's father never fully recovered from being shunned by local people he had regarded as friends.
Choosing both and neither religion
In October 1957, Sheila Cloney, unaware of these events, read of them in a Protestant missionary journal and contacted Seán. The family were reunited in the Orkneys in November, finally returning at Easter 1958.
The Cloneys decided that their daughters would attend neither school nor church, since the choice of either would be seen as a victory for that tradition, but would be educated at home.
The Cloneys subsequently had a third daughter (born 1961), who was baptised in both the Church of Ireland and Catholic churches. Fr Stafford continued to call to the house to pressurise the Cloneys.
When the couple's second daughter, Mary, died in 1998, her funeral was held in the Catholic church (after Church of Ireland prayers at the funeral home), and she was buried in St Mogue's graveyard. Brendan Comiskey, the Catholic bishop of Ferns, issued a formal apology for the boycott in 1998.
Later life
In later life, Seán expressed regret that he had not supported Sheila at the time of Fr Stafford's initial intervention. The elder girls led a socially isolated life until the late 1960s, when they became active in Macra na Feirme and other local organisations.
The Cloney family campaigned in 1983 against the adoption of the eighth amendment to the constitution, which imposed a constitutional ban on abortion. While the initiative in this was taken by the couple's two eldest daughters, who saw the amendment as sectarian and endangering women's lives, Sheila supported them by distributing leaflets outside the Church of Ireland church.
In general, however, Sheila avoided publicity and preferred not to discuss the boycott even with her children, whereas Seán became increasingly willing to recall it for interviewers in the 1980s and 1990s.
After Seán's death in 1999, Sheila moved into a bungalow beside Dungulph Castle, but remained active almost until her own death, in Wexford in 2009. The Catholic parish priest attended her funeral in St Mogue's.
Legacy
A fictionalised film was made based on the boycott in 1999. It was called A Love Divided – directed by Sydney Macartney, with Orla Brady as Sheila and Liam Cunningham as Seán. Sheila is presented as the protagonist and Seán's character considerably simplified.
While other members of the Cloney family (including Seán) cooperated with the production, Sheila disapproved of it and chose never to watch the film.
The Fethard-on-Sea boycott reflected longstanding nationwide religious divisions, and could have taken place in any of several previous decades. What was chiefly remarkable about it was the extent to which it was blunted by international pressure, deriving from official concern that Ireland be presented as modern, tolerant and attractive to international investors.
It is indicative of changing attitudes in subsequent decades that, while in 1957 Sheila was publicly denounced even by her own family and Church of Ireland representatives for 'breaking up a home' and violating a solemn pledge, journalistic coverage of A Love Divided and of Sheila's death usually praised her for showing moral heroism in standing up to clerical bullying. Some commenters claimed that her action contributed to the liberalisation and secularisation of Ireland in subsequent decades.
Sheila Cloney's biography is one of 41 new lives recently added to The Dictionary of Irish Biography, a research project of the Royal Irish Academy. The online edition, containing over 10,000 lives is now freely available to all schools on the island of Ireland through www.scoilnet.ie.