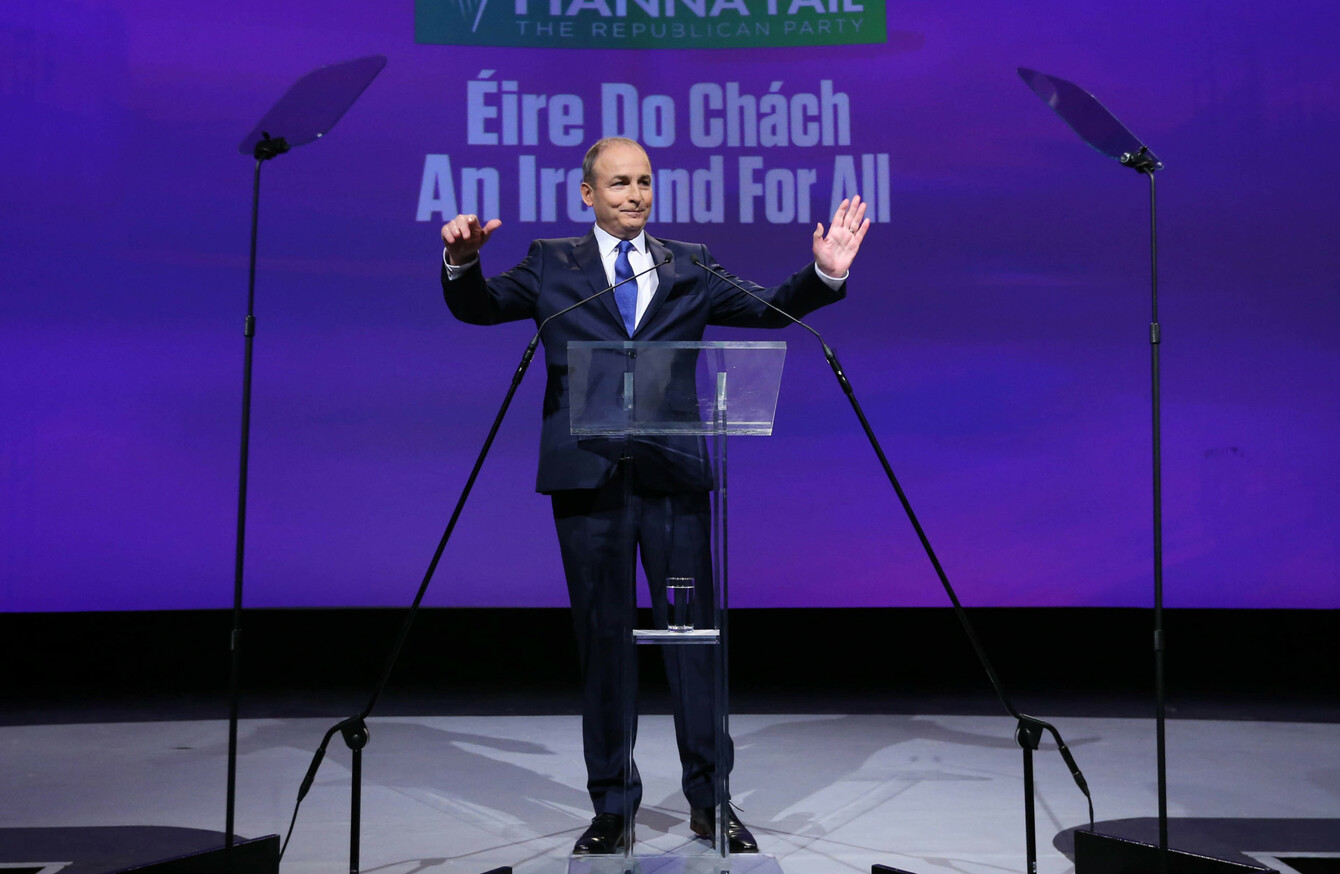 Image: Sam Boal
Image: Sam Boal
FIANNA FÁIL LEADER Micheál Martin used his closing speech at his party's Ard Fheis to launch a blistering attack on the Taoiseach and also claim responsibility for ending the water charges regime.
Branding Fine Gael as the "out-of-touch elite" who have moved to the right, Martin criticised the government for their "addiction to spin".
He accused the Taoiseach of hiring more staff for communications than to advise on health, housing and Brexit.
"That tells us a lot," he said.
To them the challenge is to get people listening to government – but to us the urgent need is for a government which is listening to the people.
The other change in recent months has been a big move to the right by Fine Gael.
Martin said only an "out-of-touch elite could have come up with the idea of trying to divide society into those who get up early in the morning and everyone else".
He said Fine Gael are moving into a position for an election.
I'm sorry, but we will never accept labelling the sick, pensioners, children with special needs, people with disabilities or people looking for a home as being less entitled to society's support.The decision by Fine Gael to head off on this new divisive road is more about positioning for an election than trying to govern.
Heaping more criticism on Leo Varadkar, Martin said there is an undeniable link between decisions by this government and the headlines of a health system in crisis. He said the highest waiting lists on record "are not the failure of health professionals they are the result of disastrous political decisions".
Martin also claimed the government is obsessed with pushing good news stories.
"Last month they actually contacted every hospital in the country asking that the Minister and Taoiseach be told of good news stories so that they can turn up to be photographed.
"These same people go into hiding every time bad news appears – but if they can claim credit for someone else's work they want to be there," he said.
The Fianna Fáil leader also used his speech to criticise the parties on the left.
"Off on the left the message is that more tax and more spending is the answer to everything. They claim that the people who create jobs and who we rely on to build a strong enterprise economy can be squeezed more and more.
"What the other parties just don't understand is that it is the duty of a government to work for all of the people – not just a targeted few," he said, adding that Fianna Fáil is absolutely clear that they reject divisive politics.
"We believe our country is only strong when we work together," he said.
Fianna Fáil said the issues of the day have gotten worse since Fine Gael changed its leadership.
"Under their changed leadership things are actually getting worse."
"So much spin, so little action," added Martin.
The Fianna Fáil leader also used the opportunity to claim a number of successes.
"We stopped the worst of the unfair and regressive policies of Fine Gael. We secured higher pensions and social welfare payments. Cuts in USC. And secured specific investments in public services such as housing, health and schools in order to cut waiting lists and class sizes," he told the packed out crowd of the Shelbourne Hall in the RDS, interestingly adding:
And of course we delivered the end of the unfair, loss-making fiasco of water charges.
He said he was not going to pretend for one moment that Fianna Fáil are happy with this government.
The fact is that in area after area they are simply failing to deliver for people.