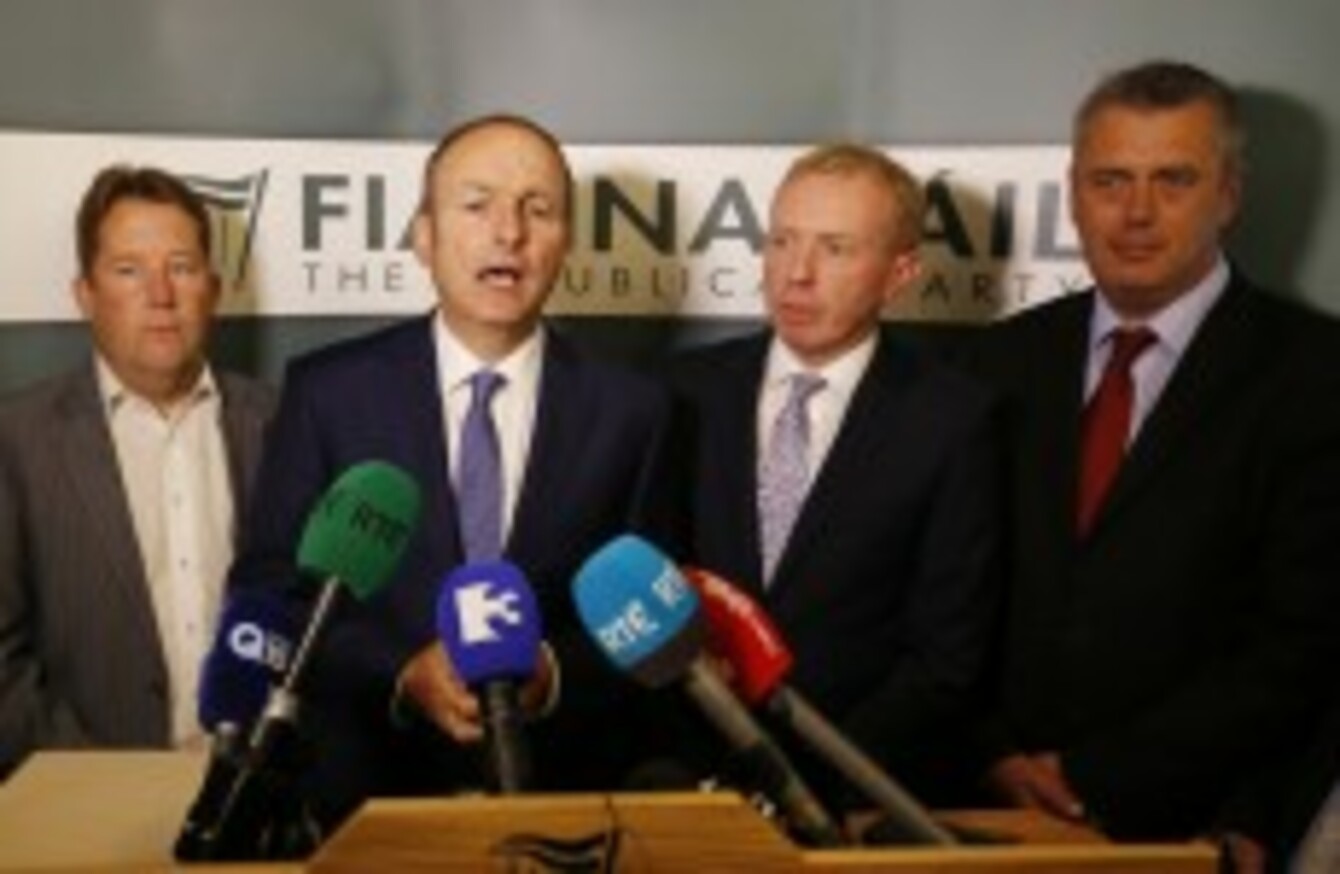 (From L to R) Fianna Fáil senator Darragh O'Brien, leader Micheál Martin and TDs Timmy Dooley and Colm Keaveney
Image: Sasko Lazarov/Photocall Ireland
(From L to R) Fianna Fáil senator Darragh O'Brien, leader Micheál Martin and TDs Timmy Dooley and Colm Keaveney
Image: Sasko Lazarov/Photocall Ireland
FIANNA FÁIL WILL not intitiate any moves to repeal the 8th Amendment, party leader Micheál Martin said today.
His comments come amid renewed focus on what stance each political party will take on the controversial constitutional amendment at the next general election.
The amendment, passed by referendum in 1983, enshrines the equal right to life of the mother and unborn in the constitution. It effectively outlaws abortion in Ireland except in cases of risk to life of the mother, including suicide.
A poll in today's Irish Examiner says that 64% of farmers favour repealing the 8th Amendment, 34% said they were opposed to any changes while 2% of respondents said the don't know.
Speaking today, Martin said his party would not push to hold a referendum if in government after the next election.
"We've said collectively, as a political party, that we would not intitiate moves to repeal the 8th," he told reporters at Leinster House this morning.
Martin said any moves to repeal the 8th would have to focus on what replaces it. He continued:
Some people have a view [that we should] just repeal [it] and let things as they are. Others, however, have an anticipation that if the 8th Amendment was to be repealed something else would have to come in its place, either via legislation or via another constitutional amendment.
The Cork South-Central TD said that within the Fianna Fáil parliamentary party there is a freedom of conscious on any abortion votes which means TDs and Senators are not whipped into voting a particular way.
"We're not proposing the repeal but the individual conscious still applies to members of the parliamentary party," he added.
Meanwhile, responding to the Examiner poll Pro Life Campaign spokesperson Dr Ruth Cullen said the findings were not surprising given what she said is the "astonishingly one-sided" debate in the media at present.
She continued: "I find it fascinating the way some commentators take offence at the accusation of media groupthink on the issue.
"It's an indisputable fact that the campaign to repeal the 8th Amendment is not grassroots driven but is almost exclusively a media driven campaign."