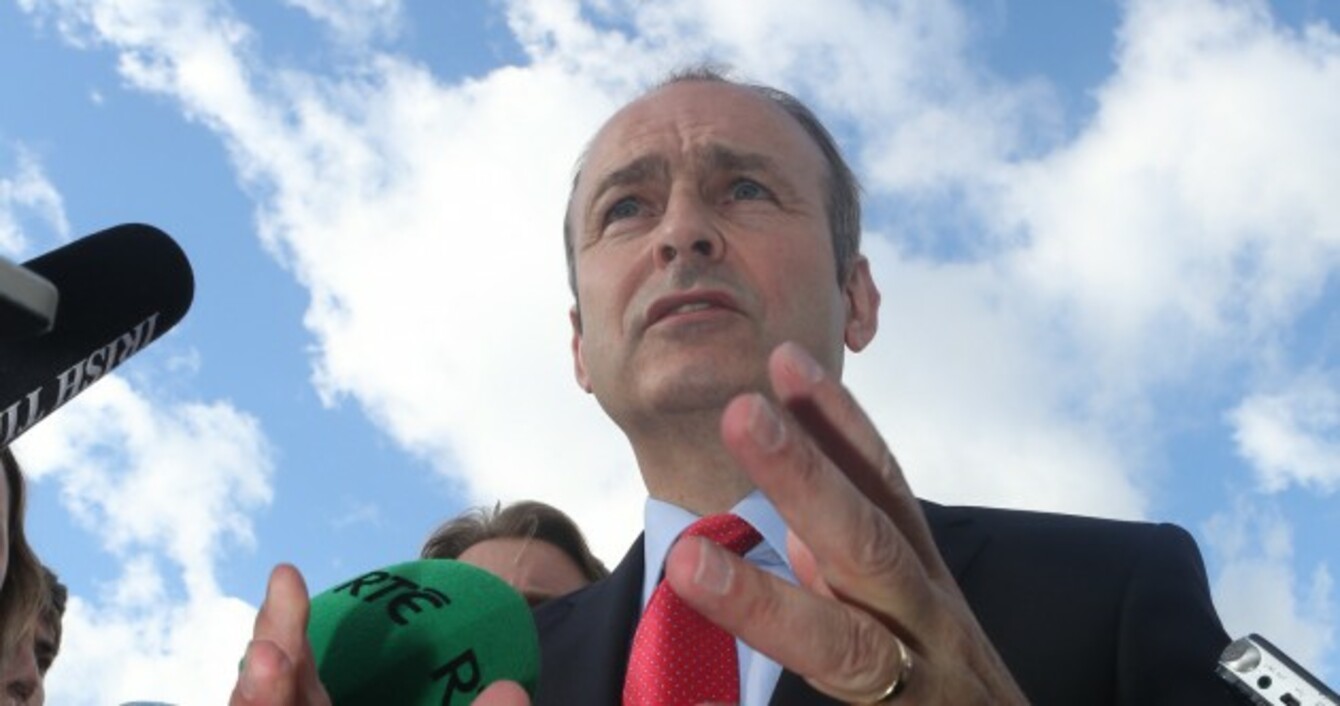 Micheál Martin needs more blue skies for Fianna Fáil in the months ahead.
Image: Sam Boal/Photocall Ireland
Micheál Martin needs more blue skies for Fianna Fáil in the months ahead.
Image: Sam Boal/Photocall Ireland
AMID THE EXCITEMENT over the launch of a new political party and a poll showing support for the government increasing the continuing plight of Fianna Fáil went largely unnoticed last Friday.
The party dropped one point to 17 per cent in the latest Red C opinion poll for Paddy Power underlining how it is, frankly, going nowhere in the opinion polls right now.
There's no one reason for this. It's not as if some huge controversy has engulfed Fianna Fáil in recent months. One theory is that voters are not quite sure what it stands for and that government attempts to paint the party as irrelevant have, to some extent, succeeded.
Part of this is down to it Fianna Fáil being uncharted waters. It had always been the dominant party of Irish politics, even when in opposition. But all of that hanged utterly in 2011 when it lost over 50 seats.
Fianna Fáil has had spells in opposition in the past but never like this one, where it finds itself competing for space and airtime with Sinn Féin. Never mind being in opposition, trying to be the best opposition party has been a challenge in itself.
https://vine.co/v/OTEZFpI19Dv
Opposition wins
It shouldn't be forgotten that Fianna Fáil has had some considerable wins in opposition.
It led the way on the medical card debacle and the garda controversies last year. Barry Cowen has been an extremely effective performer when it comes to the Irish Water mess.
Clare TD Timmy Dooley, a key ally of Micheál Martin, believes the party has directly contributed to the departures of James Reilly from Health, Phil Hogan from Environment and Alan Shatter from Justice:
We've been spent the last four years pretty aggressively targeting the government, highlighting failures that have been made and their inability to live up top the promises they made. I think we've been successful in that.
But securing the departure of ministers is not enough.
The election will come down to the economy primarily but also what policies each party is offering and on that front Fianna Fáil is falling short, not least when it comes to Health.
The problems
While Billy Kelleher has been a strong and capable performer when it comes to debating Leo Varadkar (and James Reilly before him), he has been fatally hamstrung by not putting forward any alternative proposal to the government's policy.
Kelleher consistently argues for more funding of health services but the government has hit back, arguing that money alone cannot solve the problem. It's a credible argument given that the health service was in constant crisis when the country was awash with money under Fianna Fáil.
Another issue that some have highlighted has been the unwillingness of some Fianna Fáil TDs to come out and bat for the party in terms of media appearances and policy formation.
There's a belief that the same faces are putting themselves forward consistently (like Michael McGrath and Dara Calleary below) while others hide on the backbenches.
https://vine.co/v/OeJlXXWxjj6
The lack of any female voices in the Dáil is also a problem for Fianna Fáil as is the lack of any voices from Dublin.
Senator Averil Power ticks both these boxes but there's only so much she can do from the Seanad and there is no guarantee she will even be the party's candidate in Dublin Bay North.
All voters are seeing on a national level are a group of men, many of whom were part of – to borrow the government's term – 'the crowd that wrecked the country'.
The leadership question
This is of course a particular problem for party leader Micheál Martin whose association with the last government is certainly not helping him.
It's a view shared by John McGuinness, a long time critic of the party leadership, whose sniping from the sidelines has done little to enamour himself to his colleagues.
We spent a good deal of time talking to McGuinness, whose made no secret of his ambition, about the leadership issue when we interviewed him earlier this year.
His views are well worth watching:
Source: Video TheJournal.ie/YouTube
Others in the party don't see it his way.
A report in the Irish Independent earlier this week that Longford-Westmeath TD Robert Troy "had a right cut off the leader" at a recent meeting have been downplayed by those loyal to Martin.
Dooley, considered Martin's Phil Hogan-like enforcer, told TheJournal.ie today that the portrayal of the meeting on Monday was "very different to the one I attended".
I was shocked to see a construct that indicated that there was disharmony or rancour, or whatever you might want to call it. If there was I'd have no problem saying it, but there wasn't.
Dara Calleary, the Mayo TD who is considered a future leadership contender, reckons Martin has done a "phenomenal job" as leader of the party:
#Open journalism No news is bad news Support The Journal

Your contributions will help us continue to deliver the stories that are important to you

Support us now
Source: Video TheJournal.ie/YouTube
While Martin himself has repeatedly dismissed his criticis, insisting that it's something every party leader has faced.
He also says that unlike some of his predecessors he's not 'uno Duce, uno voce' and, in fact, welcomes that criticism:
Source: Video TheJournal.ie/YouTube
Though it has cropped up from time to time over the last four years, Micheál Martin's leadership Fianna Fáil is pretty safe right now.
Privately, even those who would have criticised Martin believe it would be disastrous to mount a heave now, particularly when many in the party believe the election could be called as soon as the autumn.
Ultimately to get more people elected, Fianna Fáil needs to garner greater support than it is currently showing in the polls.
Some are clinging onto the fact the party polled much better in the local elections compared to the polls beforehand and came out with the largest number of councillors of any party in the country.
"It could be argued the polls are not accurately reflecting the strength of Fianna Fáil," argues Dooley.
That may well be the case.
Ultimately the only real test of that will be the general election but while the poll numbers remain as becalmed as they are right now the questions about where Fianna Fáil is headed, and just what it stands for, will continue.
Originally posted 11:40am.