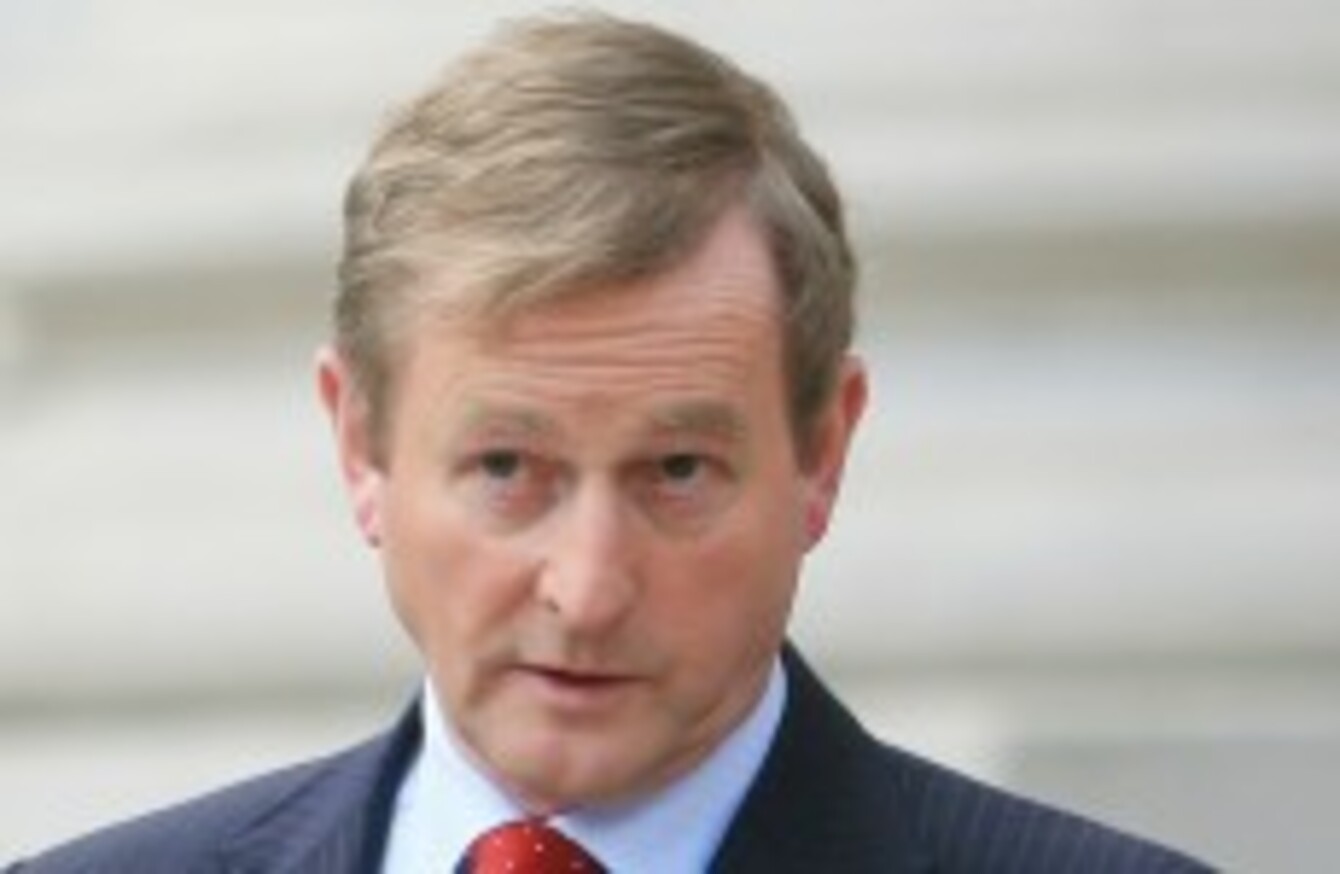 Enda Kenny at Government Buildings today
Image: Leah Farrell/Photocall Ireland
Enda Kenny at Government Buildings today
Image: Leah Farrell/Photocall Ireland
Updated 8.25pm 
ENDA KENNY ATTACKED Fianna Fáil, describing the party as the "arsonists who set fire to our homes [who] are now offering advice on how to extinguish the flames", as he pledged action on the mortgage arrears crisis today.
The Taoiseach said that mortgage distress remains "the most painful legacy of the decade of economic mismanagement by Fianna Fáil" and said that new measures would be announced next month.
Of the former government party, he said: "The arsonists who set fire to our homes are now offering advice on how to extinguish the flames."
However, Fianna Fáil has been hitting back today with party leader Micheál Martin accusing Kenny of "insulting people".
He said the party's finance spokesperson Michael McGrath had proposed legislation last week on mortgage arrears that "offered a very constructive way forward".
Martin said Finance Minister Michael Noonan did a "u-turn" at the weekend and "accepted and acknowledged that there were issues with the personal insolvency work that the government has initiated".
Kenny was speaking earlier at the launch of the government's fourth annual progress report on the programme for government, four years and a day after it took office.
The government is to announce a new set of measures in April that will focus on aiding the large number of families in long-term mortgage arrears with over 37,000 cases where mortgages are in arrears for two years or more.
The changes could include legislation, but Kenny stressed that more cases could be resolved by the Insolvency Service of Ireland.
He said the proportion of debt deals between mortgage holders and their creditors needs to increasee.
Kenny explained that among the areas that are being examined before measures will be announced next month are:
awareness of the Insolvency Service among debt distressed families
an independent audit of the quality of debt deals that are being recommended by Personal Insolvency Practitioners
the options available to borrowers where insolvency arrangements have been rejected by the creditors
the supports available to families who cannot pay even a re-structured mortgage or meet the requirements of an insolvency arrangement
Proposals will be formulated by the Departments of the Taoiseach, Finance, Public Expenditure and Reform, and Justice.
Also speaking at the same event today, Tánaiste Joan Burton said that reducing the period of bankruptcy from three years to one would be a "useful step" to help alleviate the crisis.
Labour backbencher Willie Penrose has proposed a bill to reduce the bankruptcy term and it has been formally backed by his party.
Despite perceived opposition to the proposal from Fine Gael, Kenny said that it would be considered ahead of the announcement of new measures in April.
He added: "Obviously it might spur the banks on to a more expeditious decision. The banks don't get anything, or very little, in the case of bankruptcy."