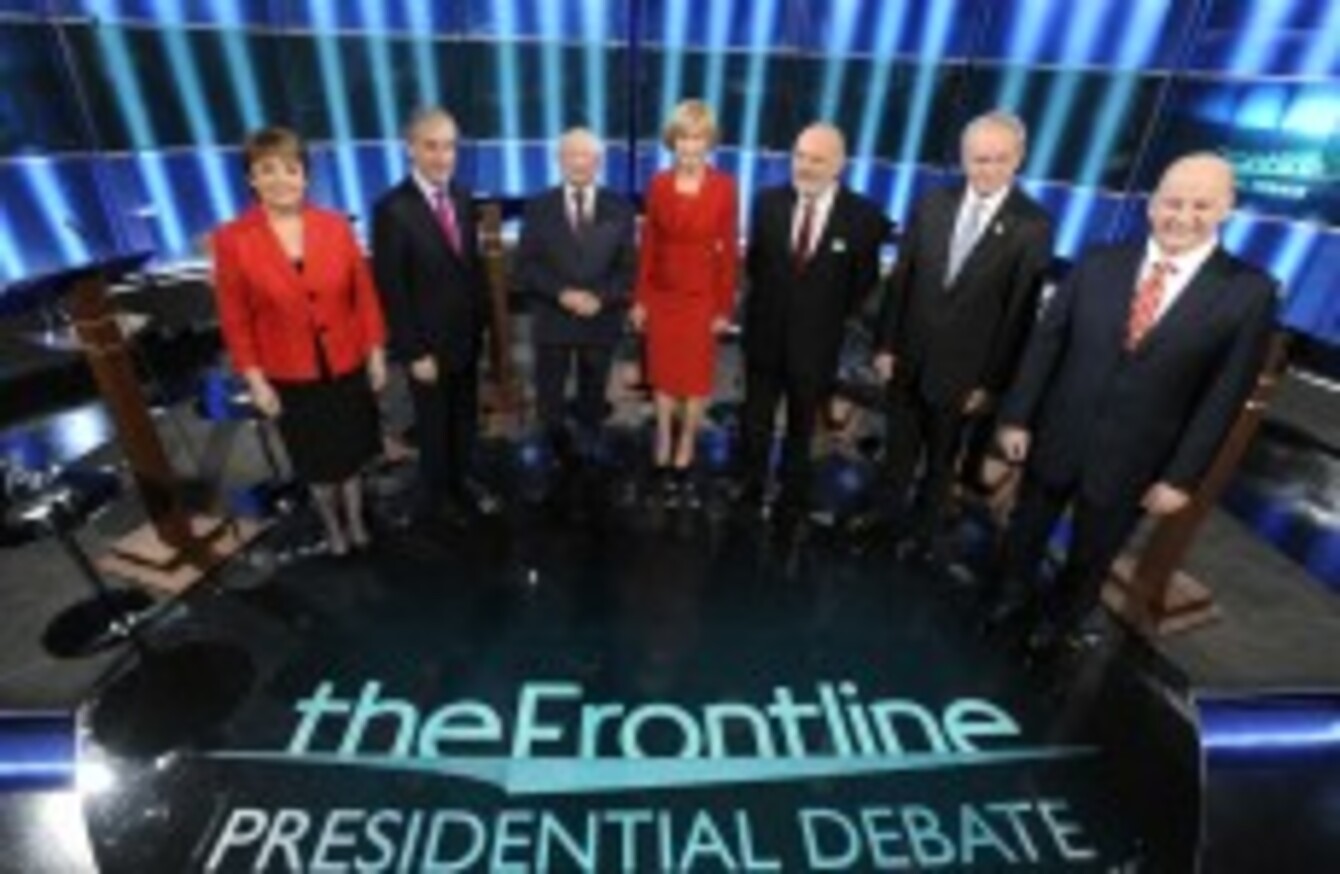 The candidates before the debate last October
Image: Sasko Lazarov/Photocall Ireland
The candidates before the debate last October
Image: Sasko Lazarov/Photocall Ireland
FIANNA FÁIL HAVE called for a public inquiry after new claims emerged over the controversial RTÉ Frontline debate between presidential candidates.
The party's public expenditure spokesperson Seán Fleming said an independent investigator should be appointed and the results of the inquiry published "point by point".
He was speaking after an audience member alleged yesterday that production staff encouraged him to ask a hostile question to Seán Gallagher. Gallagher has also called for an inquiry over the claims, and said he is considering legal action.
Fleming said the RTÉ board should "get ahead of the curve" and commission an inquiry before any other revelations emerged.
"We're now moving into the territory of the cover-up, and the cover-up is getting more serious than the original mistake," he told RTÉ's Morning Ireland. "We're now more confused than we were last Wednesday, and more facts are emerging."
Last Wednesday the Broadcasting Authority of Ireland upheld a complaint from Gallagher over a 'bogus tweet' that was read out by presenter Pat Kenny.
Fleming said it was important for RTÉ to maintain its reputation and impartiality. "I still believe there's no political agenda operating on that show, but the more that emerges is making the general public question whether that agenda is there," he said, adding: "I'm worried that something like this could happen during the next election campaign."
In a statement yesterday, RTÉ said that any further regulatory process relating to the debate was not a matter for the broadcaster "to decide or influence".
Gallagher has said that he will be making contact with communications minister Pat Rabbitte over the new allegations, which were published in the Sunday Independent.
Education minister Ruairí Quinn said this morning that he expected the Cabinet to be briefed on the issue tomorrow.