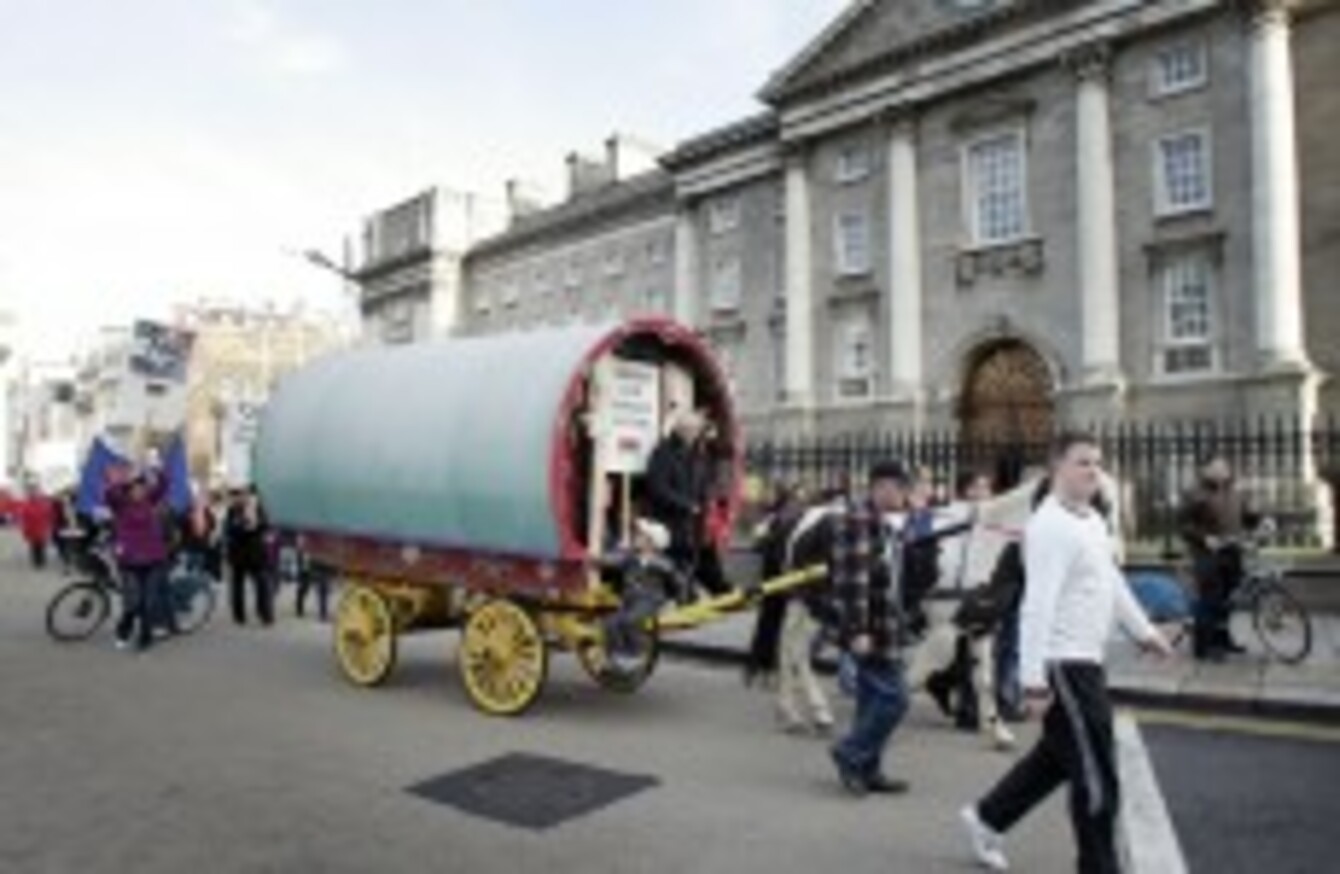 Travellers march to the Dáil in 2009 in a bid to promote the recognition of Travellers as a minority ethnic group
Image: Mark Stedman/Photocall Ireland
Travellers march to the Dáil in 2009 in a bid to promote the recognition of Travellers as a minority ethnic group
Image: Mark Stedman/Photocall Ireland
A FIANNA FÁIL councillor has been criticised for saying that Travellers should be housed away from settled communities and that they "wreck homes".
Councillor Sean McEniff, who has been a member of Donegal County Council for 45 years according to the Fianna Fáil website, told Ocean FM in Donegal today that he believed that "there should be an isolated community of them some place – and give them houses and keep them all together".
"You wouldn't want it beside you nor I wouldn't want it beside me," he told the station. McEniff said he was quite happy that he was "speaking facts" but said he was not racist or bigoted.
Fianna Fáil has distanced itself from McEniff's comments and told TheJournal.ie that he was "expressing a personal opinion".
McEniff was on the radio to discuss Donegal County Council's plan to purchase a house to provide accommodation for Travellers in Ballyshannon at a cost of over €230,000. McEniff said it was "par for the course" that the house would eventually be "wrecked".
Sinn Féin TD for Donegal North East Pádraig Mac Lochlainn said the party should take disciplinary action against McEniff. He said:
There is a gap between the traveller and settled community and it is the responsibility of all public representatives to act responsibly and build trust.

Anti-traveller racism in all forms is unacceptable in Ireland, and it is mind boggling to think that Councillor McEniff would think ethnic slurs are tolerable.
A Fianna Fáil spokesperson told TheJournal.ie: "Sean McEniff was expressing a personal opinion. Fianna Fáil is committed to equality and has done more than any other political party to advance the cause of travellers' rights over the last decade".
Sean McEniff's profile on the Fianna Fáil website says he was Donegal Person of the Year in 1996 and served as Director of Bord Fáilte from 1993 until 1998.
Cllr Sean McEniff (Image: Fianna Fáil website)