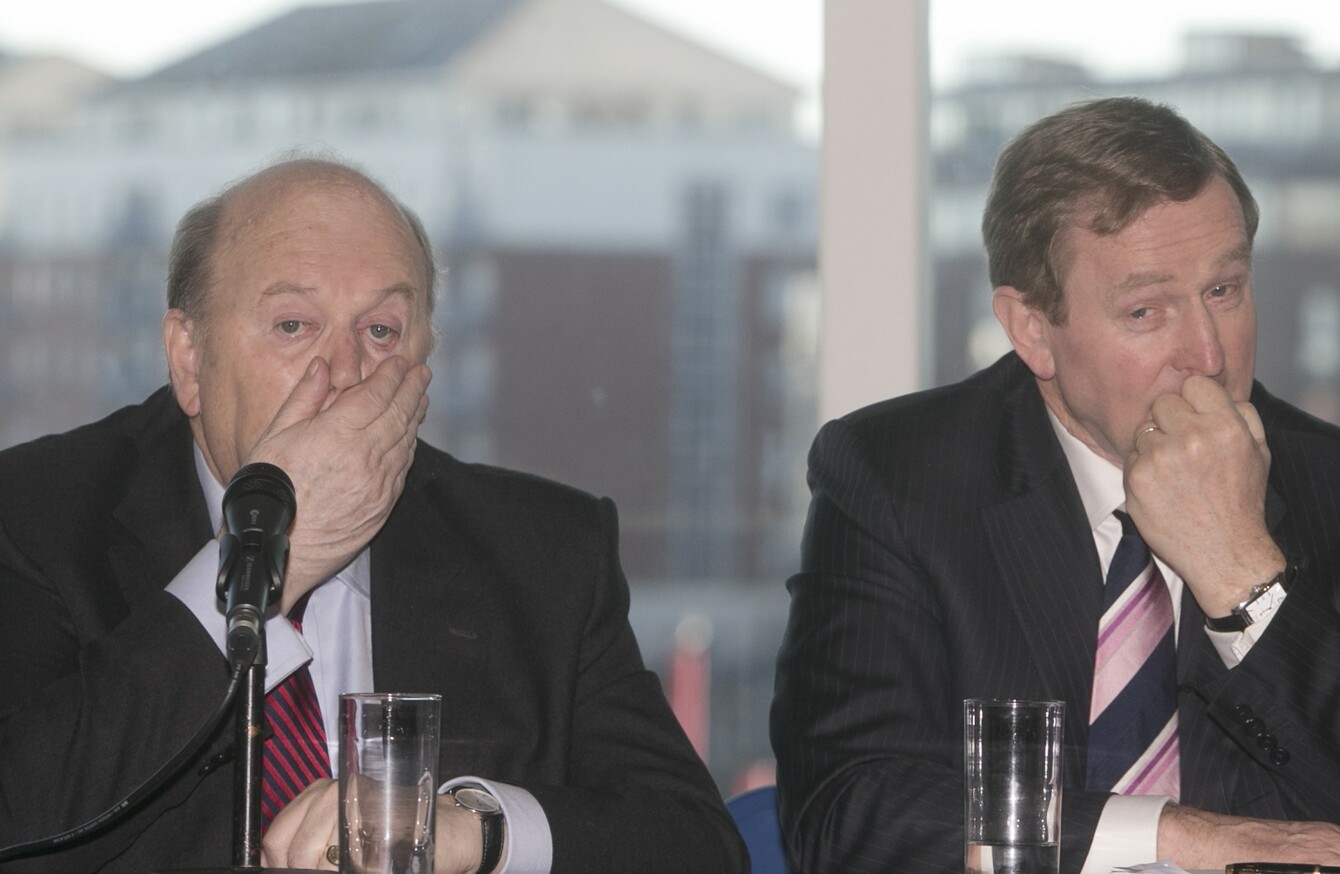 Lots of this among Fine Gael-ers over the weekend
Image: Sam Boal/RollingNews.ie
Lots of this among Fine Gael-ers over the weekend
Image: Sam Boal/RollingNews.ie
LEINSTER HOUSE IS a strange place these last two days.
As newly-elected TDs find their bearings, one of the oddest sights is many of them walking around the corridors with their Oireachtas-branded bags, almost like mála scoile on their first day at school.
Inside their satchels are goodies and guides on how the parliament operates, including tips on where to grab a bite to eat in the Leinster House complex and where to find information for their maiden Dáil speeches.
The new intake look slightly lost, one asking us today where the nearest toilet was. Another politician, who regained their Dáil seat after five years out of office, couldn't find the clerk's office.
By contrast, those who've been dumped by the electorate are assembling flatpack boxes and clearing out their offices, facing into uncertain futures. Some have pensions to fallback on, others are going for the Seanad, but a lot of them are simply unemployed.
They all look a bit shell-shocked. One long-serving TD noted how they were going through files that stretch back decades, remarking: "It's like going through your whole life."
But there are two very distinct and fascinating camps emerging. There are the uncertain and nervous looking Fine Gael-ers and the cock-a-hoop Fianna Fáil-ers.
"It's f***ing great," said one new Fianna Fáil TD to another while standing in our presence outside Leinster House this afternoon. The sheer magnitude of the party's victory – 44 seats – was a surprise to some of them, although others bemoaned everyone who wrote them off.
Many are delighted that Micheál Martin took the initiative to call for widespread Oireachtas reform prior to any government negotiation.
It was the first move by any of the party leaders and an acknowledgement that we're dealing with a fractured 32nd Dáil that requires business to be done differently. The Greens, AAA-PBP and the Social Democrats have already welcomed the move in a significant showing of cross-party support.
By contrast, Fine Gael seems all at sea. The mixed messages coming from the party on Irish Water and water charges over the last 24 hours underlines this.
Simon Coveney appeared to put the whole issue on the table during a Prime Time interview last night, only to rowback in an interview today. The Taoiseach, who'd not been seen publicly in four days, said this afternoon that to scrap Irish Water would be a "seriously costly and seriously historic mistake" and said people should pay their bills.
But already the view has taken hold among the general public that they may no longer have to pay. After all, most of the TDs elected to the 32nd Dáil have a mandate to scrap the charges.
Fine Gael suddenly seems to have lost control of the narrative. The party that spoke of 'stability versus chaos' during the campaign has become the party of 'instability and chaos'.
TDs up and down the country are furious with Coveney. Some believe the Agriculture Minister torpedoed his leadership hopes with his mixed messages on water.
"He really overreached himself, it exposed us all," said one. The issue is now likely to be raised by constituents who haven't paid their bills or who have but are thinking they won't pay their next one. Another deputy acknowledged the perception of the party being in "utter chaos" is accurate.
Alan Shatter may be gone, but he spoke for a lot of deputies in his criticism of the message that Fine Gael candidates were repeatedly told to preach on the doorsteps. 'Keep the recovery going' didn't work, despite the insistence of those closest to the Taoiseach that it was the right one, based on focus group feedback.
Former Fine Gael strategist Frank Flannery, whom the party undoubtedly missed in the election, believes his former colleagues are still in shock after the election result, which is perhaps why the post-election message has been confused.
"There's a shock still, that is the process we're in now. People will be saying things, but in a day or two you'll be getting mature reflections," he told us today.
Pay little attention to what's being said now. Politicians are human beings and they have to be allowed that time to absorb the fairly monumental impact of the election.
Flannery believes that the uncertainty will be sorted out and Fine Gael will get itself ready for some "open, honest discourse" in the weeks ahead. That, he said, should include Fianna Fáil.
He cautioned against a Fine Gael minority government, saying this would put the party "on a hiding to nothing" and it would be "destroyed" at the next election. One Fine Gael TD told us today that a grand coalition of their party and Fianna Fáil's is imperative, saying:
I really wish people would start thinking about the country…. what's the difference between us [FF and FG] anyway? Nothing.
Tomorrow, parliamentarians of both parties meet separately at Leinster House.
While Micheál Martin can expect a warm welcome from his deputies, new and old, Enda Kenny will be faced with anger and unease among his depleted ranks. No one in Fine Gael believes the leader has a long-term future, but he must quell the unrest somewhat in order to ensure he can hang on in the short-term.
On the evidence of the last two days, Fine Gael is still staggering back to its feet after its pummelling from the electorate at the weekend. If the party really does want to form part of the next government it had better straighten itself up fast.