The Galway Tent was infamous in Bertie's day, but was scrapped by Brian Cowen
Image: Photocall Ireland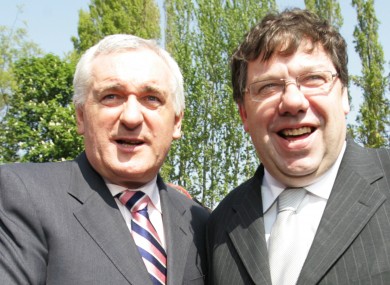 The Galway Tent was infamous in Bertie's day, but was scrapped by Brian Cowen
Image: Photocall Ireland
ONE OF THE candidates for vice president of Fianna Fáil has staunchly defended the infamous Galway tent, describing it as being "among the most transparent, undertaken by any political party, on the island of Ireland".
Sligo-based Gerry O'Connor said the party's long association with the building industry has been "demonised by those who believe they know 'where it all went wrong'" in his leaflet canvassing for the support of members at this weekend's Ard Fheis in the RDS.
In the leaflet, O'Connor writes: "As if 'a day at the races' was the route of all evil. The fact is that the 'Galway tent' fundraising initiative was among the most transparent, undertaken by any political party, on the island of Ireland.
"No one at the 'ceiluradh' was hiding from anyone and its genesis was grounded in the support of other hugely important industries; horse racing and breeding, for which our island is renowned."
The Galway tent became synonymous for Fianna Fáil's close association with the building industry during the economic boom.
The tent was in existence for over a decade, but was abolished by former leader Brian Cowen in 2008 following a review of party structures.
But O'Connor writes in his leaflet: "Those who criticised former Fianna Fáil ministers for rubbing shoulders with the followers of the 'sport of kings' would do well to remember the grooms and labourers; the vets and the lorry drivers; the caterers and the engineers who earn their living within these intrinsically Irish industries.
"Perhaps the value of the work carried out by a labour intensive construction sector, and Fianna Fáil's support of the same, should be reappraised in the light of a severe housing shortage in the greater Dublin area and perhaps the value of skilled jobs provided by the likes of 'Horse Racing Ireland' might be better appreciated as we try to emerge from recession."
O'Connor has been a constituency organiser and director of elections for Fianna Fáil since 2004 and is also the current county secretary of Sligo GAA.
He is vying for one of five vice president positions in Fianna Fáil.
Two of these are allocated to members of the parliamentary party, two for ordinary members and one for any member – either parliamentary or ordinary – of the party.
Senator Mary White has already secured one of the vice presidency positions. Others vying for spots include TDs Éamon Ó Cuív and Timmy Dooley.
Hat tip: Irish Election Literature