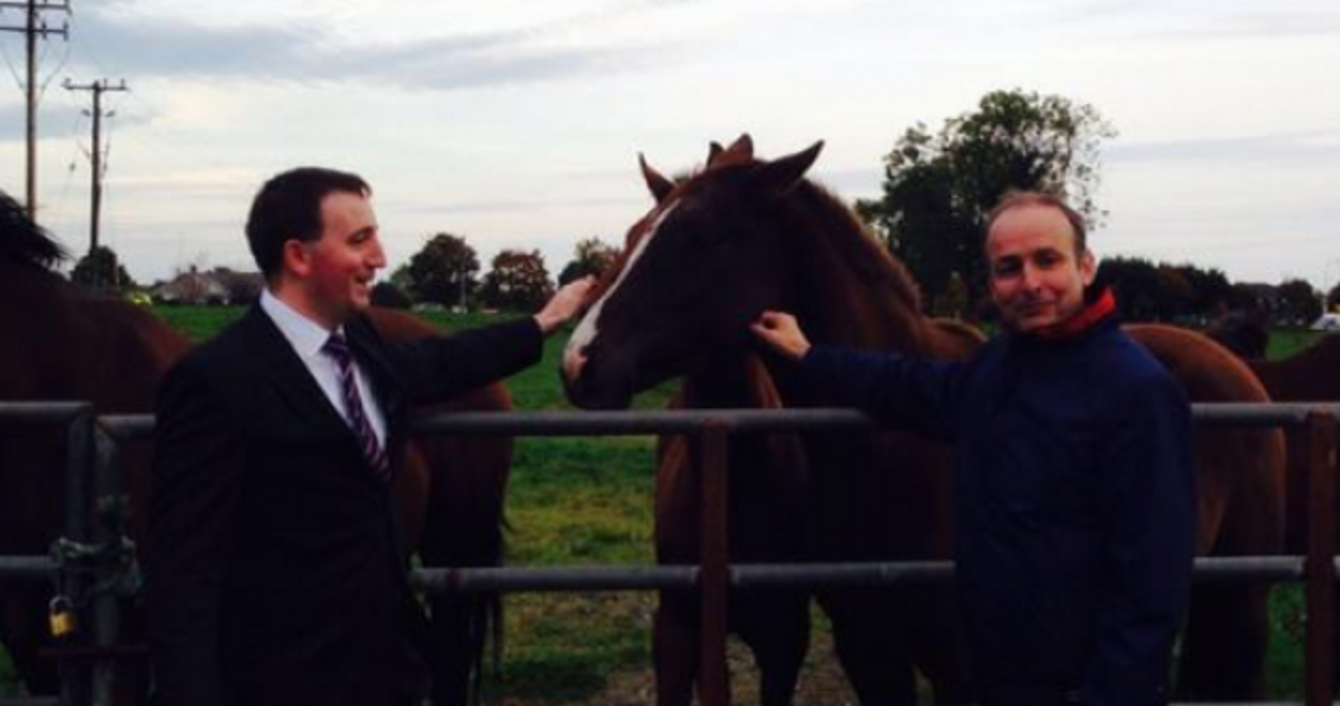 Happier times.
Image: Ivan Connaughton/Twitter
Happier times.
Image: Ivan Connaughton/Twitter
Updated at 10.40pm
LOCAL FIANNA FÁIL representatives in Roscommon have said they're 'shocked' at comments by unsuccessful by-election candidate Ivan Connaughton regarding Micheál Martin's leadership.
In an interview with the Roscommon People, Connaughton said the fact that Martin had been a leading member of the last Fianna Fáil-led Government discouraged people from voting for the party.
The auctioneer — who also ran for the party in the 2011 General Election — lost out to 'Ming'-backed Independent Michael Fitzmaurice by almost 3,000 votes in the 10 October contest.
He gained the most first preferences — but other candidates proved more transfer-friendly.
The party ploughed massive resources into the constituency ahead of the vote, as it was considered they hadn't a hope of getting a seat in the day's other by-election in Dublin South West.
Martin was spending every spare day he had in the area, observers noted during the campaign. The party even held its pre-Dáil 'think-in' at Roscommon Town's Abbey Hotel.
"I am not contesting the Fianna Fail Selection Convention in the New Year unless there is a change of leader before then," Councillor Connaughton told the newspaper.
Speaking to this website, Fianna Fáil councillor for Roscommon Orla Leyden said she was amazed by Connaughton's comments, and that they demonstrated her colleague's "naivety".
"I was surprised. [Martin] really did canvass a lot, and he got a great reaction from people," Leyden said.
No matter what the issue was, he was really engaged on whatever subject people brought up. The reaction was so positive.
People became so used to Martin's presence outside masses in the run up to polling day, that they joked he should be allowed vote in the election, Leyden joked.
He was here for weeks on end — outside masses, meeting people outside primary schools. They even knew his lunch order at the Abbey, whenever he dropped in there.
Calls to Connaughton from TheJournal.ie weren't returned.
Paul Healy of the Roscommon People — who carried out the interview — said the move was likely to be "divisive" among Fianna Fáil members in the area.
"The fact that Connaughton's gone in with both barrels certainly will be divisive locally. He's not holding back," Healy said.
Leyden said Connaugton hadn't spoken to her or to any other Fianna Fáil councillors in the area before making his views known.
The by-election runner-up wrote to Martin on Friday to inform him of his position, and said the two men hadn't spoken since the day of the count.