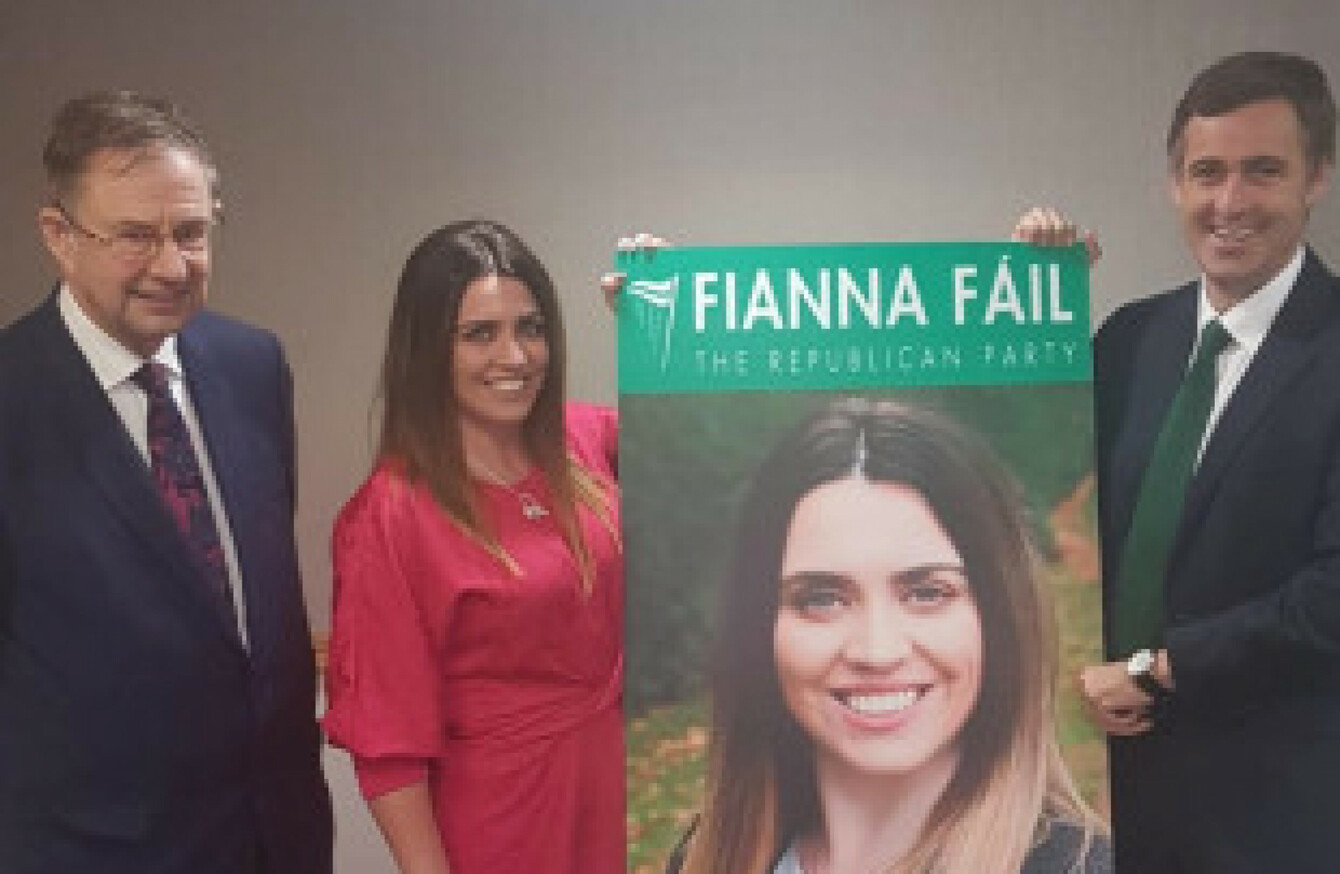 Updated Oct 26th 2018, 2:00 PM
DEPUTY LEADER OF Fianna Fáil Dara Calleary has said it was "premature" for Councillor Sorcha McAnespy to be told she would be a Fianna Fáil candidate at the next local elections in the north. 
The Tyrone councillor was announced as a candidate at an event last night without the full backing of the party. 
However, she states she was told by Fianna Fáil leader Micheál Martin that "she would be the candidate" in the next elections. 
Utter confusion has reigned since yesterday's event in Tyrone when McAnespy, who is an independent councillor, and a member of the Fianna Fáil's national executive, was announced as the party's candidate in the local elections. 
Standing next to TD Éamon Ó Cuív, the spokesperson on Regional Development, Rural Affairs and the Gaeltacht, as well as Senator Mark Daly, McAnespy was holding a photo of herself with the Fianna Fail branding.
Yesterday evening, the two politicians announced that they were the directors for her election campaign.
"There is an appetite now more than ever for Fianna Fáil to contest elections in Northern Ireland. Micheál Martin made the commitments in 2013 to contest local elections in 2019 and I was delighted when he confirmed I would be a candidate for Fianna Fáil in the upcoming local elections in 2019," said McAnespy.
However, the party has since rolled back on the announcement in a tweet last night.
This morning, it said in a statement:
Despite some claims and reports, the Fianna Fáil Party has made no decision on whether or not it will contest elections in the North. It follows then that it has selected no candidate to contest these elections. Discussions between the party and the SDLP are ongoing and a statement on our future intentions will be made in due course.
Reacting to last night's tweet, she told RTÉ Radio One's Today with Sean O'Rourke: "I'm not sure what that's about. I saw the tweet myself last night and I was quite dismayed."
Last night, McAnespy said she was informed by Martin that she would be supported by the party at a private meeting which took place a number of months ago. She stated this morning that she spoke to him in April. 
When asked if this was the case, and if Martin told McAnespy she would be a candidate, a spokesperson for the party said: "No comment." Requests for an answer were also made this morning, but the only statement issued was the one above. 
'Premature'
Speaking to the O'Rourke programme today, McAnespy said: "Fianna Fáil is an all-Ireland party. We're a voice for all the people and as a member of the party I'm going to represent the people of my area." 
When asked had the party's National Executive decided that it would ratify and put forward candidates in Northern Ireland, McAnespy said that "there was a motion at the last Ard Fheis and that was discussed and voted on". 
When put to her had the National Executive ratified her as a candidate, she responded: "I was told that I would be the candidate at the National Executive meeting." 
She denied that she "jumped the gun" by launching her candidacy without the full backing of the party. 
"It's seven months out from the local election," she said. 
She added that she wasn't sure if she would hear from Micheal Martin today. 
Going solo
It is believed that party HQ does not class the event in Tyrone as an "official party event" and that only the leader of the party and the Ard Comhairle can make a decision about who can run as a candidate.
It is understood that some within the party believe Ó' Cuiv and Daly went solo announcing her candidacy last night without having the authority to do so.
Daly told TheJournal.ie that as "party members, a public representative and member of the national executive, she is entitled to have a Fianna Fáil meeting any time".
At last night's event, which party sources state was not an official party event, O'Cuiv said he believed that Fianna Fáil standing in the north will "help to give proper representation to the people concerned with the day-to-day issues, we will offer fresh thinking and challenge the status quo of Sinn Féin and DUP which has led to the shutting of Stormont and dysfunctional politics".
McAnespy was also questioned today about why she would have someone who lived in Kerry launch the campaign. She said that with Fianna Fáil being an all-Ireland party, "it's about inclusivity and demonstrating that". 
Support 
Talks between the two parties are ongoing, say Fianna Fáil.
It is understood there is substantial support within the parliamentary party for organising in the north.
With reporting by Christina Finn