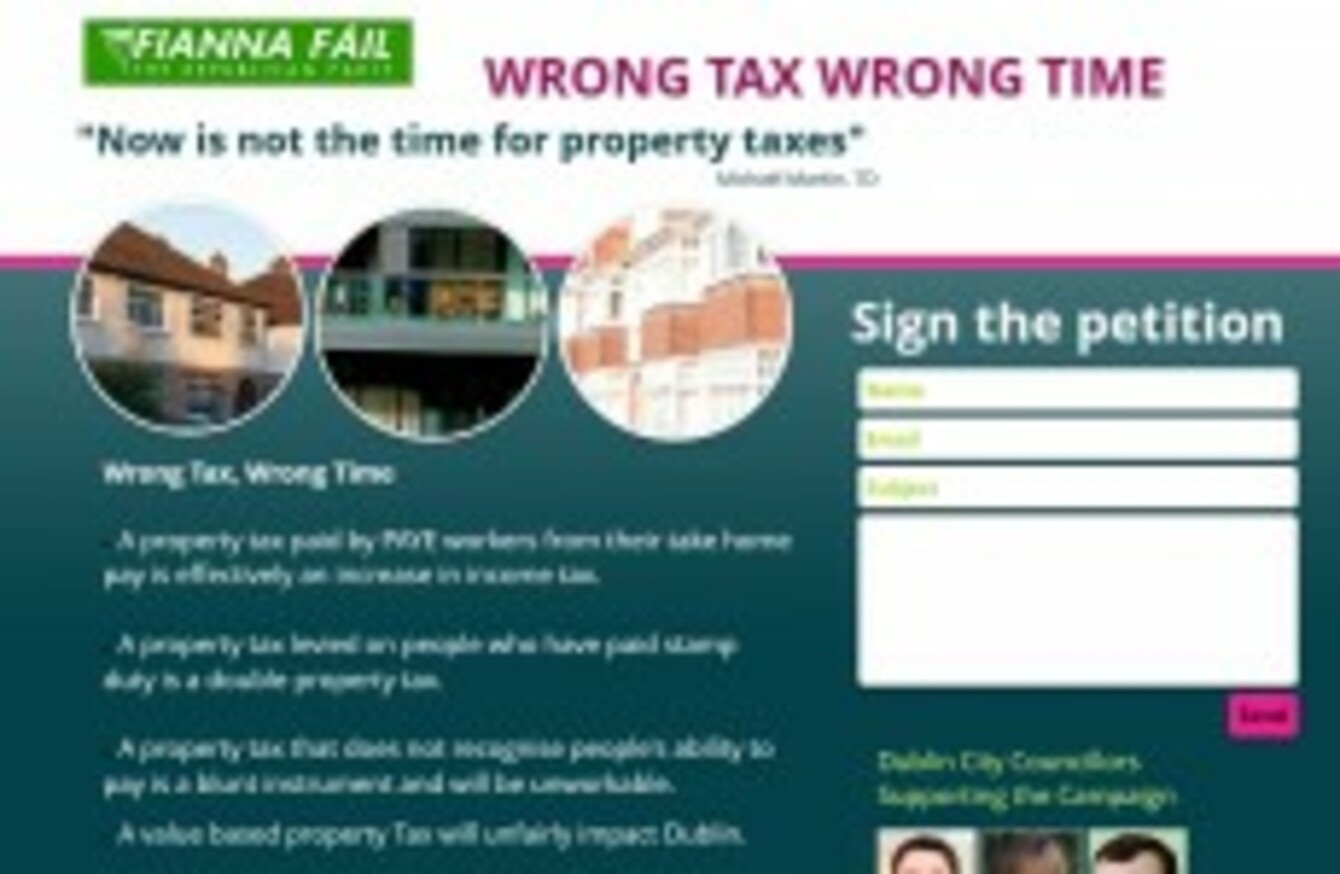 Image: WrongTaxWrongTime.ie
Image: WrongTaxWrongTime.ie
A GROUP OF Fianna Fáil councillors has described the introduction of a value-based property tax as "the wrong tax at the wrong time".
The Dublin-based councillors met with party leader Micheál Martin today to discuss their opposition to the proposal for 2013, and to launch their online campaign against it.
Early next month, Dublin City Council will vote on a motion opposing the introduction of the tax which has been called "unfair and anti-urban".
Cllr Mary Fitzpatrick explained, "Fianna Fáil is mobilising a campaign across the city to inform people of the consequences of allowing Fine Gael and Labour to hit thousands of families with extra taxes based on the value of their home at the time.
"It is crazy to expect people who are in negative equity, have already paid stamp duty and are struggling to meet mortgage repayments to pay further taxes on their home."
Fitzpatrick, along with her fellow councillors, has set up a website which includes a petition to be presented at the next council meeting.
Speaking at the launch, Martin added, "I have been on the doorstep in Dublin and people are angry at an ever-growing list of broken promises from Fine Gael and Labour. They believe that they are not being listened to.
"We are in the midst of an unprecedented crisis facing our country but we will not solve our problems by blindly pursuing policies that are unsustainable and take no heed of people's current circumstances."
Responding to Fianna Fáil's latest move, Sinn Féin has accused the party of "hypocrisy", claiming that if it was still in government the "unfair and damaging tax would have already been introduced".
"It was a Fianna Fáil Government that negotiated the first Memorandum of Understanding with the Troika. That agreement contained a clear commitment to introduce a property tax for budget 2012 as part of a revenue raising package of €1.6 billion," added Pearse Doherty.