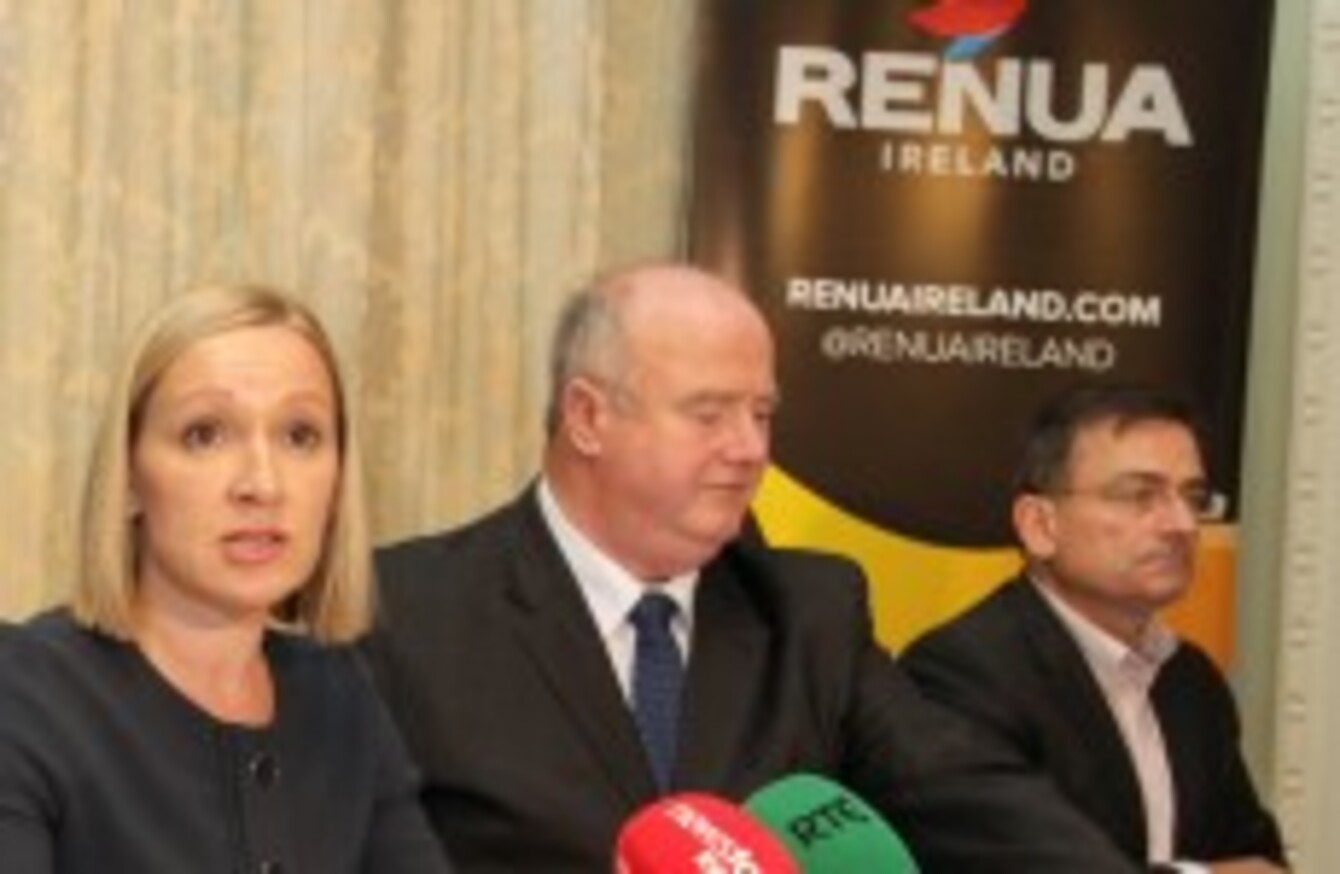 Renua leader Lucinda Creighton with deputy leader Billy TImmins and party president Eddie Hobbs
Image: Mark Stedman
Renua leader Lucinda Creighton with deputy leader Billy TImmins and party president Eddie Hobbs
Image: Mark Stedman
FIANNA FÁIL'S CONTROVERSIAL Dáil candidate in Longford-Westmeath has refused to comment on news that she held talks with Renua about defecting earlier this year.
Connie Gerety Quinn, who was controversially selected without a vote of Fianna Fáil members in Longford last Thursday night, is understood to have approached Renua earlier this year.
A source said that Gerety Quinn was in talks about joining Lucinda Creighton's new party for around two months, but in the end decided to remain in Fianna Fáil.
"We got tired of her because we got a sense we were being played one against the other," said the source.
Gerety Quinn is believed to have told Renua that Fianna Fáil were not female friendly, and that she had serious issues with Micheál Martin's leadership of the party.
However despite lengthy negotiations, Gerety Quinn remained in Fianna Fáil.
When contacted today, she refused to comment when TheJournal.ie asked about the talks with Renua. She referred all queries to the Fianna Fáil press office.
Gerety Quinn was selected to be Fianna Fáil's second candidate in Longford-Westmeath alongside Westmeath-based TD Robert Troy last Thursday night.
However the convention was mired in controversy because of the Fianna Fáil national constituencies committee's decision to issue a directive to members that only a woman could be selected.
No vote
This meant there was no vote held with councillor Seamus Butler and party activist Pat O'Rourke not allowed put to their names before the over 300 members who attended the convention. Many attendees were furious at the decision.
O'Rourke said he remained hopeful that members would still be allowed pick between the three candidates.
There has also been criticism of Gerety Quinn after she made a pledge in August that she would not agree to being selected under any gender quota directive.
She did not address members at the Longford Arms Hotel last Thursday despite repeated requests to explain why she appeared to be reneging on her commitment in August.
Contacted today, Gerety Quinn would not answer questions from TheJournal.ie saying it was "neither the time nor the place" as she was working.
"I am at work, I am dealing with people, it's not appropriate for me to speak to anyone at this time. Please contact the press office," she said.
A Fianna Fáil spokesperson said it was "no surprise" that other parties would be interested in "poaching someone with the track record of community involvement and local support that Connie has".
However, Fianna Fáil's focus on empowering communities, encouraging local entrepreneurship and ensuring fairness in public policy is the reason why Connie and people like her all over our country are joining the party and seeking to run as Fianna Fáil candidates in the upcoming general election."