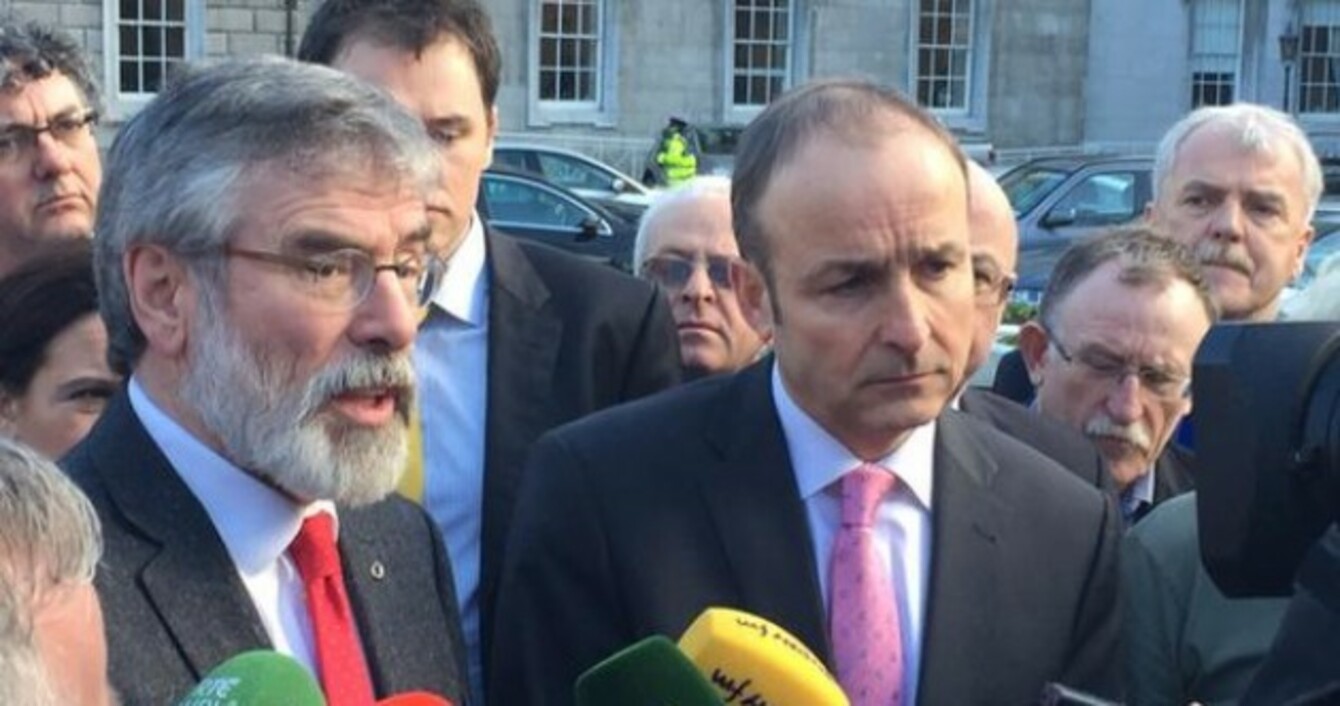 Gerry Adams and Micheál Martin
Image: Hugh O'Connell/TheJournal.ie
Gerry Adams and Micheál Martin
Image: Hugh O'Connell/TheJournal.ie
FIANNA FÁIL HAS written to senior management at RTÉ to complain about the party's exclusion from almost all of broadcaster's same-sex marriage referendum debates in recent weeks.
Niall Collins, the party's director of elections for the referendum, has written to director general Noel Curran and head of news and current affairs Kevin Bakhurst to express his party's anger at "the editorial decision to exclude us from participation in the panels for any of the principal RTÉ television debates".
Sinn Féin has also said it will be making a complaint to RTÉ and seeking a meeting with the broadcaster, claiming its exclusion from debates has been "outrageous".
According to Collins's letter, seen by TheJournal.ie, RTÉ's elections steering committee informed Fianna Fáil that it had been adequately represented in referendum coverage. But Collins disputes this:
With the single exception of a radio debate this afternoon on Saturday with Claire Byrne, where our Deputy Director of Elections Averil Power has been asked to participate, the main Opposition party has not been represented on any RTÉ debate panel.
"This is despite the fact that our Party Leader has made it clear he is prepared to debate the issue with the Referendum's opponents."
Collins points out that Fianna Fáil has a mandate from nearly 400,000 people who voted for it and has a long involvement with the issue being debated in the referendum.
"Fianna Fáil ministers proposed and brought into law the decriminalisation of homosexuality, equality legislation and civil partnerships," he continues
We supported this referendum proposal at every stage of its passage and this support was endorsed by our members. To hold that this perspective is irrelevant to the primary television debates is extraordinary.
Collins claims that the broadcaster's approach is that because the proposal comes from the government it should be the only party to make the case.
He believes this was confirmed by reports over the weekend that Alex White could replace Leo Varadkar in the final Prime Time debate, which takes place tomorrow night.
"As well as abandoning long standing precedent, where all parties supporting a constitutional amendment have been facilitated in making the case to their supporters, this is not the case. The marriage equality amendment is going to the people following a decision of the Oireachtas, not a Government decision," Collins writes.
RTÉ said it received Fianna Fáil's letter on Saturday and intends to respond to it "in due course".
#Open journalism No news is bad news Support The Journal

Your contributions will help us continue to deliver the stories that are important to you

Support us now
A spokesperson added: "RTÉ has taken care to balance the debates with a range of voices across the political spectrum and beyond. Referendum debate panels are not selected on party political lines." 
In a statement last night, Sinn Féin's director of elections for the referendum, Padraig MacLochlainn, said that his party's exclusion from debates on radio and TV has been "outrageous".
No political party has worked harder than Sinn Féin in the last while, canvassing and leafleting houses around the state. This has disrespected the efforts of so many Sinn Féin members who have been actively campaigning for marriage equality.
"RTÉ seem to have forgotten that this is not a government driven referendum. It was proposed by the Constitutional Convention.
He added: "We will be making a complaint to RTÉ in the strongest possible terms and we will be seeking a meeting with them to resolve this exclusion."