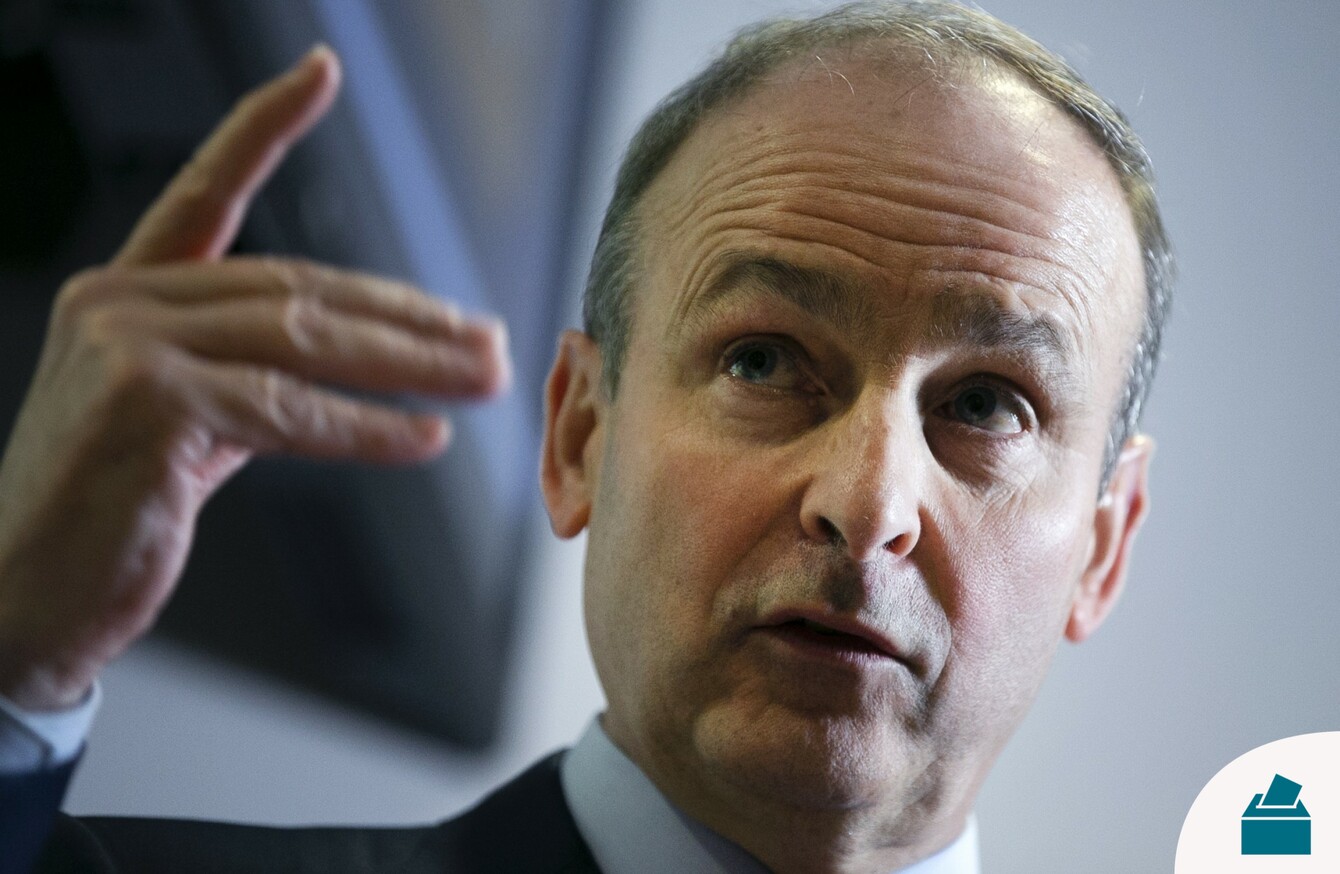 Image: Sam Boal
Image: Sam Boal
Updated Feb 13th 2020, 11:09 PM
FIANNA FÁIL LEADER Michéal Martin has said he "can't rule out another general election" after he rejected speaking to Sinn Féin as part of government formation.  
Martin confirmed the position this evening following the first Fianna Fáil parliamentary party meeting since Saturday's general election.
Martin had been under pressure from some quarters to engage with Sinn Féin on coalition talks but he said that his party is united behind the opinion that it will not discuss a programme for government with Sinn Féin. 
Martin said he came to this view after speaking with party members who felt that "the economic platform that Sinn Féin put forward in the election was irreconcilable with Fianna Fáil.
"Particularly on the enterprise agenda and also in terms of its financial sustainability," he told RTÉ's Six One News.  
Earlier, Sinn Féin leader Mary Lou McDonald said she had written to Martin as she continued talks with smaller parties with a view to forming a left-led government.
McDonald said her preference was for a government without Fianna Fáil or Fine Gael but admitted that that would be difficult.
Martin acknowledged he received such a letter from McDonald. 
"Sinn Féin did say two days ago that the last party they wanted in government was Fianna Fáil, two days later I get a letter from Sinn Féin, inviting me to discussions," he said.
Martin said Fianna Fáil will speaking to "like-minded parties" but acknowledged that the results of these discussions are unclear. 
"I can't be certain how this is going to work, it will be very difficult. I wouldn't rule out another general election. This is going to be so difficult," he said. 
Martin said that he would also speak to Fine Gael but that it's not about "who goes in".   
"There has to be a programme negotiated and agreed that really means that urgent action will be taken on housing, climate change, health, and as I said, making rural Ireland viable," he said.  
Martin would not give a timeline of when he would be meeting with Fine Gael leader Leo Varadkar, saying it may happen "next week" but that he would first speak to the Green Party and the Social Democrats. 
No dissent
It's understood Martin did not face much dissent on the Sinn Féin question during today's parliamentary party meeting.
He told the party that "principles can't change overnight", sources said.
One source said that sentiment within the parliamentary party could change within the next few weeks and that the other option being considered by Fianna Fáil was a coalition with Fine Gael, supported by the Greens.
This would tally with the sentiments of one senior Fine Gael source yesterday, who predicted this so-called 'grand coalition' would be in place by April.
However, one Sinn Féin source was said to be bemused by the idea of a Fianna Fáil-Fine Gael coalition, insisting it would merely boost support for Sinn Féin and would spell the end for the two other parties.
However, speaking on RTÉ Radio One's Drivetime this evening, Fianna Fáil TD and spokesperson on finance Michael McGrath said a "key reason" for not entering coalition talks with Sinn Féin is their difference in economic policies. 
"You also have to be honest with people and acknowledge where differences are not reconcilable," said McGrath. 
"Micheál Martin did say at the meeting that he would talk to Sinn Féin to explain the Fianna Fáil position directly to Mary Lou McDonald."
McGrath said the option of the confidence and supply agreement in reverse (where FG supported a FF government) "has to be explored", adding that "everybody" wants to avoid another general election.
He later told TheJournal.ie at Leinster House that Simon Coveney appeared to contradict Leo Varadkar's position that a reverse confidence and supply might be possible. He said Fine Gael's position must be clarified. 
When asked if McDonald could say anything to Martin that might change his position, McGrath said he did not think so, stating that Fianna Fáil TDs got elected on a mandate that they would not do business with Sinn Féin. 
A team of people to engage with other parties "in relation to policy areas where we can reach an agreement" will soon be appointed within the party shortly. 
Sligo-Leitrim TD Marc McSharry said that he has never seen such "unity" displayed that a Fianna Fáil parliamentary party meeting. 
Martin repeatedly stated during the election campaign that he would not enter government with Sinn Féin, but appeared to leave the door open on Sunday as the scale of support for McDonald's party began to become clear.
"The people have spoken and there is no greater democrat than I, but that said we will not pre-empt the outcome itself because it's very clear to us that the destination of the final seats in many constituencies cannot be called now," Martin said on Sunday.
At the time Fianna Fáil appeared to be heading for a seat haul in the low-forties.
However, several candidates lost out on transfers as the count continued leaving the party on 38, just one ahead of Sinn Féin, in the final shakeup.
With reporting by Orla Dwyer and Rónán Duffy