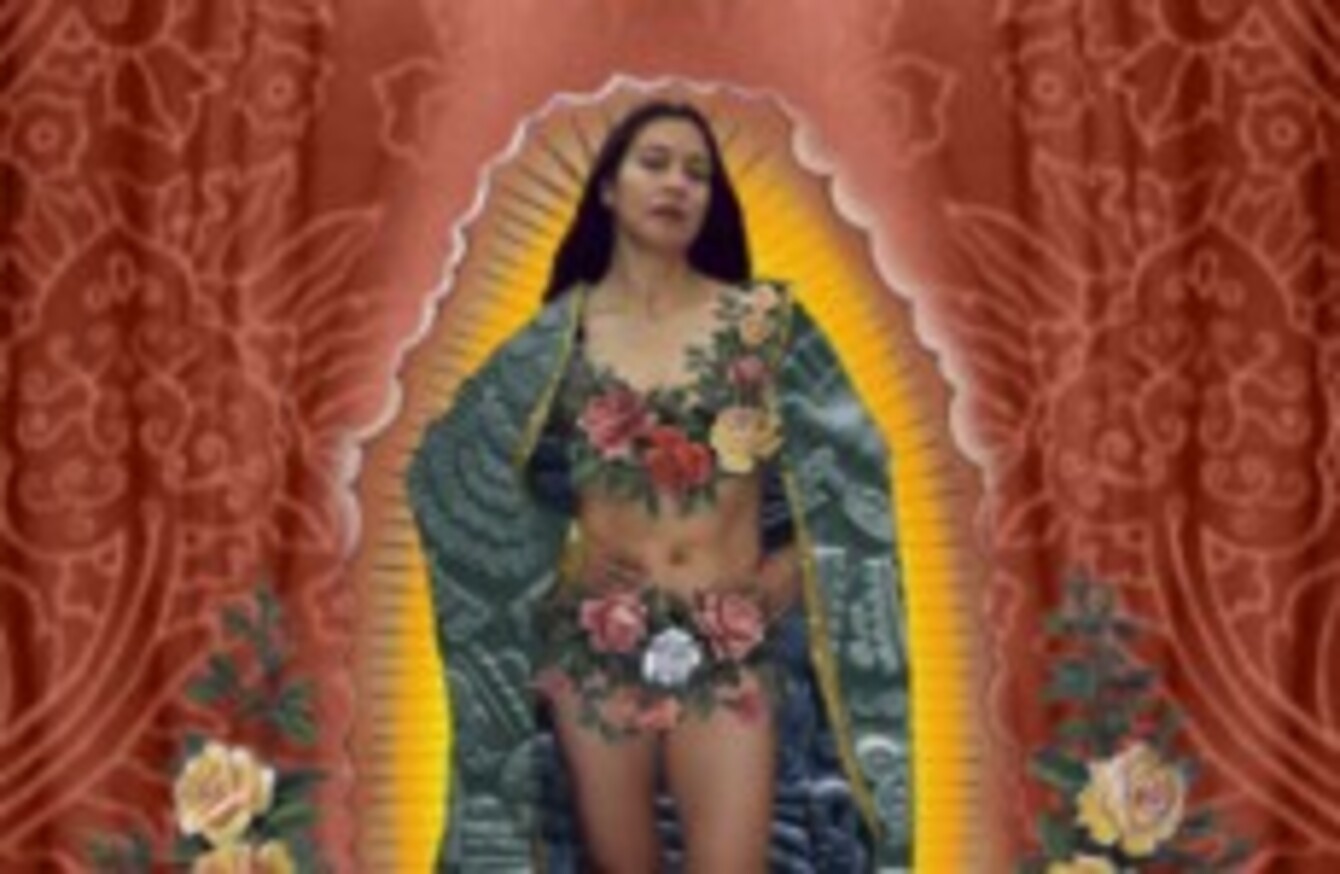 Updated 5.40pm
A SENIOR GARDA in Cork has reportedly said that a file is being sent to the Director of Public Prosecutions in relation to an exhibit at University College Cork this week.
Mexican artist Alma Lopez was invited to speak at the university as part of a conference on Chicano culture, and her print Our Lady of Guadalupe was displayed as part of an exhibition entitled 'Our Lady and other Queer Santas'. The image depicts what appears to be the Virgin Mary dressed in a bikini and held aloft by a bare-breasted angel.
The Catholic Lawyers Blog has posted an update claiming that "a senior Garda in Cork has confirmed that a file will be sent to the Office of the Director of Public Prosecutions regarding the exhibition of material which is insulting and offensive to Catholics". Attempts to contact the owners of the blog proved unsuccessful today and the credibility of the claims have yet to be verified.
A spokesperson from the Garda Press Office was unable to confirm to TheJournal.ie what complaints have been made, while Gardaí close to the case in Cork were unavailable for comment today.
The Catholic Lawyers Blog had previously said that the Chief Superintendent in Cork had confirmed that an investigation was ongoing into allegations that the exhibition was to contain a blasphemous image and that the artist was to give a talk and promote a book on the subject matter.
The Defamation Act 2009 states that "a person who publishes or utters matter that is grossly abusive or insulting in relation to matters held sacred by any religion, thereby causing outrage among a substantial number of the adherents of that religion".
The Act also states:
It shall be a defence to proceedings for an offence under this section for the defendant to prove that a reasonable person would find genuine literary, artistic, political, scientific, or academic value in the matter to which the offence relates.
Cork Student News reports that a protest and a counter-protest were held yesterday as Alma Lopez attended the conference at UCC. The Bishop of Cork and Ross and some politicians also weighed in on the issue.
Lopez herself has said that she is not portraying the Mother of God and that she doesn't consider women's bodies to be offensive, crude or impure.
UCC's Atheist Society organised a counter protest yesterday. Image via Facebook.