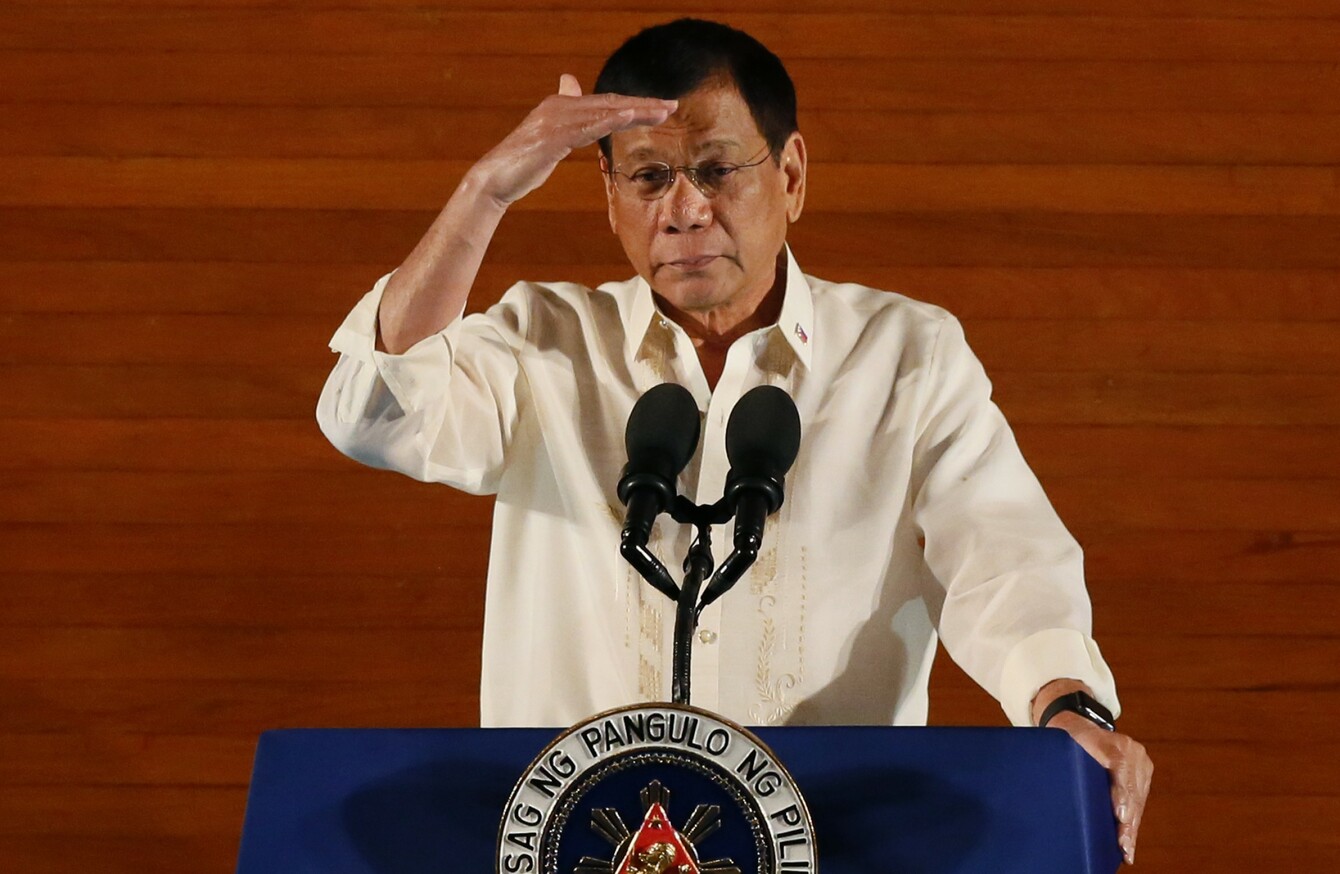 Philippine's President Rodrigo Duterte.
Image: Bullit Marquez/PA Images
Philippine's President Rodrigo Duterte.
Image: Bullit Marquez/PA Images
POLICE IN THE Philippines have shot dead six supporters of mayor Rolando Espinosa days after President Rodrigo Duterte threatened to have him "shot on sight" for protecting his allegedly drug-dealing son.
The six victims add to the hundreds that have died since Duterte won a landslide election on a pledge to wipe out lawlessness by killing tens of thousands of criminals.
A gunfight broke out between law enforcers and supporters of mayor Espinosa at dawn today outside his property in the central town of Albuera on Leyte island, police said.
"The incident this morning is connected to the current investigation pertaining to the involvement of the mayor and his son in the illegal drugs trade," national police spokesman Dionaldo Carlos told reporters.
He said six gunmen were killed while police recovered 17 guns and several grenades.
President Duterte's promises
Since assuming the presidency on June 30, Duterte has promised to protect police and soldiers from sanctions for killing criminals and even urged ordinary citizens and communist rebels to join in the bloodshed.
While his campaign has been widely popular in the impoverished Philippines, more groups have begun criticising Duterte, with De Lima calling for a congressional probe into the killings.
But the president has dismissed human rights concerns while police have insisted that they only acted in self-defence.
As recently as yesterday, over 300 anti-narcotics and human rights groups from around the world called for the United Nations to condemn President Duterte's war on drugs.
"Instead of ensuring the protection and rights of people who use drugs… President Duterte has called for them to be killed," said the statement from groups such as the Australian Drug Foundation and Canadian Drug Policy Coalition.
The appeal, directed to the International Narcotics Control Board (INCB) and the United Nations Office on Drugs and Crime (UNODC), came as an influential Philippine senator called for an investigation into the killings of suspected drug pushers that Duterte has endorsed.
Senator Leila de Lima cited reports of police killing hundreds of people since Duterte won the election in May and accused police of summarily killing even innocent people, using the anti-drug campaign as an excuse.
The former justice minister, who also headed the nation's human rights body, said in a speech before Senate:
We cannot wage the war against drugs with blood. We will only be trading drug addiction with another more malevolent kind of addiction. This is the compulsion for more killing.