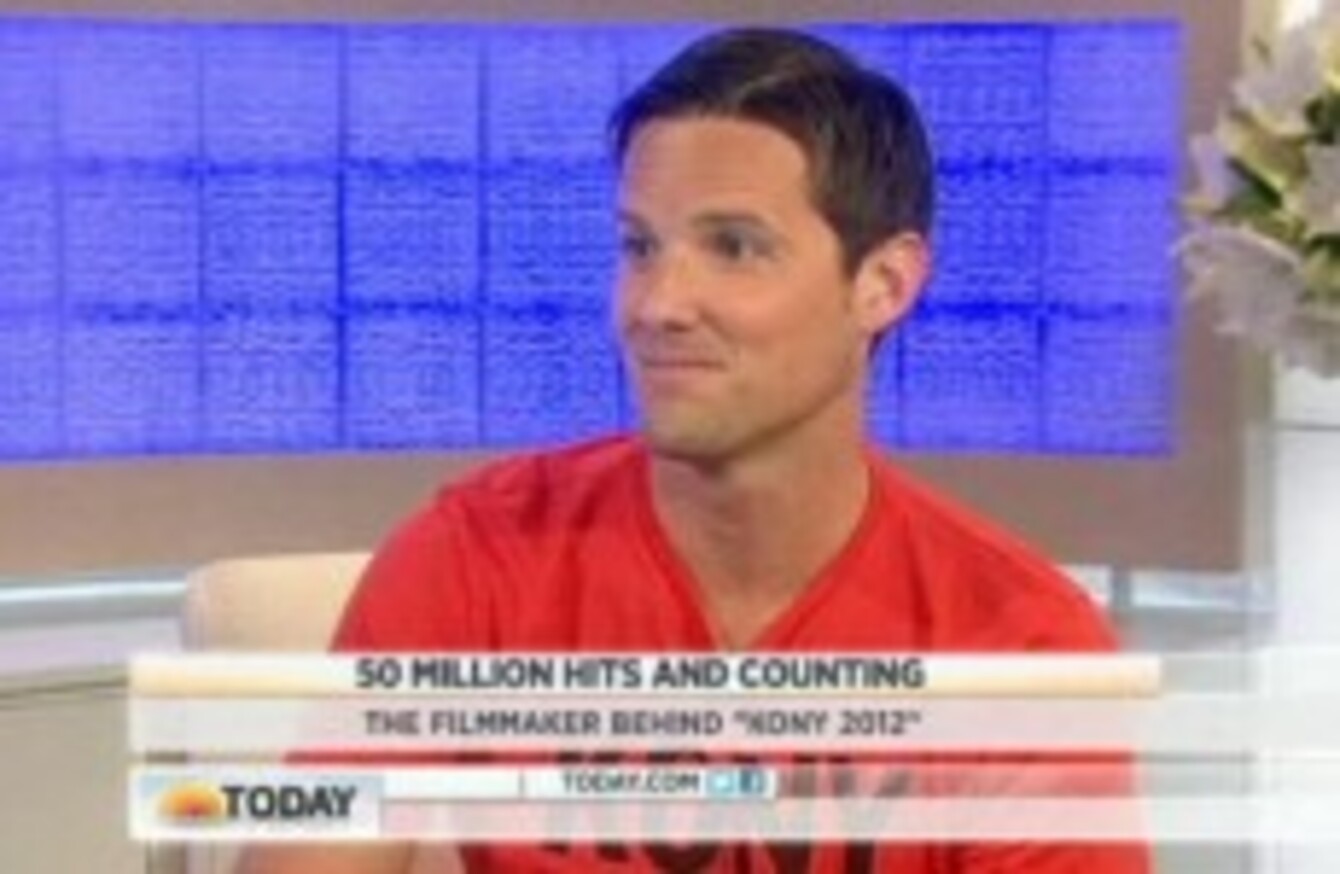 Jason Russell, the filmmaker behind the Kony 2012 campaign, on American television earlier today.
Image: Screengrab via MSNBC.com
Jason Russell, the filmmaker behind the Kony 2012 campaign, on American television earlier today.
Image: Screengrab via MSNBC.com
THE FILMMAKER BEHIND the viral video which urges people to make the alleged Ugandan war criminal Joseph Kony 'famous' in order to bring him to the International Criminal Court has defended his production.
Jason Russell, who set up the Invisible Children campaign, told NBC television in the US that his social movement was not a case of 'slacktivism' and defended it in the face of considerable criticism from those who have followed the crisis in the west African country for decades.
"We are taking it to the streets," he said. "They are organising in every city around the world. This is not an American movement. It's everywhere. Literally South Korea is saying, we're ready."
His 30-minute long 'Kony 2012' video has now had over 56 million hits on YouTube in less than week with celebrities and ordinary people spreading it on Facebook and Twitter. The video urges a worldwide day of action to make Kony 'famous' on 20 April:

But critics say the video glosses over the complicated history of Uganda and Kony, who is alleged to have recruited tens of thousands of child soldiers over two decades – actions which spurred Russell to start his campaign.
"There is no historical context. It's more like a fashion thing," said Timothy Kalyegira, a well-known social critic in Uganda who once published a newsletter called The Uganda Record.
Ogenga Latigo, a politician from northern Uganda who previously led the opposition in Uganda's Parliament, said Invisible Children's perspective was narrow-minded: "Theirs is a narrow perspective. They just want the war to end so that children can go back home. That's all."
Declining influence
Kony's Lord's Resistance Army began its attacks in Uganda in the 1980 but it has since left the country and moved on to the Congo, the Central African Republic and South Sudan. The group reportedly takes young women into sexual slavery and forces children to become soldiers.
Its influence appears to have waned in recent years but Russell told NBC's Today Show that this didn't mean his campaign wasn't important as it was put to him that Kony had as few as 200 followers today.
"So 200 fighters, 200 abducted children. If that happened in San Diego, California, in New York City – 200 children abducted and forced to kill their parents. If that happened here, in my home it would be all over the news. It's taken 26 years for this to hit the news," he claimed.
Invisible Children has earned praise from US president Barack Obama, who last year sent a small task force to the region to aid in the search for Kony.
White House spokesperson Jay Carney told the press yesterday that the president "congratulates" the Americans who responded to this "unique crisis of conscience," the Washington Post reports.
However, the critics remain. Nicholas Sengoba, a political analyst, said there was something "sinister" about Invisible Children's campaign.
"The issue has been around for ages. We have to ask ourselves why suddenly there is this uproar. I believe that these people have other motives that they are not putting out in the open," he said.
- additional reporting from AP