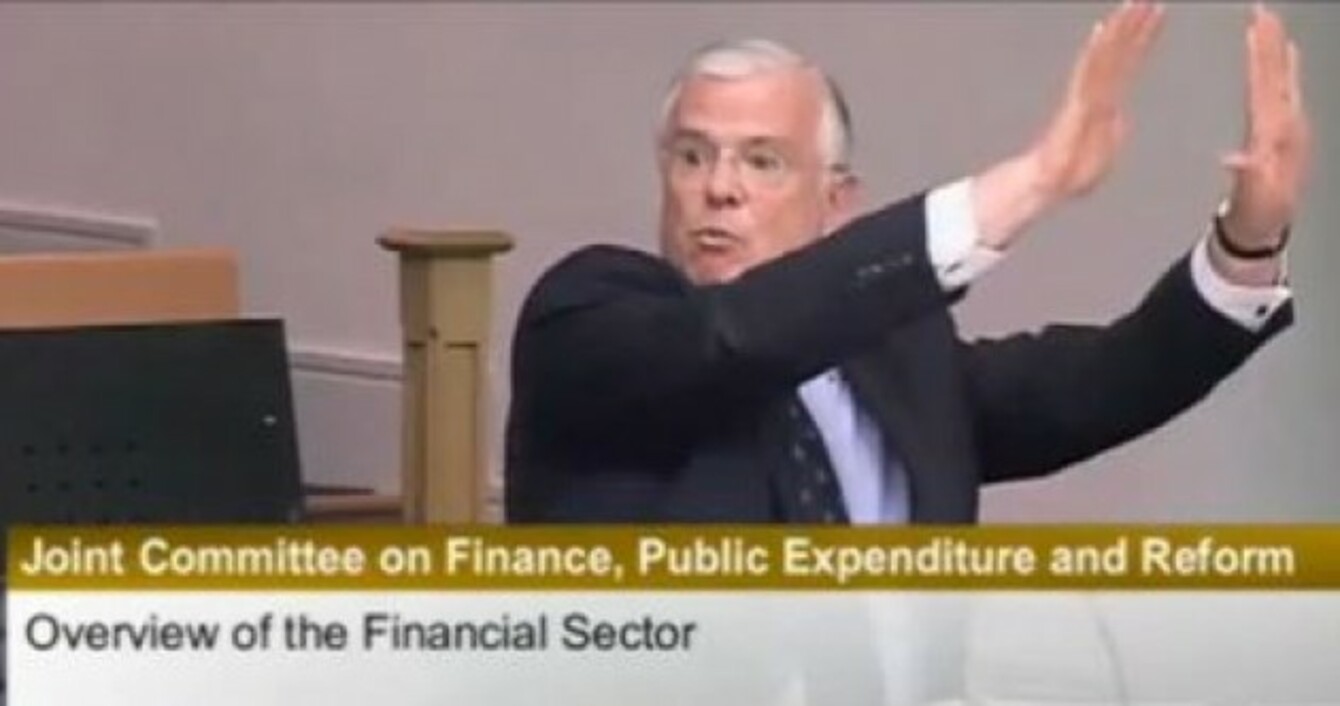 Peter Mathews in full flight
Image: Screengrab from Oireachtas TV
Peter Mathews in full flight
Image: Screengrab from Oireachtas TV
SOME TDs AND Senators were back at work early this week. But there was no easing back into the job for the members of the Oireachtas Finance Committee; their task – to 'grill' the executives from four banks on their response to the mortgage crisis.
Executives from Bank of Ireland, AIB, Ulster Bank and Permanent TSB all appeared before the panel to answer questions on whether they had reached targets set down by Government to have proposed sustainable solutions for 20 per cent of mortgage holders in arrears by the end of June.
All had – some by greater margins than others, but the politicians were surprised at the level of solutions that had been achieved as a result of legal action being launched; almost 15,000. They were even more surprised when told by bank officials that this was within the rules set down by the Central Bank; Governor Patrick Honohan will now appear before the Committee later this month to answer questions on the issue.
TheJournal.ie watched all of this week's sessions so you didn't have to; the four sessions lasted from Tuesday afternoon to Thursday morning, and featured questions on everything from bankers' salaries to the plight of the former Priory Hall residents.
Up first, was David Duffy of AIB who almost (but not quite) asked Pearse Doherty of Sinn Féin whether he wanted to 'step outside to talk about this'…
1. "If it requires us to have the discussion outside this meeting room we'll do it"
There was some steel behind Duffy's tone as he fielded a question from Doherty about the level of legal letters that the bank had written:

2. Richie Boucher gets testy over his €843,000 salary
It wasn't quite on the same scale as Jeremy Paxman's infamous interrogation of Michael Howard, but things got a little tense in the Committee on Wednesday morning when Labour's Arthur Spring asked Bank of Ireland CEO Richie Boucher seven times to answer a specific question about his salary:

3. "It's like being in a maze"
Committee members weren't happy with the figures being provided by Boucher and his BoI team. Fine Gael's Kieran O'Donnell said the lack of breakdown on restructures being offered to mortgage holders was not "good enough", and that it felt like being trapped in a maze:

4. Peter Mathews lets rip, Part 1
The (now Independent) Fine Gael TD from Dublin South Peter Mathews has a bit of a reputation for making long speeches in the committee room, and he was in fine form again this week, accusing the banking sector of having "abandoned its prudential principals". "I don't know if there was a question in that," the slightly irked Committee Chairman Ciarán Lynch noted afterwards:

5. Peter Mathews lets rip, Part 2
"I'll give some grace," Lynch told Mathews on Wednesday afternoon as he asked for clarification on how long he had to speak to Ulster Bank's top officials. It's another ten-minute-plus declamation taking in the board of directors, lack of communication with mortgage holders and call centres in Limerick. "It's all gone mad," he tells them:

6. "You can give me the cold-faced, straight-laced banker answer…"
Dublin Bay North TD Aodhán Ó'Ríordán pressed officials for answers on Priory Hall during the meetings. Some gave more positive answers than others. Ulster Bank's Jim Brown merely repeated the mantra that all cases were being reviewed "on a case by case basis":

7. Thomas Byrne tries to sum it all up in under sixty seconds
By Thursday morning, the extent to which the banks had relied on the inclusion of legal letters to householders to get them over the line and meet their targets had become more than clear. Fianna Fáil's Thomas Byrne attempted to sum up the problem late-on in the last of the sessions, with PTSB's Jeremy Masding:

8. "We're poking at a lightly forming scab over a deep wound that continues to fester and fester underneath"
Socialist TD Joe Higgins used some graphic language as he made his own attempt to sum up the situation in the mortgage sector as the Thursday session came to a close.  "You'll be at their graveside with your hand out", he told the PTSB boss:

(All videos: TheJournalVideo and Hugh O'Connell)
Like politics? Then why not 'Like' TheJournal.ie Politics on Facebook to keep up to date with all that's happening in and outside of Leinster House.