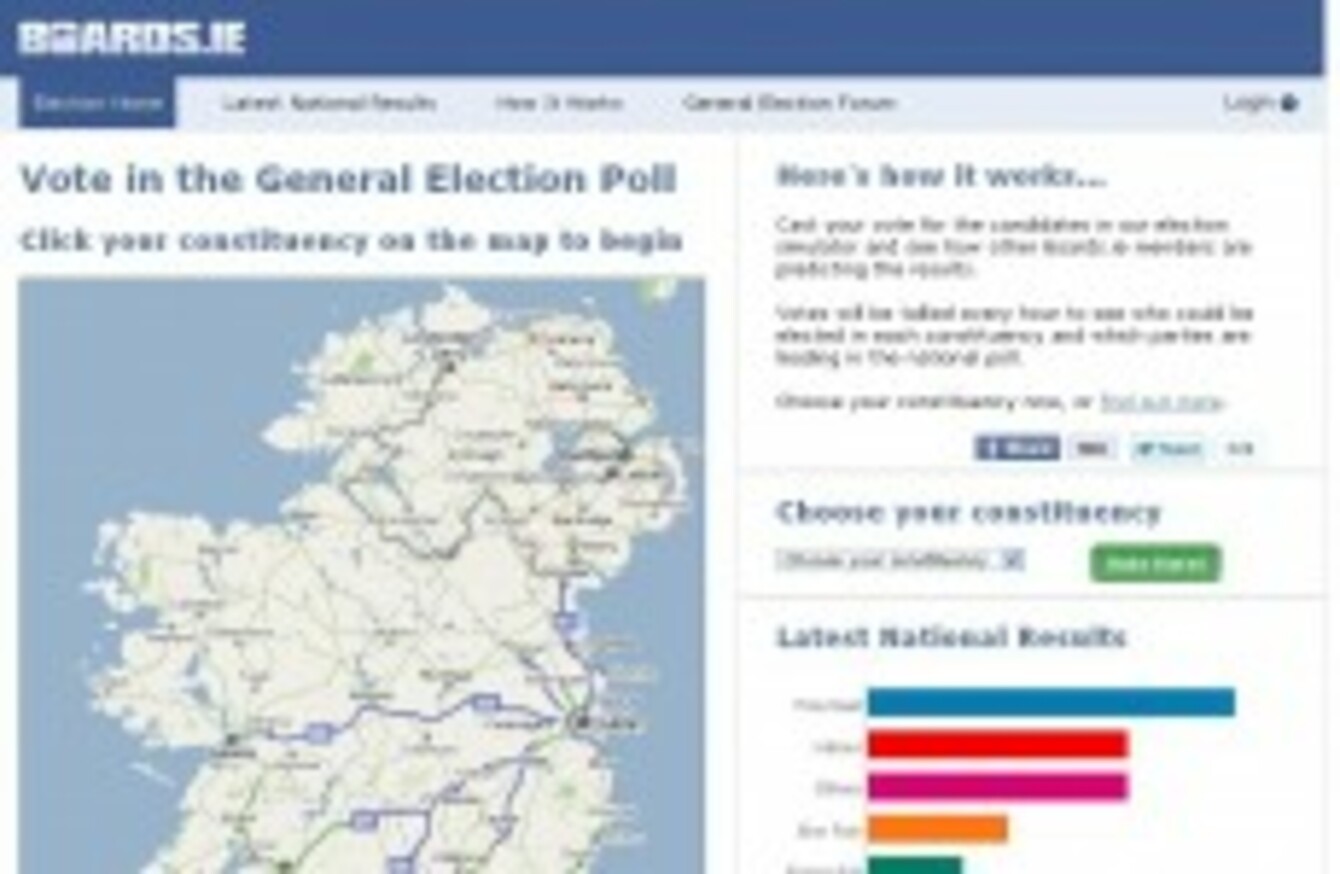 OVER 21,000 USERS of online discussion forum Boards.ie have cast votes in a constituency-by-constituency poll – and given Fine Gael 30.8 per cent of their first preferences.
From the afternoon of February 4 to noon today, 21,719 voters had cast a single vote in a constituency of their choice in the poll which simulates the Single Transferable vote system used in the real general election. (Read TheJournal.ie's easy guide to how to make the STV work for you tomorrow).  Of those votes, only 497 were spoiled – a 2.3 per cent of the total.
Fine Gael polled 30.8 per cent of first preferences;
Labour received 22.4 per cent of the first-preference votes;
Independent candidates polled 17.4 per cent of voters' first preferences;
Sinn Fein garnered 11.6 per cent;
Fianna Fail are next on 8.3 per cent;
The Green Party took 4.7 per cent of first preferences;
The Socialist Party has 2.2 per cent;
People Before Profit took 1.8 per cent;
The Workers' Party is on 0.4 per cent; Workers and Unemployed Action Group is on 0.3 per cent; South Kerry Independent Alliance is on 0.2 per cent; and the Christian Solidarity Party is on 0.1 per cent.
The full breakdown of voting in each constituency is here. So far, 40 constituencies have a Fine Gael candidate topping the polls – but in Carlow-Kilkenny and Cork-South Central, John McGuinness and Michéal Martin, for Fianna Fail, are so far polling the most first preferences. Fianna Fail's Seamus Kirk in the hotly-contested Louth five-seater is automatically returned as TD because he is Ceann Comhairle.
More people in the 25-34 age group voted in the Boards.ie poll than any other demographic so far (around 40 per cent); the voters were mainly male, at just under 80 per cent. For a full breakdown of which gender and age groups voted for which parties, see the colour-coded graphs here.
It is also possible to see the voter demographic breakdown if you scroll to the bottom of the results on each individual constituency.
And the analysis of the transfer of votes is VERY interesting – check it out here. A large proportion than normal of the Fianna Fail votes are not transferable at all, ie, those voting for a Fianna Fail candidate appear to be just voting for that individual candidate but not allowing their vote to be transferred to another Fianna Fail candidate in their constituency should theirs be eliminated.