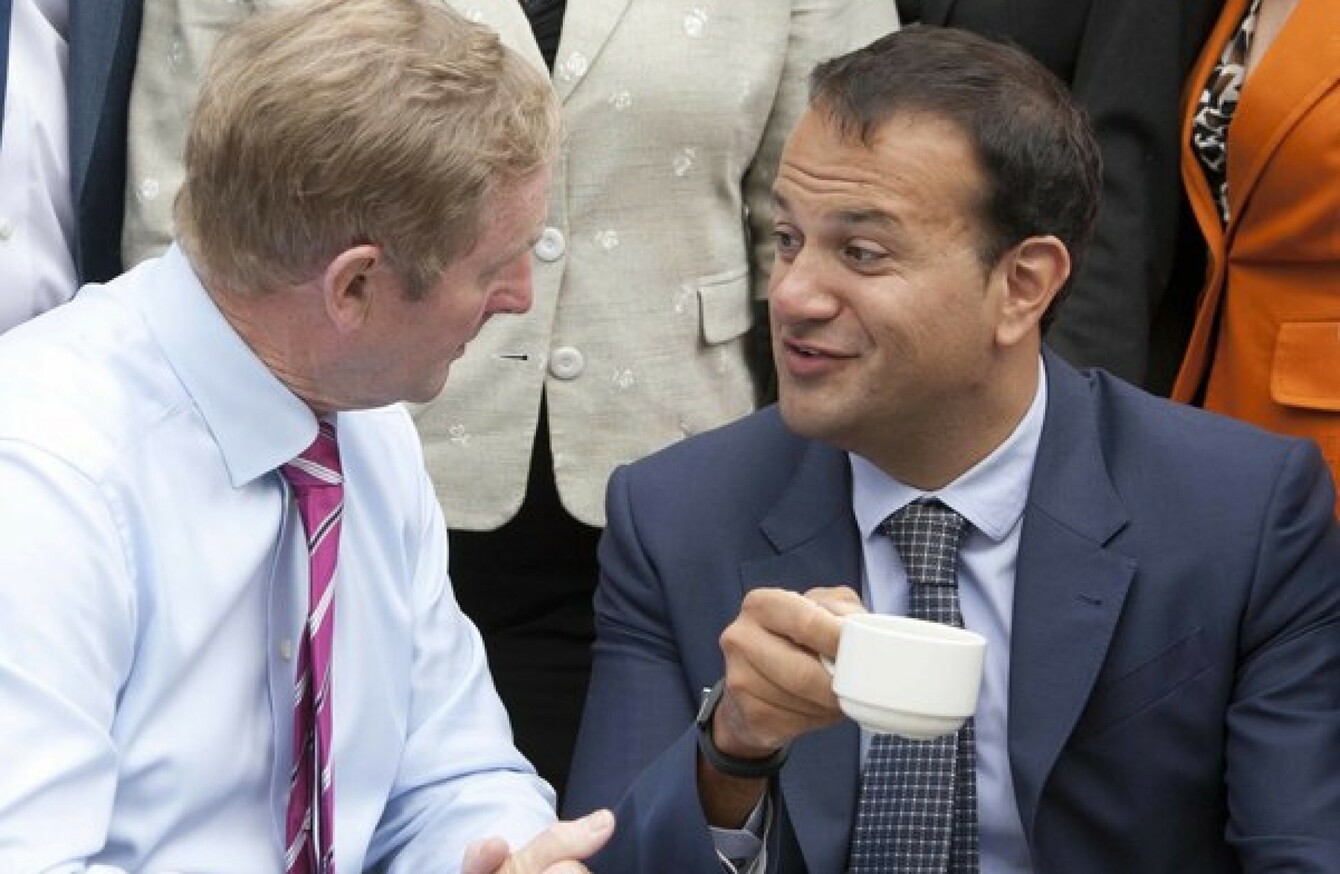 Enda Kenny and Leo Varadkar.
Image: Eamonn Farrell/RollingNews.ie
Enda Kenny and Leo Varadkar.
Image: Eamonn Farrell/RollingNews.ie
ENDA KENNY HAS been told that he must outline a timeline for his departure as party leader.
During a "subdued" parliamentary party meeting last night, both Leo Varadkar and Simon Coveney, seen as the leading contenders to replace Kenny, told their party colleagues they needed to prepare for an early election.
It's understood that Kenny may outline his plans at next week's parliamentary party meeting on Wednesday.
The move comes after the government survived a vote of confidence last night. Kenny last night argued that "the last thing this country needs is a general election" and defended his record as Taoiseach.
However, Fine Gael deputies believe they cannot fight an election with Kenny as leader, with many stating to TheJournal.ie that there was a sense of panic within the party earlier this week that they could be 48 hours from a general election.
The call for the Taoiseach to be clear about his plans comes just days after Varadkar distanced himself from backbench TD Noel Rock's call for Kenny to set out a timetable for his departure.
Speaking on RTÉ Radio One on Monday, Rock said:
"We know Enda Kenny has said he won't be leading us into the election.
"Therefore there is a bit of a vacuum whenever people are asked in a poll who they will be voting for.
"They don't know who they will be voting for if they vote for Fine Gael necessarily. So we need to clear that up sooner rather than later."
During last night's party meeting, Enda Kenny sat quietly as the party's leading figures such as Paschal Donohoe outlined the need for the party to be proactive and prepare.
Overall, the party was described as "calm" with a sense the time had come for the party to brace for the future.
No movement
Parliamentary party chairman Martin Heydon told RTÉ's Morning Ireland that, despite some calls, he does not expect there to be an early meeting to discuss the issue.
"At the minute the parliamentary party meets at 5.30pm on Wednesdays and I probably expect that to be the same next week.
"There was different views expressed at last week's meeting as to when we'd meet again, but I'm in the hands of the members. I don't really see the need for another meeting."
Heydon said that the parliamentary party had discussed the no confidence motion and the issues surrounding Maurice McCabe's treatment. He said that there was no in-depth discussion on elections or the party's leadership.
"I can only deal with the facts as they are. This wasn't an issue that was discussed at the meeting last night."
He added that Kenny should be "given the space" to decide the timeline for his own departure.
Speaking to the same programme, vice chair Pat Deering said it was time the party had a "new focus". However, he declined to explicitly say that if Kenny does not step aside he would move a motion of no confidence or who he would support.
Deputy party leader Senator James Reilly told RTÉ's Sean O'Rourke programme today that as the longest serving TD in the Dáil, Enda Kenny's mind is not consumed with reaching the history books as Fine Gael's longest serving Taoiseach (John A. Costello currently holds the record).
So when?
Sources within the party indicate Kenny must give a timeline next week, and many expect it to be after the St Patrick's Day trip to the White House.
"Let him go to the White House and when he gets back the wheels will be in motion," said one party member.
While there has been speculation in the past that there could be a few Cabinet members interested in the job of Taoiseach, it really comes down to a two-horse race between Varadkar and Coveney.
Choosing the next leader of Fine Gael can take up to three weeks and includes votes from parliamentary party members, MEPs, and councillors.
"If we include the three-week contest after St Patrick's Day, we are into April," said one TD, who when asked if we would have a new Taoiseach by summer, said:
"Easter comes before summer, it will be then."
However, one minister told TheJournal.ie that timeline predictions are a lot shorter than expected in reality.
Additional reporting Christina Finn