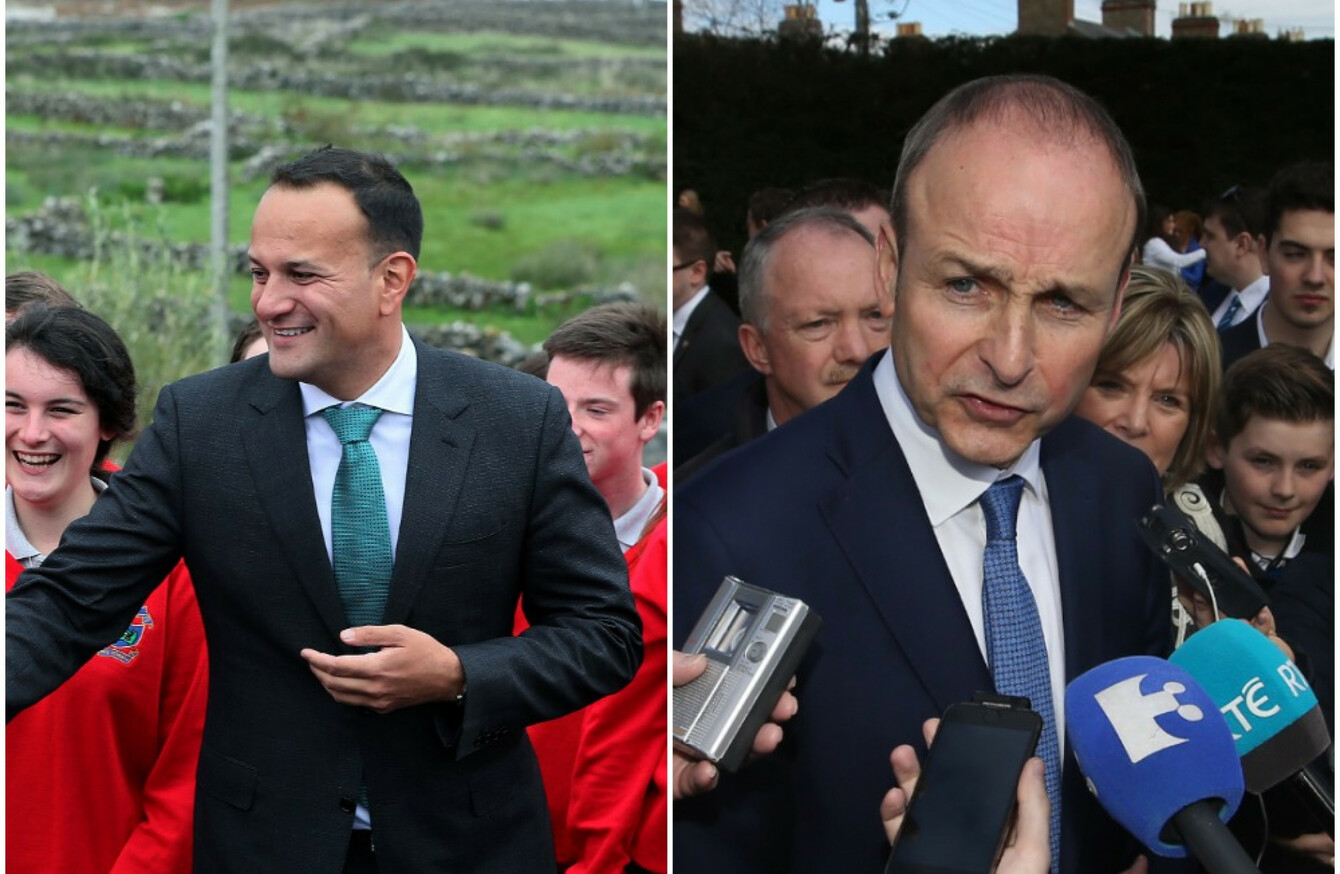 A NEW OPINION poll has shown that Fine Gael are 8 percentage points ahead of Fianna Fáil.
The Red C/Sunday Business Post poll comes days before Taoiseach Leo Varadkar and Fianna Fáil leader Micheál Martin discuss extending the confidence and supply agreement.
The Fine Gael government has been supported by Fianna Fáil since the 2016 general election; the parties agreed that the arrangement would last for three Budgets, which it has.
But there's talk of extending the Confidence and Supply agreement further – Varadkar and Martin met on Monday evening to discuss this.
An extension to the arrangement would suit Fine Gael, who are in the middle of Brexit talks; the party has been in government since 2011.
But it would mean Fianna Fáil would face further accusations of propping up Varadkar's government while receiving no political advantage for doing so (Fianna Fáil's position on the resignation of Frances Fitzgerald, the abortion referendum and Naughten's resignation have been called into question over the past three years).
These latest poll results will make for interesting reading for both sides before they sit down to discuss the arrangement – teams from the parties will be appointed next week to handle negotiations.
The results are:
Fine Gael 33% (-)
Fianna Fáil 25% (+3)
Sinn Féin 15% (-1)
Independents 12% (-1)
Labour 5% (-1)
Independent Alliance 4% (-)
Greens 4% (+2)
Social Democrats 2% (-)
Solidarity-PBP 0% (-2)
Renua 0% (-1)
A recent Ipsos/Irish Times poll put the support for Fianna Fáil and Fine Gael at the exact same percentage.
That same opinion poll recorded that 46% of voters want to see an extension of the Confidence and Supply deal, while 44% would prefer to see a general election.