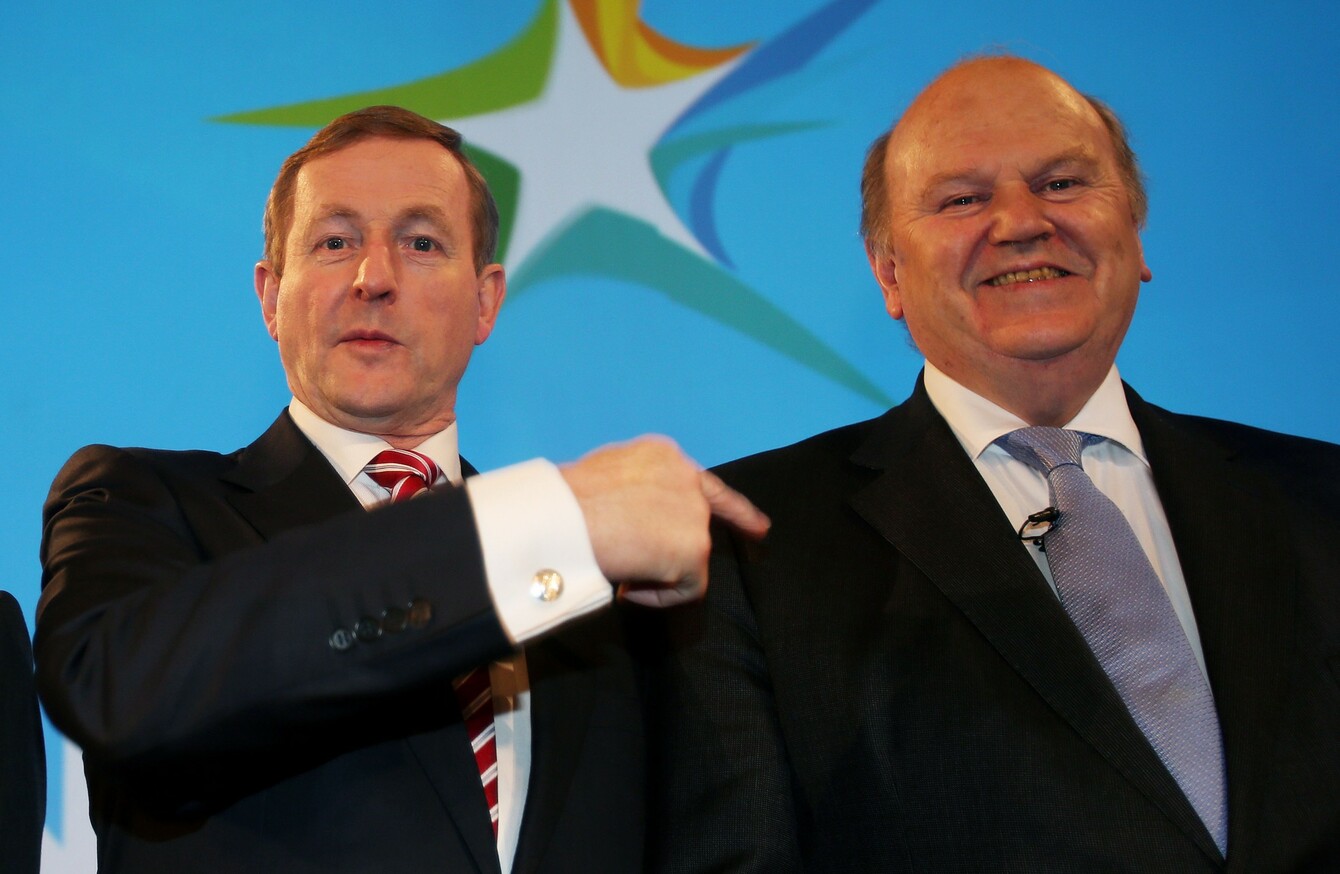 Image: PA Archive/Press Association Images
Image: PA Archive/Press Association Images
SINN FÉIN CLAIMS to have identified a €500 million hole in Fine Gael's plan to abolish the Universal Social Charge (USC) as the economic proposals of the senior coalition party come under further scrutiny.
Fine Gael and Labour have already been criticised during this election campaign after both saying at their respective party conferences last month that the money available to the next government – the so-called fiscal space – would be €12 billion.
However it later emerged that the €12 billion – cited by Michael Noonan and Brendan Howlin in January – was wrong by €2 billion. Both parties now estimate that the fiscal space will be €10.1 billion with Labour saying today it would generate extra money on top of this from revenue raising measures.
But now Sinn Fein claims to have identified a further hole in Fine Gael's plans to abolish USC. It's complicated so here's a quick Q&A to guide you through it.
Remind me again, what is the fiscal space?
The fiscal space is the amount of money that will be be available to the next government over and above what it is already spending provided the economy grows strongly. The current estimate of fiscal space is based on average economic growth of around 3% every year from 2017 to 2021.
How much is this fiscal space currently? 
The gross fiscal space is €10.7 billion, according to the Department of Finance. However when you account for expenditure related to demographics, public sector pay increases under the Lansdowne Road Agreement, and spending on capital projects it comes down to €8.6 billion. This amount assumes that there is also no non-indexation of tax and welfare payments.
What's non-indexation? 
Indexation involves adjusting tax rates and bands to keep up with inflation, which is the rising cost of goods and services. It also involves increasing social welfare payments to keep up with inflation. Effectively it means that as the cost of living rises, the government adjusts taxes and welfare payments accordingly.
Non-indexation is when you don't do this. The Department of Finance doesn't do this in its figures because it is a decision for the government – not the civil service – to make. The department estimates that non-indexation from 2017 to 2021 would generate €2 billion of the €8.6 billion.
Included in this €2 billion is the non-indexation of USC which amounts to around €500 million. This was confirmed by Michael Noonan in the Dáil on 14 January:
A decision not to index the tax system would add a further €2 billion to the level of space available over the period, of which some €500 million relates to the USC, bringing the total potential fiscal space to €12.9 billion.
Wait, why do Fine Gael and Labour say the fiscal space is €10.1 billion? 
Both parties say that €1.5 billion will be available as a result of the expected relaxation of EU fiscal rules on deficits, because Ireland's economy is performing so strongly. €8.6 billion + €1.5 billion  = €10.1 billion.
Fine Gael wants to scrap USC, right? 
It does. The party says, in its now famous long term economic plan, that this costs €3.7 billion. However, Sinn Féin claims that by abolishing USC the benefits of the non-indexation of USC will not be reaped.
How can you benefit from not indexing a tax that no longer exists? This, Sinn Féin argues, reduces the fiscal space to €8.1 billion and, in Fine Gael's figures, brings it down to €9.6 billion.
So there's a €500 million hole in Fine Gael's numbers? 
That's the claim. In an attempt to clarify matters we contacted the Department of Finance but a spokesperson said it would not be commenting on any political parties' proposals during the general election.
They did point us in the direction of its previously published information note on the fiscal space and the aforementioned Dáil reply from Michael Noonan in which he also stated:
In terms of broad order of magnitude, were the USC abolished over the medium term, this would absorb one third of the currently available gross fiscal space.
If the gross fiscal space is €12.9 billion and one third of that is €4.3 billion it begs the questions as to why Fine Gael is estimating abolition at €3.7 billion in its economic plan.
Can anyone clear this up? 
We spoke to one leading economist, who did not wish to be named. They pointed out that the fact Fine Gael wants to gradually reduce USC over five years means that the full impact might not be €500 million, but perhaps around €100 million.
They suggested that because the USC is there for most of the period between 2017 and 2021 then the money gained from non-indexation will still mostly be there. But not all of it.
What is Sinn Féin saying? 
The party says that even if you took abolition at face value of €3.7 billion then you would forgo €500 million in revenue from the non-indexation of the USC. Finance spokesperson Pearse Doherty said:
So Fine Gael must either accept that by abolishing USC there will be €500 million less fiscal space or add this €500 million to the cost of abolishing USC. At the moment they are doing neither.
What does Fine Gael say? 
We asked Fine Gael to confirm if it is indeed the case that the abolition of USC would remove €500 million from the portion of the €2 billion generated from non-indexation and therefore reducing the fiscal space to €8.1 billion (or €9.6 billion when you include the money raised from the relaxation of EU fiscal rules). The party said:
The net fiscal space estimate provided by the Department of Finance, inclusive of non-indexation, is in line with our plan to abolish the USC over the lifetime of the next Government.
I'm confused. Does this really matter? 
Yes and no. The fiscal space does not exist. Not a single cent of the sort of money the parties are talking about will be available unless the economy continues to grow strongly. That's a big 'if' when you consider the many events – internal and external – that could impact on Irish economic growth.
In reality the fiscal space available to the next government could be a lot less than even the Department of Finance estimates. It could also be a lot more.
But, it does point towards yet more questions about the economic competence and promises of the government. After all it is a government that has staked its reputation on the economy and has consistently derided and mocked the so-called "fantasy economics" of Sinn Féin.
Yesterday, Michael Noonan challenged his critics to prove his party's maths are wrong. Now Sinn Féin claims to have done just that.