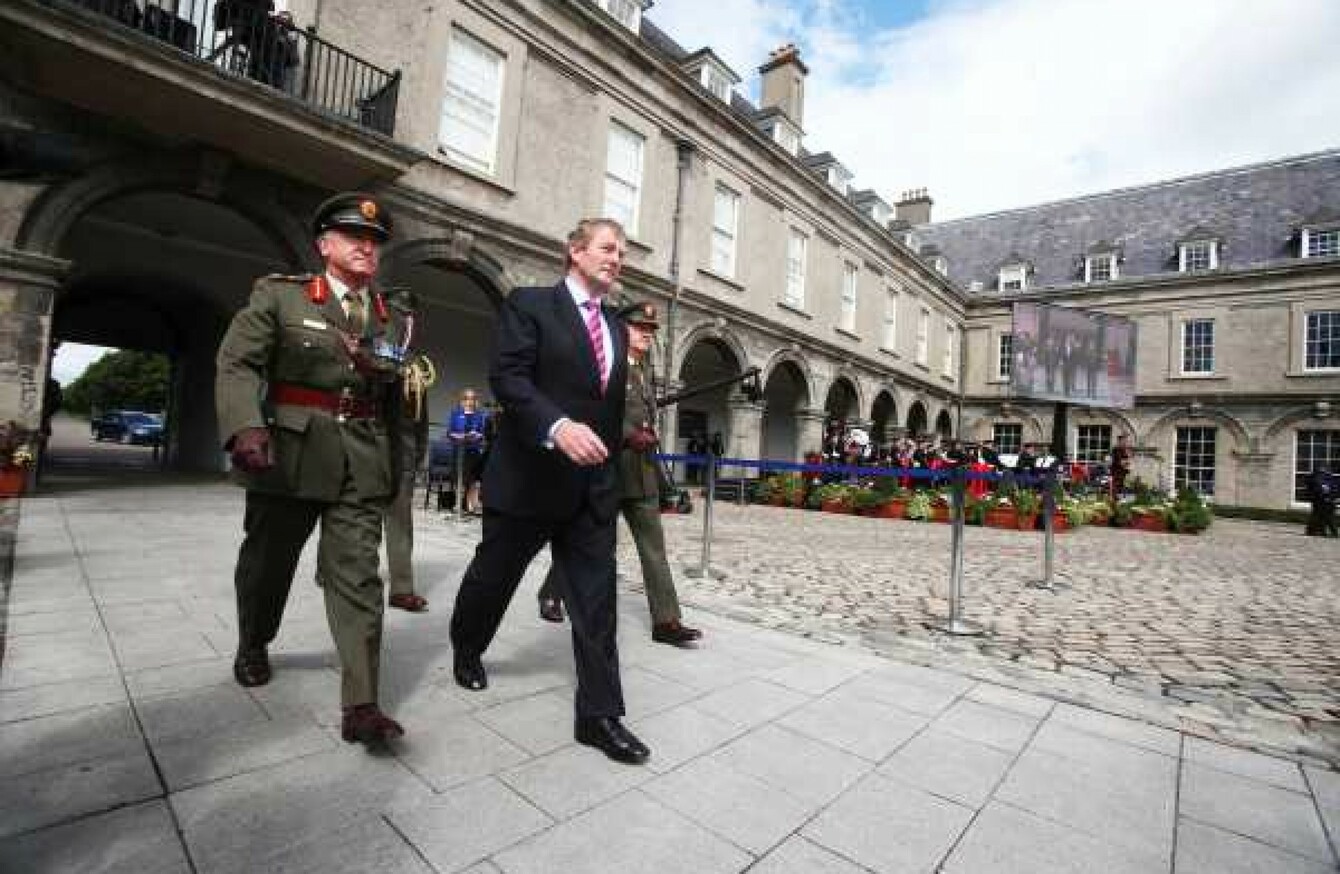 Enda Kenny at the Royal Hospital, Kilmainham
Image: Rollingnews.ie
Enda Kenny at the Royal Hospital, Kilmainham
Image: Rollingnews.ie
TAOISEACH Enda Kenny insists he has a duty and responsibility to fulfill as leader of Fine Gael, and will not be diverted from his work.
Speaking in Co Mayo today, Mr Kenny said he has been given the mandate by the people to serve as Taoiseach.
He said: "I have no intention of being diverted from that work that I have undertaken and for which I have received a mandate to fulfil.
That is my focus and my focus is entirely on the future.
"For those who might be interested I will not be diverted from that task and that duty and that responsibility which is the mandate given to me by the people.
Earlier today, backbench Fine Gael TD Brendan Griffin called on the Taoiseach to step down as party leader to allow for a leadership contest this summer, before the budget in October.
Support for Kenny's leadership of the main government party has suffered following a week of controversies which saw his leadership questioned at last week's parliamentary party meeting.
Backbenchers
Louth TD Peter Fitzpatrick has denied asking Enda Kenny to step down, but fellow backbench TD Brendan Griffin said that only a Fine Gael leadership contest in the summer recess will avoid a general election in the autumn.
"The most stable thing for the country at the moment, in light of the many challenges it faces, is having the strongest and most stable possible government we can have," he told Morning Ireland on RTÉ.
"And in the situation where the main party of government is not ready for an election, I think others are going to take advantage of that."
Rudderless
"The only opportunity that we would have for an orderly transition to a new leadership is the summer recess, or before we resume the Dáil business at the end of September… prior to the budget negotiations."
"At the moment, in government, we are rudderless, and we are drifting."
Peter Fitzpatrick, one backbench TD who has been associated with calls for Kenny to step down, took to social media to deny that he had called for the Taoiseach to step down.
Instead, he released a fulsome statement of praise for his party leader, which nevertheless said:
"He has already confirmed that he will not lead Fine Gael into the next general election, and I full trust that Mr. Kenny will make the decision that is right for the country and the party and I would urge my colleagues to support the Taoiseach during this period."
Minister for Social Protection Leo Varadkar, a possible successor, yesterday said that the time was not right for a leadership contest, and this morning senior ministers came out to bat for the embattled party leader.
Minister for Foreign Affairs Charlie Flanagan confirmed to Today With Sean O'Rourke on RTÉ that he had sent out a text to all TDs calling on them to hold back on a leadership challenge, saying "I've seen this all before and it's not good".
"Now is not the time for change," he said today.
"Now is not the time for instability. Now is the time for everybody to work together.
"I think it's important the people, having signed onto the Programme for Government, agree and acknowledge that you can't be half-in and half-out. We are in Government. We have a huge challenge."
#Open journalism No news is bad news Support The Journal

Your contributions will help us continue to deliver the stories that are important to you

Support us now
Knuckle down
Earlier this morning, Minister for Education Richard Bruton told RTÉ:
"It's barely two months since Fine Gael took up the responsibility for leading the government, and confronting problems in the areas of housing, health and so on.
People are expecting us to knuckle down and focus on those – within weeks we will be publishing an action plan on housing.
"This idea for calling on a leader to set a date would only undermine the authority of the Taoiseach and distract from the core issue."
Bruton added that Ireland needed the experience of the Taoiseach in light of the British decision to leave the EU.
Undermined
He added: "I believe the Taoiseach should decide, in his own time, when he would leave, and he should not indicate before that time when he should do so.
We have in the UK of the authority of the British prime minister being totally undermined at the moment, at a very dangerous time for that country.
A number of Fine Gael deputies including Brendan Griffin, and Pat Deering have called Kenny to step down by Christmas.
Others, including Jim Daly, Fergus O'Dowd and Michael Darcy, have said they want the leadership and succession question to be "clarified" relatively soon after the October budget.
Last week Kenny infuriated backbenchers by reappointing as deputy leader the former health minister James Reilly, now a senator.
It followed public refusal of Arlene Foster, the North's first minister, to countenance the Taoiseach's proposal for an all-island Brexit forum.