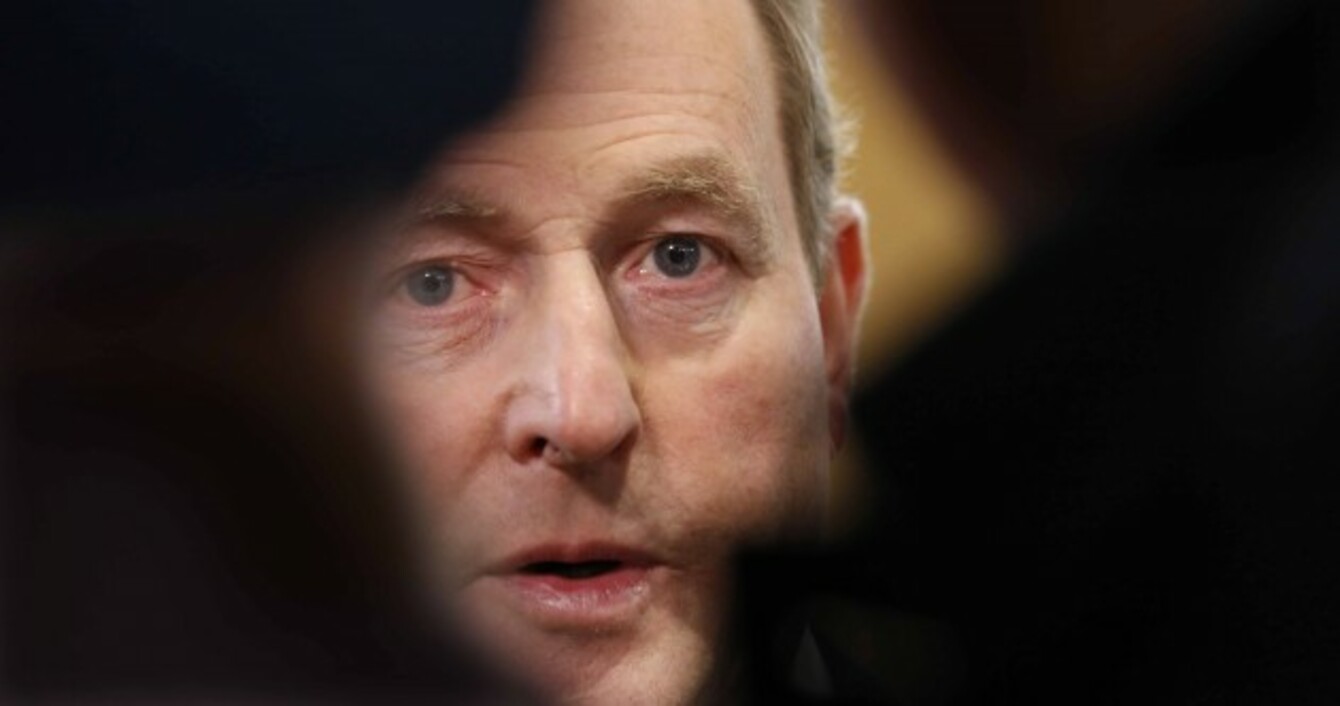 Enda Kenny is safe but what about the party he leads?
Image: Sasko Lazarov/Photocall Ireland
Enda Kenny is safe but what about the party he leads?
Image: Sasko Lazarov/Photocall Ireland
"AN ANNUS HORRIBILIS squared" – the phrase one prominent Fine Gael TD used to describe 2014 for his party last week.
Fine Gael has lumbered from one crisis to another this year. With almost every issue that has confronted it the party seems to have conspired to undermine itself whether it was backing Alan Shatter for too long or making a complete mess of the selection of John McNulty as its Seanad by-election candidate.
That's not to mention perhaps the most damaging controversy of all, Irish Water, which for the past 11 months has done untold damage to Fine Gael and Labour's re-election prospects.
But while Labour seems to have stabilised its support at around 8 per cent in recent months under Joan Burton – it's still way down on 19 per cent at the general election – Fine Gael has suffered a huge fall, dropping six per cent since the so-called 'giveaway Budget' last month, according to the Red C tracker poll in the Sunday Business Post.
No wonder Enda Kenny is said to be telling ministers and TDs to go out and sell the Budget to the people again. Any hope of a poll boost from the tax cuts announced by Michael Noonan was wiped out by the Irish Water debacle.
For the past three and a bit years of its existence much of the focus on the coalition parties' fortunes has centred on Labour and its haemorrhaging of support. It has dropped 11 per cent from its general election showing and undergone a leadership change after a dreadful local and European elections.
A bigger fall than Labour
But Fine Gael has suffered an ever greater fall in support, dropping 14 per cent from its historic 36 per cent showing in 2011. Its 22 per cent showing in the latest opinion poll at the weekend is lower than the vote it got in the 2002 and 2007 general elections.
There's no real talk of a heave against Enda Kenny but the scars of the attempted heave remain. Privately, very privately in fact, some within the party involved in the events of June 2010 have crunched the numbers if there was a leadership challenge today and determined that Kenny would have sufficient support to see off any threat. So he's safe. For now.
But on this current poll showing Fine Gael faces losing over 20 seats at the next election.
Where has that support gone? Richard Colwell's analysis for Red C in the Sunday Business Post yesterday showed that Fine Gael is losing support from those in the pre-retired stage of life, traditionally its strongest supporters.
Also deserting the party are women voters which isn't a huge surprise when you consider Kenny's very public shunning of females in the junior ministerial reshuffle and the Seanad by-election process.
Getting it back those votes will be difficult but not impossible. Fine Gael was always going to lose seats at the next election, that's natural when you've led a government that's made some unpopular decisions at a time of unprecedented austerity.
But the questions is: how many? Some have suggested that the damaging Irish Water debacle has cost the party about ten seats.
Worried backbenchers
This being the case it's no wonder backbenchers, including many of those elected for the first time in 2011, are increasingly nervous, voicing their concerns at heated parliamentary party meetings.
One has even openly suggested they could leave the party. Maybe Kerry South's Brendan Griffin thinks running as an independent could be more beneficial in a redrawn and hugely competitive single Kerry constituency than under the Fine Gael banner given how hot the independent brand is right now.
There's also the Reform Alliance TDs (above) with the likes of Lucinda Creighton likely to eat into traditionally strong Fine Gael support in Dublin South East (now Dublin Bay South) where the party will struggle to hold the two seats it won in 2011.
All of that without even mentioning the Fianna Fáil votes that Fine Gael 'borrowed' at the last election and those voters now flirting with Sinn Féin.
The selection of candidates will get under way in the coming months. Crunching the numbers and determining how many to run in each constituency is a tricky process.
It's widely acknowledged that Fine Gael ran too many candidates in the local elections largely because its support was hovering around 30 per cent when selection conventions were held.
For the general election the party will need to be more ruthless with suggestions this morning that even some sitting TDs will be discouraged from running in the hope of maximising the number of seats it can hold.
Important though they are, election tactics alone will not be enough for Fine Gael. The election, as it always does, will come down to the economy and whether or not people are feeling the recovery that ministers constantly talk about.
On this, the coalition has a reasonably good message to sell but it just hasn't being doing it because of the series of crises and controversies that have engulfed it this year. There's a belief among many voters right now that tax cuts will be eaten up by water charges – the changes announced last week should ensure that's not actually the case.
When it comes to the next election Fine Gael will need to show that it is a competent party capable of running the country for another four or five years. But right now it's anything but that and while that's the case it's facing into a very difficult and damaging election.
First posted at 12.30pm.