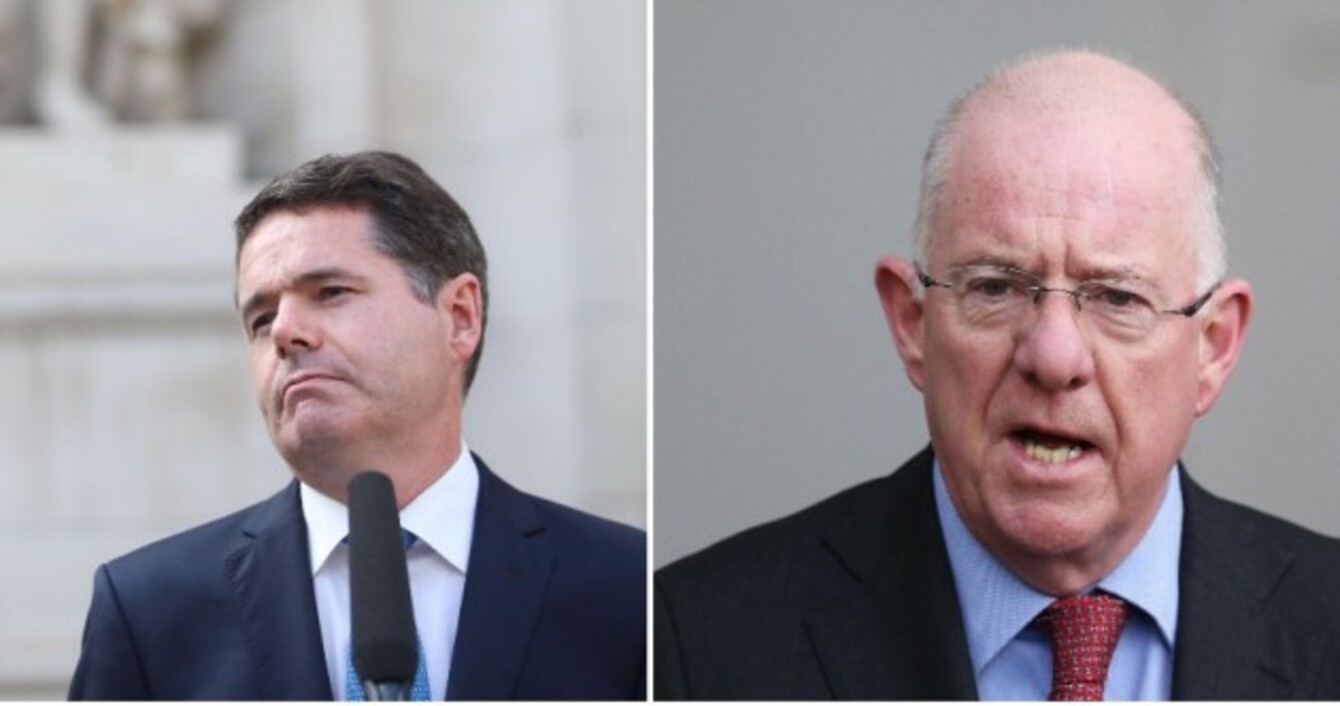 Ministers Paschal Donohoe and Charlie Flanagan
Image: Press Association
Ministers Paschal Donohoe and Charlie Flanagan
Image: Press Association
Updated 12.15pm
TWO MINISTERS HAVE ruled themselves out of the Fine Gael leadership race today.
Both the Minister for Public Expenditure Paschal Donohoe and the Minister for Foreign Affairs Charlie Flanagan have said they will not be putting their names forward.
Speaking to RTÉ's Morning Ireland, the Donohoe said that he would not be putting his name forward to succeed Enda Kenny if and when the Taoiseach steps aside.
While he said that he had been approached by members of the party about leading Fine Gael, he had no interest in replacing Enda Kenny.
"I'm focused on my job and my responsibility as leader of the country to continue in a very challenging time to deal with the preparations for what will be exceptionally difficult and challenging negotiations."
Donohoe told Dr Gavin Jennings:
I'm very lucky to be in the job I'm doing at the moment and I want to be able to continue with this work. I have very clear ideas about what we have to do from an economic point of view in our country.
Leadership role 
"I want to play a leadership role within government but I don't want to, nor will I be putting my name forward if and when a vacancy appears.
"All I can do is look at the circumstances that are ahead of me. If and when we find ourselves at a different point in years to come, if I'm still around, let's talk about it then."
Donohoe said that he felt that Kenny held the "genuine respect" of party members, but felt that the "speed of events" meant that "things weren't ordered correctly" in the wake of Kenny's assertion that he had not spoken to Katherine Zappone about certain aspects of the Maurice McCabe scandal.
It is now up to him, and he has my support on this, to decide what and how he wants to do.
He said that Kenny had put the country first in the last six years and had "shown his ability to make a decision in the interests beyond his own", but stopped short of saying now was the time for Fine Gael to choose a new leader.
On the way into the latest All Island Dialogue event on Brexit, Flanagan stopped to tell the waiting media that he would not be putting his name forward for leadership of the party.
Speaking about the leadership question, he said:
These issues will be dealt with in an orderly way in due course.
He said he is "privileged" to serve in this government and to serve as minister of foreign affairs.
While Leo Varadkar and Simon Coveney, the apparent front-runners for the job, told the party they needed to be on election footing, the appetite for leadership race could possibly be on shaky ground.
Last night, the Taoiseach refused to say when or if he would step aside as leader of Fine Gael, with some party members seeing it as a clear indication that he is bedding in for a fight.
Speaking yesterday evening, he said he was focused on upcoming challenges and said he would be travelling to Brussels next week, as Taoiseach.
Motion of no confidence 
However, Kenny made such a statement in the wake his Fine Gael colleague, Pat Deering, threatening to table a motion of no confidence in the Taoiseach at next week's parliamentary party meeting.
The Carlow-Kilkenny TD said he will table the motion if Kenny does not clarify a timeline for his departure as leader before next week's meeting.
However, speaking to Ocean FM News in Sligo this morning, Simon Coveney indicated he was against Deering's move to put down a motion of no confidence.
Enda has been here before. I don't think he'll be rushed by other people, he'll think about this and make up his mind and I think he'll share that with the party when he's ready. I don't think we should be trying to force that process. I think that would be wrong.
Figures from both the senior ranks and bank benches in the party have been out today to dampen suggestions that the leadership change will happen soon.
Finance Minister Michael Noonan, who was also attending the Brexit conference in Dublin Castle today, said: "There is no vacancy as you know. It will be a long time before a new is selected."
Meanwhile sources close to Coveney have indicated the timeline could be a lot longer than some politicians are suggesting – possibly up to 12 weeks.
Cork North Central TD Dara Murphy hit back at his party colleagues who are pushing for a leadership change, suggesting that there should be no such move until at least the Autumn.
This is not the the time for motion of confidence. We had a motion of confidence in the government in the Dáil – it was successful. I strongly believe the view that the vast majority of the members – the councillors, and I believe the Oireachtas members in Fine Gael – is dealing with the leadership issue through a confidence motion… is absolutely not the way to deal with what has been the most successful Taoiseach this country has had.
He said Kenny's political opponents appear to have forgotten the condition the country was in in 2011.
At this crucial juncture, having a motion of no confidence is silly and I hope there isn't one put down.
Murphy hit out at possible leadership contenders for using the past week as an excuse to make a move against the Taoiseach.
Frankly I think the last thing we should be talking about is leadership and I think today presents an opportunity to move on… I think some of the people in our party who see it as an opportunity perhaps to have a cut, should put the country first…  and do what Fine Gael has always done… and [start by] putting our country before our party.
Will a change of leadership damage Ireland's prospects during the Brexit negotiations?
Murphy thinks so, stating that switching the leader now would damage Ireland's position during the upcoming negotiations.
We are a small country, our views are understood, but there is no point having out views understood and having a really disorganised system when the real negotiations actually start. And whether people like it or not the reality is the heads of state of government – 27 prime ministers – are the people deciding this process. And to literally consider, in any way shape or form, changing the captain of our team before running out of the dressing I think is frankly a ludicrous proposal.
However, Noonan said his European counterparts would not pay much heed to Ireland's leadership battles.
It is a normal part of the political process that leaders change, Cabinet ministers change. The Europeans are even familiar with that more than we are…. they won't raise an eyebrow. I will be over there on Tuesday and they won't even ask me a question about this.
With additional reporting by Christina Finn