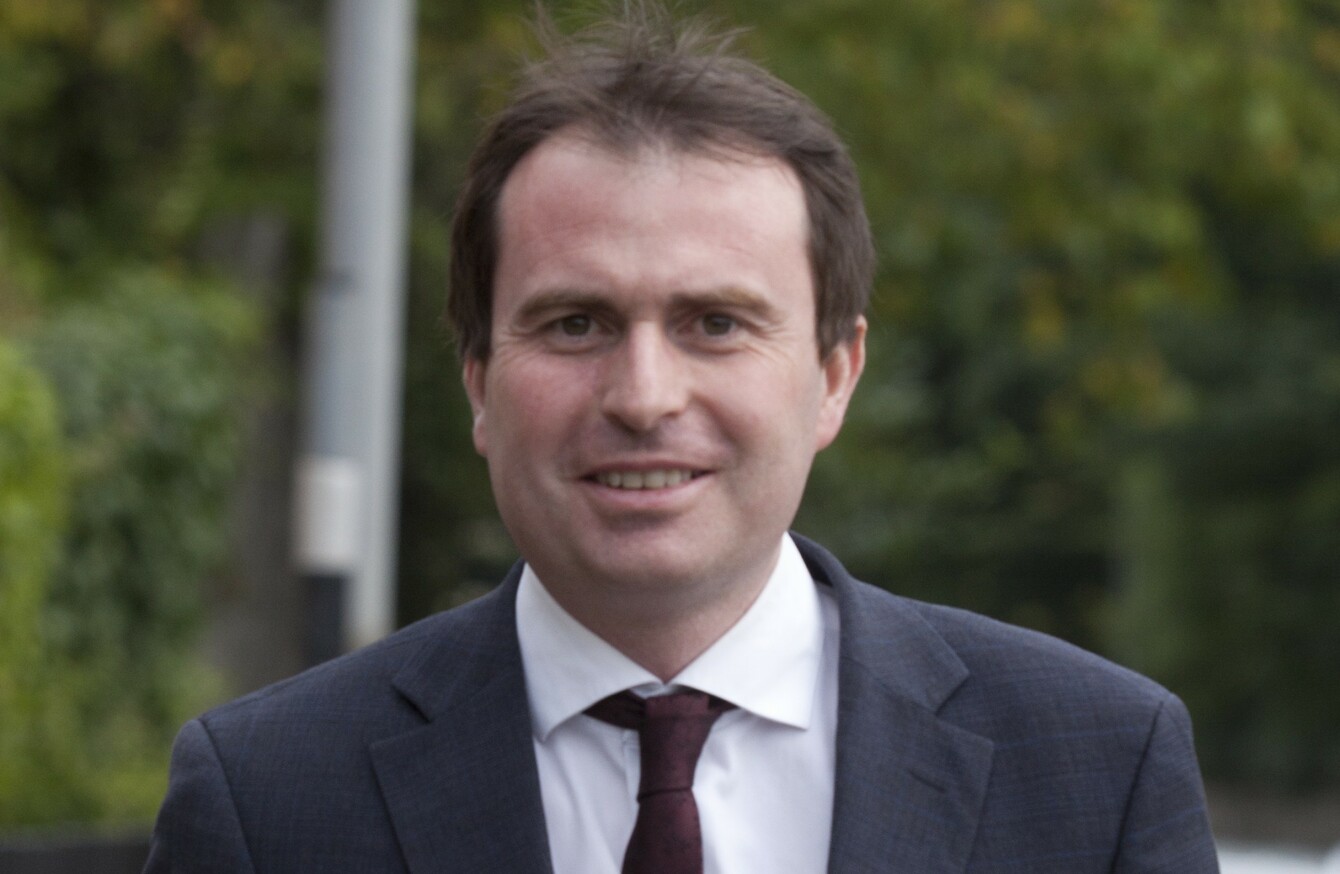 Sean Conlan
Image: Eamonn Farrell
Sean Conlan
Image: Eamonn Farrell
Updated 4.38pm 
FINE GAEL TD Sean Conlan has resigned from the party, citing concerns over a pylon project, and will run as an independent in the next general election.
The Cavan-Monaghan deputy's resignation comes just a few months after he was arrested and questioned by gardaí over an alleged assault at his family pub in Ballybay, Co Monaghan on 23 August.
TheJournal.ie has learned that Conlan was told in recent days that he would not be ratified as a Fine Gael candidate for the general election if charged in relation to the incident.
It's believed Conlan spoke to party officials yesterday to inform them he believed he would be charged. Conlan declined to comment when asked about the matter today.
He insisted his resignation was about solely the North-South Interconnector and his opposition to Fine Gael's position on the proposal that would see hundreds of pylons built across counties Cavan, Monaghan, Meath, Armagh and Tyrone.
Pylons
In a statement, Conlan said the over grounding of the pylon project was something he felt "very deeply about":
I now believe I will be unhindered and better able to represent and express the views of the people in an open and fearless manner going forward and will continue to work hard to ensure their best interests are served.
He added: "I have been involved in Fine Gael my whole life as was my father and grandfather and I will always be Fine Gael at heart. This was an extremely tough personal decision for me to make but I truly feel it was the correct one."
In an earlier interview with local radio Northern Sound he made clear his anger over Fine Gael's position on pylons.
"I am Fine Gael in my heart, and have been all my life, but I feel in this instance the individuals at the top are not listening to us in terms of what we want to do," he said.
In terms of this project alone, the North-South Interconnector, I don't think they've been listening to us. So I believe it's very important for me personally to be true to myself and go out there and represent the views of the people here in Monaghan and Cavan, from now on, as an independent.
Conlan told this website he had considered resigning at a meeting in his constituency last night but decided to sleep on it.
I have felt limited in what I wanted to say in relation to how the people of Monaghan, Cavan and Meath have been treated in relation to this issue and other issues. I now believe I will be unhindered and better able to represent and express the views of the people in an open and fearless manner going forward and will continue to work hard to ensure their best interests are served.
This afternoon he tendered his resignation to the party.
He had been nominated to run for re-election as a Fine Gael candidate in the five-seat constituency at a selection convention in the summer along with Arts Minister Heather Humhreys and backbencher Joe O'Reilly.
In a brief statement, Fine Gael said: "We note that Seán Conlan has decided to resign from the Fine Gael party and wish him well for the future.
Fine Gael continues to have a strong team in Cavan/Monaghan with Minister Heather Humphreys and Joe O'Reilly TD. The party will run a vigorous campaign in the constituency to allow us to continue our work to keep the recovery going.
Veteran councillor also resigns 
His resignation is the second Fine Gael departure in the constituency in the last 24 hours after councillor Hugh McElvaney, who has served for more than 40 years, quit the party last night over the same issue.
He announced his resignation at a meeting of the Anti-Pylon Movement last night where Conlan was also present. McElvaney was first elected to Monaghan County Council back in 1974, describing himself as a "dyed in the wool Fine Gael man".
He felt the decision was necessary due to the party backtracking on its pylon policy.
"Fianna Fáil first suggested building overhead power lines," he told TheJournal.ie, "Our party in opposition said it would bury them."
Recently EirGrid compromised with people in Mayo, in relation to GridWest, and in relation to GridSouth, to take the power in other means and ways other than overhead lines. If government policy allowed that to happen, why not up here?
McElvaney said the 400 people in attendence at the meeting last night were "very angry… and Fine Gael is doing nothing for them".
Damned if I am going to continue and be a hypocrite.
He described the party's attitude to the issue as "bullheaded" and said he will continue as an independent councillor.
- additional reporting from Nicky Ryan