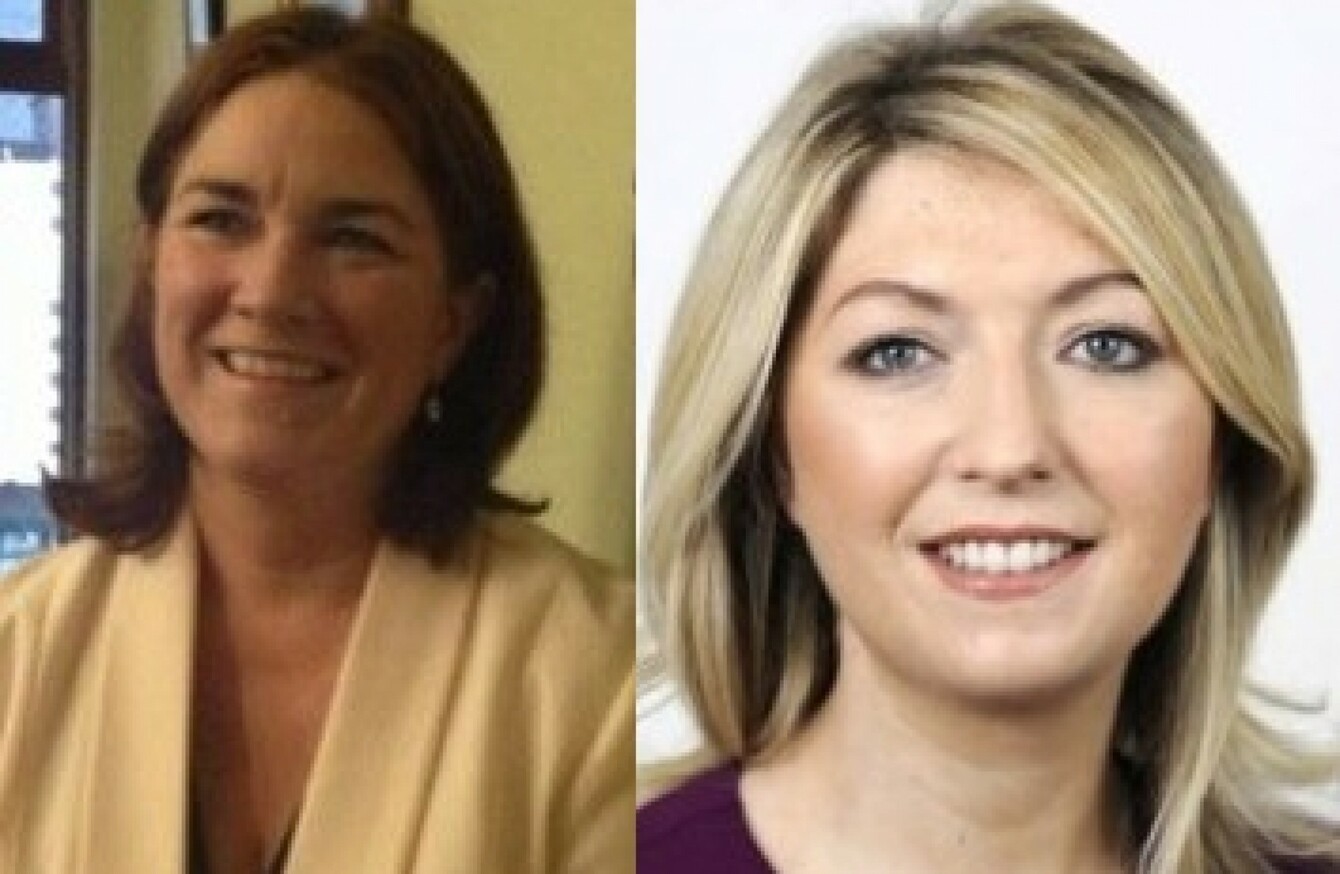 Grace O'Donnell and Thomasina Connell have been added to Fine Gael election tickets in Kerry and Laois respectively
Image: Twitter
Grace O'Donnell and Thomasina Connell have been added to Fine Gael election tickets in Kerry and Laois respectively
Image: Twitter
FINE GAEL IS likely to add at least four more women to general election tickets in the coming weeks in order to comply with gender quotas.
The party will confirm the addition of Avril Cronin to its general election ticket in Wicklow on Saturday. She will run alongside junior minister Simon Harris and TD Andrew Doyle.
Cronin is currently a parliamentary assistant to former Fine Gael TD Peter Mathews. Mathews said it would be inappropriate to comment when her addition to the ticket had not been confirmed. Cronin could not be reached for comment.
Fine Gael's state funding will be halved unless 30% of its Dáil hopefuls are female when the general election takes place next spring. The party has been adding female candidates to election tickets in several constituencies in recent weeks.
Former Tralee mayor Grace O'Donnell has been added to the ticket in Kerry where junior minister Jimmy Deenihan and sitting TD Brendan Griffin are running. In Laois, solicitor Thomasina Connell will run alongside Foreign Affairs Minister Charlie Flanagan.
In addition to Cronin, a well-placed Fine Gael source said the party is likely to add at least three more women in the coming weeks. Clare, Wexford and Cork North-Central are understood to be the most likely constituencies where female running mates will be added.
In Clare, councillor Mary Howard is set to be added to the ticket along with incumbent TDs Pat Breen and Joe Carey. There is also likely to be a woman candidate added in Wexford where government chief whip Paul Kehoe is running for re-election alongside senator Micheal D'Arcy.
The party is also considering running a woman alongside junior minister Dara Murphy in Cork North-Central. This will come at the expense of Senator Colm Burke who narrowly lost the selection convention in September and has been pushing to be added to the ticket since.
Other constituencies the party is examining for the addition of female candidates include Louth where councillors Dolores Minogue and Sharon Tolan are both under consideration. Donegal and Dublin Fingal are also being considered.
However, it's not just women being added. In Longford-Westmeath, councillor Peter Burke will run alongside sitting TDs James Bannon and Gabrielle McFadden having been added in recent weeks following pressure from local members.
The party is also likely to confirm the addition of former Labour councillor Noel McCarthy in Cork East where incumbent TDs David Stanton and Tom Barry are running again.